The Brentwood Police Department is investigating an overnight shooting that left one person dead and three others wounded outside of the 24 Hour Fitness Gym in the City of Brentwood.
—-FOR THE UPDATE- CLICK HERE, TEEN ARRESTED FOR MURDER-—
The incident occurred at approximately 2:00 am Thursday in the 5900 block of Lone Tree Way where several shots were fired in the parking lot.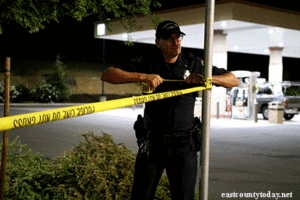 According to Lieutenant Mike Thompson, an argument occurred inside the gym between a group of individuals and when they exited the gym multiple shots were fired in the parking lot. A person was dead on the sidewalk, three others were wounded. Their condition was not provided.
One suspect was taken into custody while another suspect was still outstanding.
Thompson said they were not releasing the ages, gender or names of individuals involved at this time as the investigation was still ongoing and one suspect was still outstanding.
Check back for updates as Brentwood Police will release more information later Thursday morning.
12:45 pm UPDATE
BRENTWOOD, CA – On August 11, 2022 at around 0154 a.m., Brentwood officers responded to the 24 Hour Fitness located at 5961 Lone Tree Way to investigate a reported shooting. When officers arrived on scene they located a male victim in his 20's, suffering from at least one gunshot wound lying on a sidewalk in front of the fitness center. Officers performed life-saving measures until paramedics arrived, however, the victim died on scene.
Preliminary investigation revealed this was a result of an altercation that took place inside the fitness center, on or around the basketball courts, and eventually continued in the parking lot out front. While outside, the altercation escalated involving multiple people. Surveillance footage from 24 Hour Fitness revealed at least two people pulled firearms and fired multiple shots, striking four, killing one. Immediately following the incident, several people fled the parking lot in multiple vehicles.
This was an isolated incident with no apparent threat to public safety.
The motive is unknown at this time.
The name of the decedent is being withheld pending next of kin notification.
As of 11:00 a.m., two suspects have been detained but no arrests have been made.
This is an active ongoing investigation and no additional information is being released at this time. Anyone with information related to this shooting, including any video footage is encouraged to contact Detective Greene at 925-809-7797.
Note: the last fatal shooting in Brentwood occurred in January of this year.