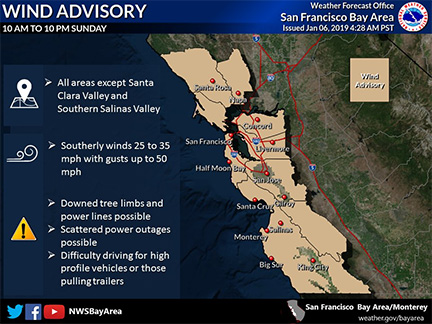 With widespread rain expected today as another storm enters the area, the National Weather Service has issued a wind advisory for most of the San Francisco Bay Area from 10:00 am to 10:00 pm Sunday.
While rainfall is anticipated to range from 0.5 to 1.5 in urban locations, southerly winds are expected to range from 25-mph to 35-mph with gusts as much as 50-mph.
The warning includes how strong winds may blow down limbs, trees and power lines and scattered power outages are expected. Those driving high profile vehicles or those pulling trailers are advised to use caution. Isolated power outages may also occur.