Antioch, CA — The first race of the All Star Series season at Antioch Speedway offered some wild moments Saturday night as some drivers struggled to make it through Turns 3 and 4 without spinning.
When it was all said and done, the feature wins went to Kyle Offill (Winged 360 Sprint Cars), Mike Salazar (A Modifieds), Trevor Clymens (B Modifieds), Michael Cooper (Hobby Stocks), Kevin Miraglio (Dwarf Cars) and Kimo Oreta (Bay Area Hardtops).
Kyle Offill won the 25 lap Winged 360 Sprint Car Main Event in impressive fashion.  As one of the Top 3 racers with the BCRA Miget Lites last season, Kyle has moved up to the Winged Sprint Cars this year, and he did it in style.
After winning his heat race, Offill led all the way and was never really threatened in the Main Event.  Grants Pass, Oregon's Aaron Miller was holding off Marissa Polizzi throughout the first half of the race before he spun in Turns 3 and 4.
On the restart, second generation racer Burt Foland Jr. charged by Polizzi for second.  Offill was the happy winner ahead of Foland, Bryan Grier, Polizzi and Miller.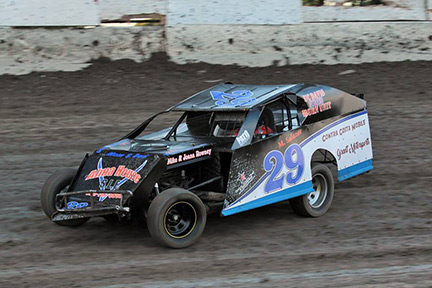 Mike Salazar was just excited about being at the opener, but the long time A Modified racer won a wild 20 lap feature.  Salazar and five time champion Scott Busby won their heat races, setting up a race long duel for the lead.  John MacDougall was holding the third spot before the tricky track conditions saw him spin.  Salazar led Busby on the restart.
As the race headed for the checkered flag, Busby and Salazar got together in Turns 3 and 4, and the race ended one lap early on a checkered and yellow flag combo.  The yellow was out for another car, and Salazar was awarded the victory as the leader when the yellow flag came out.  Busby finished second ahead of Bobby Motts Jr., Sean O'Gara and Lloyd Cline.
Reigning B Modified champion Trevor Clymens won a drama filled 20 lap Main Event.  Heat race winner Mark Garner led five laps before contact with another car left him with a broken rear end.  Clymens had to come from the back due to an early spin as heat race winner Guy Ahlwardt assumed the lead over K.C. Keller.  The rookie Ahlwardt spun in Turns 3 and 4, putting Keller into the lead over Clymens.  However, Clymens pressured Keller until making the pass for the lead with two laps to go.  Clymens won the race ahead of Keller, Ahlwardt, Duff Cooksey and Chuck Golden.
Michael Cooper impressed with his 20 lap Hobby Stock Main Event victory.  The second half of the race saw Cooper leading New Year's Bash winner Chris Long and 2010 champion Chris Sorensen in a close battle.  Sorensen managed to get by Long for second.  However, he was unable to make the next pass.  Cooper scored the well earned victory ahead of Sorensen, Long, past Antioch Mini Stock champion Brent Curran and rookie Chris Bennett.  The class ran three six lap heat races, and wins were recorded by Cameron Swank, Joey Ridgeway and Long.
Kevin Miraglio thrilled the crowd with his photo finish victory in the 20 lap Dwarf Car Main Event.  The reigning champion won his heat race and picked up where he left off by leading the Main Event early.  When Miraglio spun a car he was about to lap, he was penalized to the back of the pack by track officials.  Mike Corsaro was hoping to celebrate his birthday in style.  However, Miraglio made a charge back into second.  The two drivers battled to the checkered flag in a near dead heat.  Scorers said it was Miraglio by a nose, which ruined Corsaro's birthday celebration.  Heat race winner Chuck Connover finished third ahead of David Rosa and Charlie Correia.
Kimo Oreta drove the Larry Damitz #100 car to victory in the ten lap Bay Area Hardtop Main Event.  Due to another Hardtop race that was booked on top of this one last week, car count was down.  Heat winner Dave Mackey battled with Oreta until suffering a mechanical failure with three laps to go.
Racing resumes Saturday night with a packed All Star Series lineup of DIRTcar Late Models, A Modifieds, Wingless Spec Sprints, B Modifieds and Hobby Stocks.  For further information, go to www.antiochspeedway.com.
Unofficial Race Results
A Modifieds
Heat 1-Mike Salazar, Bobby Motts Jr., Sean O'Gara.  Heat 2-Scott Busby, Eric Berendsen, Lloyd Cline.  Main Event-Salazar, Busby, Motts, Sean O'Gara, Cline.
B Modifieds
Heat 1-Guy Ahlwardt, Chuck Golden, Trevor Clymens.  Heat 2-Mark Garner, Doff Cooksey, K.C. Keller.  Main Event-Clymens, Keller, Ahlwardt, Cooksey, Golden.
Hobby Stocks
Heat 1-Cameron Swank, Brent Curran, Billy Garner.  Heat 2-Joey Ridgeway, Anthony Vigna, Chris Bennett.  Heat 3-Chris Long, Jordan Swank, Lori Brown.  Main Event-Michael Cooper, Chris Sorensen, Long, Curran, Bennett.
Winged 360 Sprints
Heat-Kyle Offill, Aaron Miller, Jenna Frazier.  Main Event-Offill, Burt Foland Jr., Bryan Grier, Marissa Polizzi, Miller.
Dwarf Cars
Heat 1-Kevin Miraglio, David Corsaro, Charlie Correia.  Heat 2-Chuck Connover, Chris Becker, Josh Miller.  Main Event-Miraglio, Corsaro, Connover, David Rosa, Correia.
Bay Area Hardtops
Heat-Dave Mackey, Kimo Oreta.  Main Event-Oreta, Mackey.