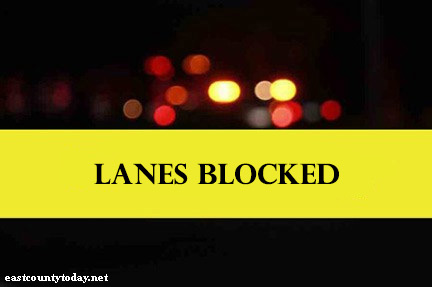 At 9:12 pm Thursday, East Contra Costa Fire Protection District firefighters responded to a report of a head-on vehicle crash that shut down both directions of traffic.
The crash, which occurred on southbound Vasco near Camino Diablo involved two vehicles according to Engine 59 who was on scene.
At least two patients were injured with one patient suffering moderate injuries with another patient with minor injury.
By 9:24 pm, Engine 59 confirmed Vasco Road was completely shut down. A medical helicopter which was dispatched to the scene was cancelled.
Update:
The roadway has since re-opened.
CHP Log
Detail Information
9:23 PM
11
[18] COCO FIRE 1 MODERATE AND POSS 1 DECLINED 1141
9:23 PM
10
[16] [Notification] [CHP]-COCO FIRE 1097 **- RDWY SHUT DOWN BOTH DIRECTIONS
9:14 PM
9
[14] [Notification] [CHP]-PER ANOTHER BLKG BOTH DIRECTIONS VEHS DRVING AROUND WHI DODGE DECOTA VS GRY NISS ALTIMA
9:13 PM
8
[11] 1039 1141
9:12 PM
7
[10] [Notification] [CHP]-Problem changed from 1183-Trfc Collision-Unkn Inj to 1179-Trfc Collision-1141 Enrt by CHP
9:12 PM
6
[9] ADV ON BOTH DOT ON VASCO RD JSO CAMINO
9:11 PM
5
[5] BLKG SB LANE
9:11 PM
4
[4] WHI TK VS GRY SD HEAD TC **
9:11 PM
3
[3] POSS 3 VEH
9:11 PM
2
[2] 2 VEH INVOL
9:11 PM
1
[1] HEAD ON TC **