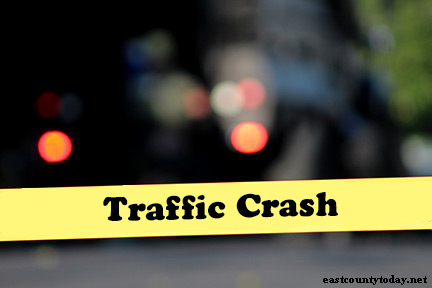 At 5:30 pm Sunday, Byron Highway near Porthole Drive was shut down due to two separate injury crashes in the Town of Byron with 5 patients in critical condition.
According to initial reports, there was a vehicle versus motorcycle crash with a ride down and unconscious.
While responding, units were advised of a second crash nearby which was head-on with major damage.
Engine 53 arrived on scene to the second crash with two vehicles sustaining major damage with 5 total patients, two who were deemed critical.
By 5:28 pm, Battalion Chief 5 requested a total of 3 medical helicopters By 5:30 pm, Battalion Chief 5 stated all 5 patients were in critical condition.
At least 4 AMR units were requested along with an air unit coming as far away as Stanford Hospital.
By 5:47 pm, BC5 confirmed 4 air ambulances were responding including CHP air asset.
UPDATE
By 6:22 pm, East Contra Costa Fire reported all air ambulances had taken off and were transporting patients to Bay Area hospitals.
Update per ECCFPD
4 critical and 2 moderately injured patients. Two patients flown to John Muir Medical Center Walnut Creek. Two patients flown to Eden Canyon Hospital Castro Valley. Two patients were ground transported to Sutter Delta Hospital Antioch.
Four engine companies, four air ambulances, three ground ambulances one AMR medical supervisor were requested to the scene. A tier 1 MCI declared
6:48pm Update per CHP:
MULTIPLE MAJOR INJURIES in COLLISIONS in East County tonight
This evening at about 5:12pm, Contra Costa CHP was advised of a vehicle collision with a motorcyclist at SR-4 eastbound (J4) just east of Byron HWY. A white Subaru then fled the scene and then collided head on into another sedan approximately 500 feet east of the first collision scene on SR-4. Upon emergency personnel and CHP arrival, the motorcyclist and all parties of the second vehicle the Subaru crashed into suffered major injuries. All parties except the driver of the Subaru are being or have been transported to surrounding hospitals by ground Ambulance units and helicopter as well. The driver of the Subaru suffered minor injuries only and is detained by CHP on scene. The roadway was periodically shut down for the investigation but now traffic is being allowed through.
More information and details to be posted and updated here soon. If anyone witnessed this collision or the events leading up to it, please contact Contra Costa CHP by calling the non-emergency 911 number at 707-641-8300. Thank you.
By 7:45 pm, the SIGALERT was cancelled and all lanes were clear.
Update by CHP:
The female driver of the Subaru, Meagan Kathleen Campbell – 33yrs old from Discovery Bay, has been arrested for FELONY DUI.
The motorcycle rider is in critical condition at a local hospital. All parties (5) from the Saturn were transported to surrounding hospitals and injuries range from moderate to major to life threatening. Due to the amount of injuries and the injured parties transported to multiple hospitals, specifics of each individual are not known as of now. The roadway is open to traffic.
Below are CHP logs of both incidents
Incident 1
Detail Information
7:45 PM
34
[116] ^*** CANCEL SIGALERT *** ALL LANES CLEAR ROADWAY OPEN AT 1941 HOURS
7:42 PM
33
[115] 1039 DOTCC
7:42 PM
32
[114] 1039 ENTAC OFCR RAMOS
7:41 PM
31
[113] PER S2 – NTFY ENTAC / RDWY OPEN / 1039 CS
6:19 PM
30
[94] 19-241B E CO FIRE INQ WHERE H32 IS / COPIES EDEN HOSP
6:06 PM
29
[90] [Rotation Request Comment] 1039 OLIVERS TOWING 800-696-9609 EVIDENCE TOW FOR MC
6:04 PM
28
[89] 1039 ENTAC – OFCR TUFFANELLI
6:04 PM
27
[88] SCGG, EVIDENCE TOW FOR MC
6:03 PM
26
[87] 405b REQ EVIDENCE TOW FOR MC EB 4 JEO BYRON HWY
5:53 PM
25
[85] 1039 CONFIRE THEY DONT KNOW YET WILL CB WHEN THEY DO
5:52 PM
24
[84] 19-405B VIA LL CONFIRM W / CONFIRE WHERE MC IS BEING TRANS TO
5:51 PM
23
[83] 1039 19-C
5:48 PM
22
[80] ^***ISSUE SIGALERT*** EB SR4 JEO OF BYRON HWY – ALL LANES BLOCKED IN BOTH DIRECTIONS – USE ALT ROUTES – UNK ETO – REF LOG 2329
5:36 PM
21
[73] 683B LN 72 WANTS UNIT TO SHUTDOWN RDWY / 404B CPYS 10 AWAY
5:31 PM
20
[69] [Notification] [CHP]-CONFIRE REQ SHUT DOWN HWY 4 — 2 HELOS LANDING TO TRANS — 3 TOTAL AIR 1141S WILL BE ENRT [Shared]
5:30 PM
19
[67] GG-H32 PER FIRE CALLING THIS A MASS CASSUALTY INCIDENT / 4 HELO 4 GROUND ENRT
5:25 PM
18
[61] 1039 DOTCC
5:25 PM
17
[60] [CHP] has closed their incident [181104GG02352]
5:24 PM
16
[57] [Appended, 17:25:03] [5] PER ANOTHER XRAY WAS BEING PULLED OO VEH // APPR'D UNCONSCIOUS // NEAR SAFEWAY
5:24 PM
15
[50] ISSUE SIGALERT [Shared]
5:24 PM
14
[55] [Appended, 17:25:03] [3] MC VS WHI SD // OTHER TC WHI SD VS UNK VEH
5:21 PM
13
[47] WILL NEED LIFE FLIGHT TRY TO GET SOMEONE STARTED
5:20 PM
12
[45] ADDITIONAL HEAD ON JEO THIS TC
5:20 PM
11
[41] PER WITNESS WHI SD HIT MC / MC STUCK UNDER VEH AND WHI SPUN OUT THEN HIT ANOTHER VEH / TAN SATURN
5:19 PM
10
[36] 1039 FIRE/ ALMOST 97
5:18 PM
9
[38] [Appended, 17:19:24] [2] LOOKS LIKE HEAD ON TC
5:18 PM
8
[34] 2 PTY IN FRONT OF VEH IS BLEEDING / AND TWO PTYS IN BACK INJURED
5:17 PM
7
[33] LL FIRE TO ADVS PTYS TRAPPED
5:17 PM
6
[31] [Notification] [CHP]-SV WHI SUBA ***8AHN136**** HIT MC / SPUN OUT WHILE ATTEMPTING TO GET AWAY / BLKG / ALL PER WITNESS / DRVR STILL IN VEH [Shared]
5:16 PM
5
[27] SIL CHRYSLER VS UNK
5:16 PM
4
[26] RP ADVSD ALSO A HEAD ON TC
5:14 PM
3
[13] [Appended, 17:14:26] [4] CORR MC WAS HIT AND OTHER VEH FLED
5:13 PM
2
[4] BLKG
5:13 PM
1
[19] [Appended, 17:15:05] [2] SOLO MC VS UNK VEH THAT LEFT (20001)
Incident 2:
Detail Information
7:10 PM
15
[40] H32 VIA LL — LINE 12— LN WILLIAMS, KATHY – DOB 041938 OO PLEASANTON ** CORR ON AGE PTY IS 80 YOA *
7:06 PM
14
[37] 1021 EDEN HOSPITAL – ADV RECIEVED 2 PATIENTS 42 MIN AGO – 21 MIN AGO – BY REACH — COULD NOT CONFIRM -FROM THIS TC
6:58 PM
13
[34] 1021 UC DAVIS HOSPITAL – THEY RECEIVED MULTIPLE PATIENT – CAN NOT VERIFY IF THE ARE RELATED TO THIS TC – ADV CHP TO CALL AIR COMPANY FOR INFO
6:45 PM
12
[29] 1021 JOHN MUIR WLCK – 2 PATIENTS -85 YOA MALE -STANDARD LIFE FLIGHT — and MC RIDER – CAL STAR
6:34 PM
11
[28] PER ANOTHER CALLER 6 VEHS ARE STUCK NEG EMERG JUST STUCK IN TRAFFIC AND REQ 1184 / SAG / ADV RP UNITS ARE 1097/ ADV IN TRAFFIC BTWN BOTH TC LOG # 2371 / 2329
6:20 PM
10
[21] [Rotation Request Comment] 1039 OLIVERS TOWING 800-696-9609 2 FB EVIDENCE TOW'S
6:17 PM
9
[18] 683B LL REQ 2 MORE FLTBD EVIDENCE TOWS *** EB 4 JEO BYRON ( SV WHI SUBARU IMRPREZZA VS SIL SATURN AURA) BLOCKING RDWY
6:11 PM
8
[17] [Notification] [CHP]-19-405B VIA LL / INQ W/683B IF EVIDENCE TOW WILL BE NEEDED ON THIS TC AS WELL
6:05 PM
7
[15] 1039 ENTAC – OFCR TUFFANELLI
6:05 PM
6
[14] 1039 EDEN HOSP –
5:59 PM
5
[12] GG-H32 REQ ADV EDEN HOSP –53 YOA FEMALE REST PSNG HEAD ON / CHEST PAIN AND ABDOMINAL VITALS STABLE 12-15 MIN ETA
5:46 PM
4
[11] B19-403B 2 SEP TC'S ALL VEHS IN 2ND TC / WHI SUBA IS 97 RESP FOR GG02329
5:27 PM
3
[7] 405B 2ND TC HEAD ON – 2 CRITICAL INJ
5:25 PM
2
[5] [Notification] [CHP]-Problem changed from 1183-Trfc Collision-Unkn Inj to 1179-Trfc Collision-1141 Enrt by CHP
5:25 PM
1
[3] HEAD ON TC