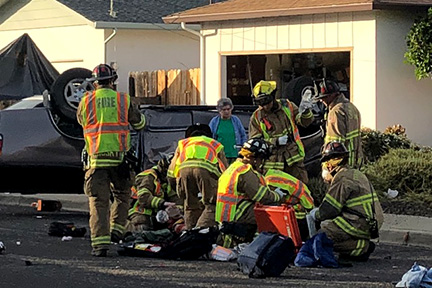 At 4:44 pm Friday, Contra Costa County Fire Protection District firefighters responded to a report of an overturned vehicle crash at Reimche Drive and Desrys Blvd in the City of Antioch.
According to a witness, a vehicle was driving at a high rate of speed when it collided with another vehicle.
At least 3-AMR  units were requested Code 3 to the scene.
Update:
According to the Antioch Police Department, a 16-year-old male is in critical condition with life-threatening injuries and was transported to a local trauma center. Two other occupants who were in the same vehicle were also transported to a local hospital with non-life threatening injuries. Alcohol and drugs do not appear to be a factor in the collision at this time according to Sgt Matthew Harger.
Update #2
The 16-year-old victim in this collision passed away during the night. The preliminary investigation has revealed the victim was a passenger in a pick-up truck that was traveling W/B on Reimche Dr, well above the speed limit. The driver of the truck, a 19-year-old Antioch resident, remained on scene and was cooperative with the investigation. The investigation is ongoing, and any witnesses are urged to contact the Antioch Police Department.
GoFundMe: https://www.gofundme.com/ross-family-fundraiser