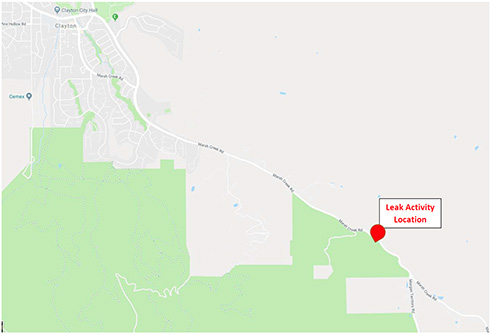 Clayton, CA – Contra Costa Water District has discovered that their 12-inch water line under Marsh Creek Road West of Morgan Territory Road is leaking and they have not found the location of the leak.
The water is flowing out of the hill below the road and they are currently attempting to locate the leak.  The Water District will close the westbound lane tonight at 7:00 PM to continue that effort. They will have a geotechnical expert respond to assess the stability of the road base and sub base.
Contra Costa County Public Works will inspect the roadway after the leak is discovered and repaired.  We do not have an estimated time to reopen that section of Marsh Creek Road at this time.  Please take alternative routes to avoid this area.
3:54 pm Update
A water main break along Marsh Creek Road, east of Clayton, will potentially impact water service and traffic for residents and motorists going into this weekend.
Contra Costa Water District (District) is working actively to identify the location of the leak.  In this case, water is not surfacing in a specific location making this a complicated and difficult repair.  Water service to customers on Marsh Creek Road and Morgan Territory Road may be shut down – please be prepared by filling containers with water or stocking up on bottled water.  Due to the complex nature of this break, we do not have an estimate on the repairs.
We will provide updated information on our website at ccwater.com.  You can sign up there to receive notifications when updates are posted.
Saturday Update
CCWD crews have repaired the water main on Marsh Creek Road. This was a challenging main break and the repair required extensive work where the leak was located.  CCWD crews will be working through the night to restore and clean up the area. Motorists should anticipate traffic control to extend into Sunday morning.
The District apologizes for the inconvenience and thank everyone for their patience.