The Contra Costa County District Attorney's Office has filed an additional murder charge against 23-year-old Noe Saucedo of Pittsburg.
On Friday the DA's Office filed formal charges against Saucedo. He was charged with murder, felony evading, possession of a stolen vehicle, possession of methamphetamine, and possession of heroin.
Saucedo remains in custody at the Martinez Detention Facility. He is being held in lieu of $2,130,000 bail.
The Sheriffs Office report that 2-year-old Camila Cardoza was officially pronounced deceased at the hospital. Camila was a passenger, along with her sister Lenexy, in a vehicle that was struck by a stolen pick-up truck driven by Noe Saucedo on Wednesday on Somersville Road in Antioch. Lenexy was killed in the collision.
The investigation into the collision is ongoing by the Contra Costa County D.A.'s Office, California Highway Patrol, Antioch Police Department and the Office of the Sheriff per the officer-involved protocol. Investigators are trying to determine why suspect Saucedo stole the Ford F-250 pick-up truck in Pittsburg, why he accelerated away from a Deputy Sheriff who was following him, and why he ran through a red light at the intersection of Somersville Road and the eastbound Highway 4 off-ramp before colliding into another vehicle. In addition, tests are being conducted to determine if Saucedo was impaired in any way.
Anyone with any information on this incident or who may have witnessed it is asked to contact the Office of the Sheriff Investigation Division at (925) 313-2600.
For any tips, please email: [email protected] or call 866-846-3592 to leave an anonymous voice message.
---
Editors Note:

A GoFundMe has been established for the family. Click here.
Update 2: Four babies will now have a second chance at life thanks to Cami. They will have a piece of someone so special to us, and we would like to wish them the best.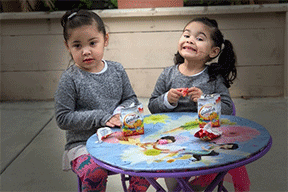 Update 1: Lenexy "Neski" Cardoza: our little ball of life and the source of so many great memories. Like most four-year olds, she enjoyed all kinds of activities–from playing with stuffed animals to singing along and dancing to her favorite movies (particularly, Frozen) and songs. There was a portion of Frozen that she remembered word for word. Whenever it came up she would grab her blanket and reenact the scene–moving and singing like Elsa. At the end of the scene when Elsa dropped her cape–in perfect synchrony–Neski would drop her blanket as well and turn her little head to give us a big and precious smile that we will never forget. Among a million things, something I will always remember was her never failing requests to be flown around the house like a plane. If it was up to her she would have us fly her around all day. Outdoors, she enjoyed riding her bike and playing soccer with her siblings and cousins, but I think her favorite activity was during summer, when the kiddy pool would make its appearance. There was nothing that she enjoyed more than splashing around in water. I still remember how thrilled she was the day my mom brought home water balloons from Walgreens. For the first time, she had the opportunity to experience what a "water balloon fight" was all about and absolutely loved it. A piece of every one of our hearts was taken on the afternoon of Wednesday, January 17th. There will be no more Neski airplanes flying around in the house. There will be no more precious Elsa reenactments done by our little Neski. There will only be what we can remember of Neski.
Lenexy is currently survived by her father (Jesus), mother (Edith), older brother (Jesus, 11 years old), and younger sister (Camila "Cami," 2 years old).
Both Camila and Edith have sustained very severe injuries and have received intensive medical attention. Edith is recovering in ICU at the time. Cami, at the age of two, is fighting a battle that no two-year old should ever have to face. Cami is strong and has made it this far, but the fight she has ahead of her is long from over. As you may have already read or heard in news reports, Cami is on life support. Close friends and family have gathered to pray and show support for her to overcome this obstacle and breathe on her own. However, doctors have said that she may only make it through the next few days. Whatever the outcome, Cami and her family will be needing immense help, not only from friends and family, but also from the community.
It is with a heavy heart that I write this on behalf of my sister's (Edith) family, and the rest of my family, I am asking for those who can and are willing to help and support us financially to please do so. Any amount will be greatly appreciated. If you are not capable to do so, we ask that you keep them in your prayers.
Thank you for your support,
Cristian Ramirez