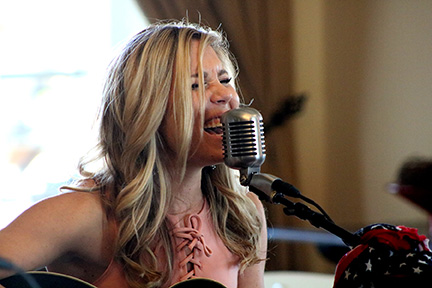 Allie Sealey, a 2008 Deer Valley High School graduate and Nashville Country recording artist is set to get back into the studio later this fall to record a new full length album of original music.
To do so, she is winding down a Kickstart Saturday where she hoped to raise $10,000 to help fund her album "The Long Road" and in August heads to Nashville to begin recording her album. She anticipates the album will cost anywhere from $15,000 to $20,000.
Sealey is no stranger to crowdfunding as her first album, Best Friend, in honor of her grandpa was created after raising a little over $6,500 last year—it was a 6-track EP which is available on iTunes.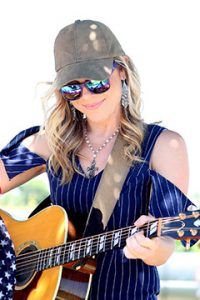 According to Sealey, utilizing crowdfunding is a powerful thing because it gives an artist control over everything to allow them to complete a project they want to do and share with the world without other people trying to control and maybe take it in a direction that it was not intended to be.
"I have built up a following of supporters and I am so thankful for their donations, support and appreciation of my music and hard work," said Sealey. "I play everyday for them if they watch for me, I try and give them a lot of my time and be available, so the fact they would help me fund a second album means the world to me."
Sealey anticipates this will be her last crowdfunding album because she plans to perform, co-write, and produce video content to help fund her music while in Nashville and traveling the road.
"My goal is to produce radio quality music that will last the test of time. It will be as good as I can produce it and hopefully the songs will end up on the radio and we will be able share them with as many people as possible," said Sealey.
For Sealey, the Kickstarter is ending at an appropriate time as she is set to record her album later this fall, however, in the process she recently was offered residency in Nashville to perform at Tootsies World famous Orchid Lounge. She begins in August.
She was offered the gig while on stage during the CMA Fest where she opened for Tracy Lawrence and also played at John Rich's Bar.
Seale
y was invited to play in Nashville by John Rich of Big & Rich.
"He actually told me he looked up my stuff before he tweeted me and asked me to play at his bar after I got a pay to play gig situation that I was deceived on," said Sealey. "Thankfully, John Rich saw a wrong and made it right by treating me with respect and kindness."
In June, Sealey was playing in Nashville during CMA Fest where she was offered work while on stage at Tootsies. She called the experience surreal.
"I looked out in the crowd, it was shoulder to shoulder, so many people there and I am on the stage and this guy was like have you been hired, I don't know what was going through my mind, I was there in the moment and it was hard to understand. I was excited. Then it was like what just happened, it was awesome. It was surreal and exciting. I had to accept it," explained Sealey.
While playing during CMA Fest, Sealey called the experience amazing.
"It was very busy, fans were amazing because they were there to hear all kinds of music but also there to support new artists," explained Sealey. "Fans were so supportive and was just a good time because their were so many positive reactions based on the crowd."
Sealey says her time in Antioch between albums has been a real education and test for her to play locally and fine tune her music. She even joked as she admitted she has opened up and is now less stubborn on stage.
"In the beginning, I only wanted to play my own songs that I wrote, but then people would shout out songs to play that were covers. I was stubborn but now I realize its all about having fun and giving the crowd what they want so I mix it up between original and covers, everyone is happy," explained Sealey. "If the people in the crowd are not having a good time, I'm not having a good time because its all about coming together to have fun where people can sing, dance and just jam."
She also thanked Hannah Nicole Vineyards for all the support and a great venue that has a good vibe while being relaxing. She says she will play there again when she returns to California. She also says Crown and Crow has been helpful and other local bars.
As for her next album, Sealey explains the title "The Long Road" is special to her because its been a long six-years. She put out her first EP last year after losing her grandpa then spent the last year on the road.
"I thought it was interesting because I had lost my grandma, made my EP, lived on the road. It has a deep meaning and meaning about my life as a musician and being on the road—trying to share that," said Sealey. "The songs are personal and encouraging, mostly about perseverance. I have always felt like the underdog and I want to be a voice and stand up for the underdog with these songs. My goal is to inspire others."
While she is still working on which songs to pick as she says she has too many that will fit on an album, she did say what is important to her is that upon completion, she raises the bar on her production quality, so it can be played on the radio.
In the meantime, Sealey will play at Crown and Crow in Brentwood to celebrate her birthday between 12:00 pm to 3:00 pm Saturday and will hit the road in August to Nashville.
To support her Kickstarter, click here.
Be sure to check Allie out on:
Available for download on iTunes!