The Antioch Police Department will be hosting its Coffee With the Cops on Saturday, February 18 from 9:00 am to 11:00 am at the Antioch Police Department Community Room.
The event will allow the police department to discuss recent crime statistics and recent issues occurring in our community while allowing residents to ask questions and offer solutions.
This event is held at 300 L Street.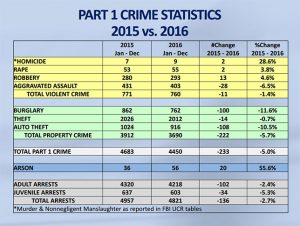 According to the latest crime statistics released in January during a presentation to the city council, police data shows Part 1 Crime is down 5 percent.
In total, 2016 had 4,450 Part 1 Crimes compared to 4,683 which is 233 less incidents.
According to the statistics, there were 9 homicides in 2016—up 2 from 2015.
In total, Antioch Police worked 13 homicide call outs, however, 4 later deemed "justifiable" by the District Attorney's office which drops the number down to 9.
In 2016, Antioch saw an increase of 4.6% in robberies with 293 incidents, but saw a decrease in aggravated assault by 28-incidents for a total of 403. Overall, violent crime was down 1.4%.
Antioch saw 233 less property crimes in 2016 as there were 762 burglary's, 2012 thefts, and 916 auto thefts. According to police, auto thefts were down 10.5%.
Antioch also saw an overall decrease in arrests with 4821 total – down 2.7% when compared to 2015.
Overall, Antioch Police saw a reduction of calls for service by 4.52% with a total of 87,289 calls per serve—an average of 239 calls per day. A total of 8,112 were priority 1 calls. Another 39,077 calls were deemed priority 2.
In 2016, the police department further reduced their average response time to 9:48 minutes—in 2014 it was 10:36 minutes and in 2015 it was 10:06 minutes.
Antioch saw a 6.6% increase in traffic calls which included 7 fatalities, 223 DUI's with 1,646 traffic accidents.
Currently, the police department is authorized for 102 sworn positions and have 98 full-time positions filled with 1 recruit set to graduate the academy in March 2017.