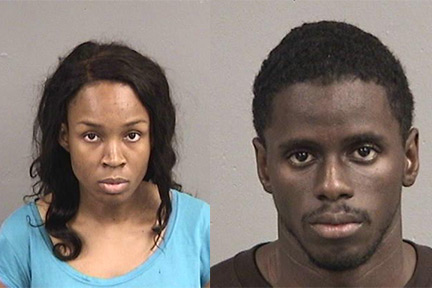 The San Leandro Police Department arrested an Antioch man and woman for conspiring to kill the man's 11th month old son according to the Alameda County District Attorney's Office.
Here is the release from the San Leandro Police Dept.
The Alameda County District Attorney's Office has filed charges against an Antioch man and woman for conspiring to kill the man's 11-month-old son.
On Monday, April 17th, 2017 at 2:30 pm, San Leandro Police Officers responded to a shooting that occurred inside of the McDonald's restaurant located inside the Washington Plaza shopping center.
When officers arrived, they found a bullet hole in the front glass window of the restaurant. A woman and her 11-month-old baby were sitting in a booth and appeared to have been targeted.
"The detectives that investigated this case say that it was a miracle that no one was hit," said Lt. Isaac Benabou.
Police began interviewing witnesses and searching for surveillance video. Detectives viewed McDonald's video which showed the suspect walk towards the table where the woman and infant were sitting and shot at them from close range. The suspect immediately ran out of the main entrance and was gone before police arrived.
Investigators have learned that the woman and her baby were at the McDonald's restaurant to meet with the infant's father, 29 yr. old Marcel Brooks of Antioch. Brooks never arrived and information about him caused police to explore whether or not he was involved in the violent attack.
Detectives began investigating this case, working through the night. They located Brooks and 27 yr. old Adanna Ibe at a Sacramento Motel the following morning. Investigators arrested Brooks and Ibe on suspicion of attempted murder of Brook's 11-month-old son.
Brooks and Ibe were returned to the San Leandro Police Department where they were interviewed by detectives. They have since concluded that Brooks and Ibe conspired to shoot and kill Brooks' son, who was the intended target during the Monday afternoon shooting.
Police are confident that this was not a random act of violence and they have arrested the people responsible for this heinous act.
Investigators met with the Alameda County District Attorney today, who filed charges against the pair including attempted murder and conspiracy to commit murder. Both suspects appeared in court this afternoon at the Hayward Hall of Justice and will be held without bail at Santa Rita Jail in Dublin. They are expected to appear in court sometime next week.
Please contact the San Leandro Police Department's Criminal Investigation Division with any information regarding this case or any other case at (510) 577-3230.
Information may also be submitted anonymously by:
Phone:          Anonymous Crime Tips at (510) 577-3278
Text Message:        Text "TipSLPolice" to 888777