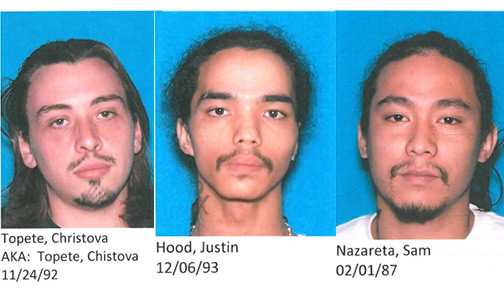 The Pittsburg Police Department announced they have identified three suspects involved in the murder of Joseph West and are seeking the public's help in identifying a fourth suspect.
West, 20 of Antioch, was shot and killed on February 22 in the 300 block of Atlantic Avenue at 7:50 pm.
According to Pittsburg Police Lieutenant Patrick Wentz, three individuals have been identified:
Christova Topete of Antioch (11/24/92
Justin Hood of Pittsburg (12/6/93)
Sam Nazareta  of Pittsburg (2/1/87)
Police are  working to identify a fourth suspect, who is described as a Hispanic or white male, approximately 20-25 years old, 5-10 in height, broadly built, with short hair and a goatee.  Surveillance footage gathered during the investigation shows the suspect.
Lt. Wentz stated both Justin Hood and Christova Topete have been arrested and transported to the Martinez Detention Facility.  Christova Topete was arrested Tuesday afternoon at a residence on the 2900 block of Hudson Court in Antioch during the execution of a search warrant at the residence.  He has been booked for murder.  Hood was arrested in a parking lot in the 300 block of Atlantic Ave in Pittsburg and booked for accessory to murder.
Nazareta is outstanding and Pittsburg Police hold a warrant for his arrest related to this murder.  He should be considered armed and dangerous.
Police say at this point in the investigation it has been determined that the victim had a prior altercation with at least one of the suspects.  Investigators are still working towards determining if this was the motive for the murder of West.
Anyone with information related to this murder is encouraged to contact Detective Robert Thompson at 925-252-4194.