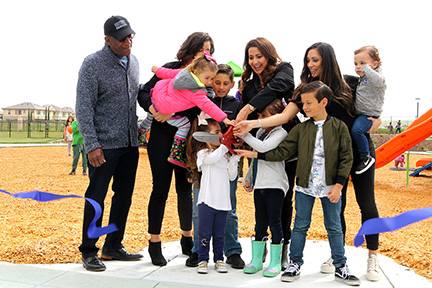 The City of Pittsburg on Saturday dedicated a park in honor of Officer Ray Giacomelli which included a ribbon cutting ceremony, music and food trucks.
The 2-acre park includes a play structure, covered picnic area, restrooms and a large grass area.
Giacomelli was killed in the line of duty on April 15, 2003 while conducting a murder investigation. He was a member of the Pittsburg Police Department for 23-years.
Chief Brian Addington said Saturday that the community was here to celebrate Giacomelli life and for the man that he was.
"I was brand new in 1994, Ray always worked on the southwest side of Pittsburg, I think it's very fitting where the park is, but I was in field training there was an abandoned car that had expired registration and I was going to tow the car. Ray asked me what the vehicle code section was for towing this car. Well I worked in another agency doing traffic enforcement, so I decided to state the code and Ray nodded his head. I was looking for some reinforcement that I was right, and Ray said how the heck should I know," said Addington. "A short time later we saw a guy backing up his boat and we stopped to talk to the guy about fishing and what he caught. I linked those two calls together because for me it showed me what Ray thought was important. Remembering the vehicle code section, we can teach that to anybody. But what we can't give them is a sense of community and a sense of pride and willing to get out to know people in your community and that is exactly what Ray taught me that day."
"What I don't need to know is the vehicle code that allows us to tow cars, but what I do need to know is the people who live in Pittsburg and the area I work in and how I can get to know them and make their lives a little bit better," said Addington. "That is the Ray that I know, so my ask to you is that when you come to this park, you enjoy this park. Let's remember Ray's sacrifice and remember Ray for the man that he was and what he contributed to this city and being a Pittsburg Police office and the pride that he had in this city in getting to know the citizens."
Pittsburg Mayor Pete Longmire, who served with Giacomelli on the police force, spoke about how much Giacomelli meant to the police force and to the City of Pittsburg.
"What we hear in the playground are children playing and what we hear are children making memories. They are having fun and they are in a safe place," said Longmire. "What you are witnessing today is transitioning from a moment of silence to a moment of memories."
Longmire shared how the first time he met Giacomelli was when they were sworn in together on their first day and learned how he was a "funny guy" as he tried to convince him that he had seniority over Longmire due to the spelling of their last name.
"I worked with Ray many nights over the years and Ray was a very passionate officer, very focused. He worked as if he was on a mission. Once he was locked onto something, he wouldn't let it go," explained Longmire. "Ray was very dedicated, he believed in this city's mission, the mission of the police department and had a unique passion for fighting crime. He made it his business to find bad guys and stop them from doing things they shouldn't be doing."
Longmire thanked the Giacomelli family for Ray's service and all that he did and highlighted the city was trying to do all they could to keep Ray's memory alive to turn a moment of silence into a moment of memory.
The park is located at 2011 W. Leland Road in Pittsburg.