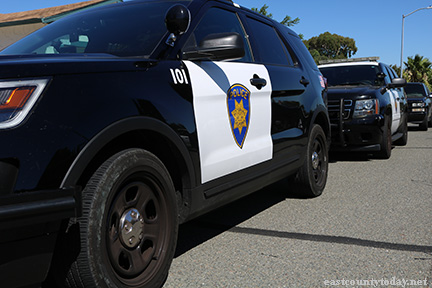 On Thursday, the Pittsburg Police Department announced the arrest of a student after what they care calling a "very disturbing" social media post indicating violence at Pittsburg High School.
Police say their officers were able to track the post and have identified a 14-year-old Pittsburg High student and have determined this is a copycat post designed to garner fear within the community so students wouldn't have to go to school.
This was the 5th arrest this week in regards to social media threats against the school.  On Tuesday, police announced the arrest of 4-students. Three subjects are minors and current students of Pittsburg High School; another subject, also a minor, is a former student of Black Diamond High School. All four subjects are currently being held at Juvenile Hall.
Currently, the police department has 5 full time school resource officers assigned to high schools and middle schools. The school resource officers also regularly spend time at our Elementary Schools along with Traffic Officers who patrol near school grounds.
In an effort to reach out to the public, the School District has partnered with the Police Department to host two community meetings: Managing Social Media and Safety.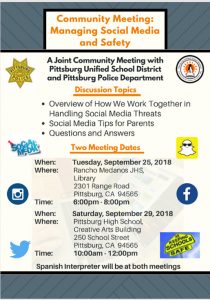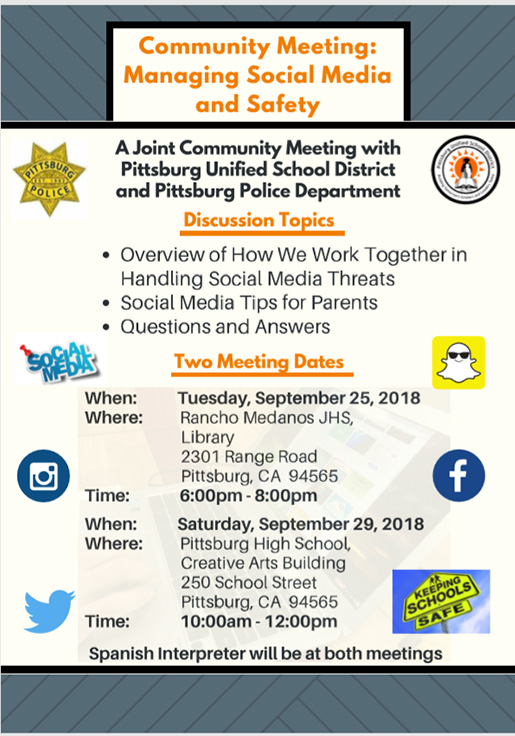 At the meetings, the discussion topics include:
Overview of how we work together in handling social media threats
Social Media tips for parents
Question and Answers.
The two meeting dates are:
Sept. 25 at 6:00 pm: Rancho Medanos JHS (2301 Range Road, Pittsburg)
Sept. 29 at 10:00 am: Pittsburg High School Creative Arts Building (250 School St, Pittsburg)
Police officers are encouraging parents to parents speak with their children about safe and responsible use of social media. Inappropriate or threatening statements and content online is treated the same as offline. This includes making threatening statements towards establishments or people. Both actions and words have consequences.
No further information was available.