The Oakley Union School District announced Friday that 4th grade teacher, Paige Colburn, as Gehringer's Teacher of the Year as well as Oakley School District Teacher of the Year.
Colburn has been teaching in Oakley for 4 years now. She grew up in the area and attended Liberty District where she was part of the Teaching and Learning Academy. Colburn did her student teaching at Gehringer and she quickly stood out as an outstanding young educator.
According to Superintendent Greg Hetrick, she was then hired and assigned to Gehringer where she has been teaching 3rd and 4th grades. She also has had the opportunity to loop students from one grade to the next.
Hetrick also added that anyone who mentions Colburn, the first thing to come to mind is Technology. She was in the first Tech Academy and received Chromebooks for her students early in the year. She has been a champion for technology for her site and the district. She serves on the district Technology Committee as well as being a Technology Curriculum Specialist. She does class demos for other teachers, holds Techy Tuesday meetings and presents to parents and staff.
The District also said that when it comes to working with the students, Colburn has a way to keep all students engaged and interested in the lessons. She teaches students using a variety of strategies to address all modalities of learning and her students respond very well.
Outside of school, Colburn has offered tutoring for neighborhood students, has been part of the Brentwood PD Christmas program, has supported CYO basketball and participates in fundraisers for cardiac care for women.
School Site Teachers of the Year
Almond Grove Elementary School – Susan Meis
Susan Meis, a 5th grade teacher, was named Almond Grove's Teacher of the Year. Susan has taught a variety of grade in her career but currently teaches 5th grade. She has a deep love for all things STEAM! (Science, Technology, Engineering, Art and Math) Susan attended the Chromebook Academy and uses her Chromebooks with students each and every day. She represents our district at the Science Subcommittee meetings at the county office and is always learning new ideas to share with her colleagues. Susan provides her students with authentic learning opportunities in the classroom based on technology enhanced lessons. She has started the concept of Science notebooks with her students and is at the forefront of the implementation of the Next Generation Science Standards. Susan is always a positive person with students, staff and parents and greets each child with a smile every day.  Differentiating learning for all students is also one of Susan's great strengths. Her community contributions include Special Kids Foundation, Alzheimer's Awareness Walk coordinator, Relay for Life coordinator, tutoring, Cub Scouts and many more.
Delta Vista Middle School – Meredith McCollom-Dean

Meredith McCollom-Dean, a Special EducationTeacher, was named as Delta Vista's Teacher of the Year. Meredith has been with the district for 12 years and has taught in general education settings as well as special education setting. She has been a leader from the start and has been a site department lead, has been a BTSA mentor for new teachers, and most recently has been a member of the OUTA negotiating team. She motivates and inspires students to have a love for learning and to appreciate the differences in learning styles for themselves and others. She gives them the confidence to be who they need to be and to take control of their learning. Meredith has an extremely calm nature that really works well to deescalate students who may be having a difficult time. She has been described as having a magical rapport with students. This really serves her well in all of her daily interactions with students, parents, and staff. She remains cool and calm at all times and really advocates for her students. Meredith also supports Relay for Life and the Avon Walk for Breast Cancer.
Iron House Elementary School – Lisa O'Shea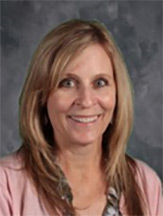 Lisa O'Shea, a  5th grade teacher, was named as Iron House's Teacher of the Year. Lisa has been teaching in the district for 12 years and has taught in a variety of grade levels. Lisa has thoroughly embraced the concepts from some new training in helping our students self-regulate their emotions. You might see students taking a breathing break, get refocused, and then get right back to work. Lisa has been to our recent GLAD training and Chromebook Academy and uses these in her classroom daily. Lisa's principal described her as a front-runner in integrating technology in the classroom. She also is a lead in the area of Language Arts and has been helping her colleagues with the implementation of our new Language Arts series. Lisa is a compassionate person who always puts her students first. She is a positive upbeat force for the students and staff on the Iron House campus
Laurel Elementary School – Kristen Dhaliwal

Kristen Dhaliwal, a 1st grade teacher, was named as Laurel's Teacher of the Year. Kristen has been with the Oakley Union School District for 30 years and has taught 1st grade, 1/2 combo, 2nd grade and a 2/3 combo. Kristen has been GLAD trained and uses the strategies in her classroom regularly. She has been a math lead for Laurel and is currently the English Learner Liaison for two schools, Laurel and Almond Grove. Kristen supports her students through a positive attitude, a true love for learning and a desire to make learning fun. She is patient, calm and can juggle multiple things going on in her classroom with ease.  Encouraging her students to support the classroom community and be kind to others is a strong message in Kristen's classroom.  In addition she encourages students to be independent thinkers and challenges them to extend their thinking.
Oakley Elementary – Suanne Atwood-Schlotman

Suanne Atwood-Schlotman, a 3rd grade teacher, was named as Oakley School's Teacher of the Year. Suanne has been in education for 27 years and has been with our district for 17 of these years. She has taught just about every grade K-12 with the exception of 4th grade. She is extremely interested in the arts and has created Tiger Theater as an after school class for students who are interested in performing. STEAM is another area of interest and focus for Suanne. Her students participate in STEAM Friday where they have a chance to work cooperatively on engineering tasks, coding and technology. Suanne is a kind, caring and compassionate teacher who wants all students to succeed. She gives above and beyond to her students, her school and her community. Designing and painting school murals, being team captain for relay for life, heading up multiples site committees and keeping her coworkers happy with potlucks and social events to build community are just a few of the things that Suanne does without blinking an eye. Above all else she builds relationships with her students and they all know they can feel safe and respected in her classroom.
O'Hara Park Middle School – Sheila Hicks

Sheila Hicks, a Language Arts teacher, was named as O'Hara Park's Teacher of the Year. Sheila has been in education for 30 years and has been at O'Hara Park for the past three years as a full time teacher. Sheila has described her position at O'Hara as her "dream job"! She is all about reaching every student in her classroom and uses a variety of strategies to meet their varied learning styles. She integrates video and audio technology into her lessons and uses the Chromebooks and computer labs to engage her students. When it comes to rapport with students, Sheila goes above and beyond. The students feel her true passion for teaching and it shows in their attitude toward her class. Students have reported that she makes them work hard but she never gives up on them. Sheila is an inspiration to her fellow staff members who see her passion for teaching and the desire for her students to succeed. She has been on the Safety Committee, has been the 7th grade ELA lead, and has been a home hospital teacher as well as taken on Friday School. Sheila is a positive force on the O'Hara Park campus.
Vintage Parkway – Kathy Reinders

Kathy Reinders, a 4th grade teacher, was selected as as Vintage's Teacher of the Year. Kathy has been working in schools for quite some time but is still fairly new to the teaching profession as this is just her second year as a classroom teacher. Kathy's dynamic personality and drive to do more for her students are what have excelled her to the top of the Teacher of the Year list. Kathy works hard to serve her struggling students and has been there to teach after school interventions, offer tutoring and just being a listening ear for students and parents. Kathy promotes a positive classroom and school environment by participating in the site Bee Kind Project as well as having individual reinforcement for students using a punch card. She is a leader in Technology and is the site Technology Curriculum Specialist. Kathy Reinders goes above and beyond for her students, her school and her community.
Information and photographs provided by the Oakley School District