On Saturday, several hundred people gathered in the City of Oakley to show solidarity against the stigmas surrounding suicide and mental illness
The Out of the Darkness Walk, through the American Foundation for Suicide Prevention, raised $39,273 with funds still be counted according to Vanessa Perry, Walk Chair. She also stated they had 356 people registered for the event.
The event included speakers, vendors and opportunity for people to share their stories which was highlighted by a 5k Walk.
Tara Jean Robinson, a committee member, spoke about the importance of walking out of the darkness as she had been surrounded by suicide over the past four-years.
"I almost lost myself to this darkness on March 9, 2014. I lost my dad that following year, it was like a ripple effect because I lost my friends Rebecca, Pacheco, Vicky, grandpa and most recently I just lost two of my cousins within a month a part," explained Robinson. "There is a darkness out here trying to steal, kill and destroy us, but let me tell you that light shines in the darkness and that darkness cannot overcome the light."
Robinson highlighted how the hardest roads lead to the best places and tragedies can turn into triumphs.
"I am now being used as a beacon of light, this is how we spread hope, by being the voice like using one candle to light another," said Robinson. "Your world is not falling apart, its just falling into place. If you are struggling, please reach out. Break the silence and share your story."
She told the crowd to always remember that "suicide does not end the pain, it just passes it along to someone else."
Supervisor Diane Burgis shared how when she was on the Oakley City Council, she noted the City of Oakley started to have an increase in suicides—9 suicides in 2014 with 9 total suicides in the previous 5 years.
"At that point, I said what are we going to do about it?" said Burgis who then explained all the stakeholders that came together from the faith-based community, to schools to law enforcement and county resources to work on solutions. "We started to talked about what we could do. We started talking about interventions and ways to give people access to helping each other and being aware and getting rid of the sigma that is feeling that you have no hope."
Rich Rodriguez, captain of Team Xavier, shared this was his 4th walk in Oakley and his first one came 3 ½ months after his brother ended his life at the age 27. Rodriguez spoke about his brothers life and the feeling like he failed.
"Three plus years later, and I know I shouldn't. I still carry a burden that a lot of us carry today, the burden of guilt. I felt a sense of responsibility for what happened, I was supposed to lead the way for him but I failed… a million things I wish I could have done differently," explained Rodriguez. "If I knew what I know now, I would have been able to see the warning signs a lot sooner and that he was battling something a lot more than an alcohol addiction. He was battling a debilitating depression that was turning is own mind against him. Alcohol was just one of the ways he could escape. Another way was through his music. When those didn't work anymore, in his mind, he only had one option."
Rodriguez noted that after his brother died, he was unmotivated and didn't want to do anything.
"I know I am supposed to come up here and tell you what helped me heal, but as everyone who has gone through a similar situation will tell you, you never completely heal from something like this, there is only learning how to deal with it better as time goes on," said Rodriguez "Its what you do with that energy that really matters, you could stay curled up in a bed and never leave the house or maybe you can attend a group of people who have gone through a similar situation and help each other navigate through their emotions, be there for someone else who is struggling with depression or attend events such as this."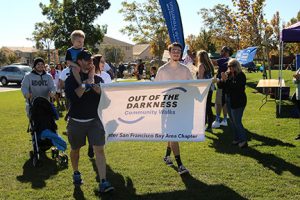 Rodriquez stated he wanted to use his business as a platform to raise awareness and raise funds for the American Suicide Prevention for their research and educational programs.
Rodriguez closed by saying that in the super hero movies you will notice the heroes don't always know their true powers until they have lost someone close to them.
"Through this experience, I believe a power has been unlocked within all of us, we have the power to raise awareness to prevent people like my brother and your loved ones who is going through depression and mental illness to help them get the help they need before its too late, we have the power to help raise awareness to help others from knowing the pain we have experienced, We have the power to understand its okay to seek help if you do in fact need it yourself," said Rodriquez. "I just ask you don't be afraid to use your power."
For more on the walk or future events, visit: https://afsp.donordrive.com/index.cfm?fuseaction=donordrive.event&eventID=5228