On Saturday, a poker tournament fundraiser was held for Antioch Police officer Meghan Miller who is currently fighting Hodgkin's Lymphoma cancer.
My experience with officer Miller has always been positive. Observing her in the field, she has been fair, caring, and able to defuse difficult situations with not only integrity, but with compassion. I miss seeing her on patrol.
The fundraiser event was hosted by the Sacred Sons Law Enforcement Motorcycle Club and the Antioch Police Department with the help of Blue Dog Events who ran the poker tournament.
The sold-out event of more than 300 people provided hours of entertainment. It included dinner, raffle prizes, silent auction and of course a 4-hour poker tournament which resulted in all prize money being donated back to Officer Miller to assist her while she is undergoing treatment.
During the event, Officer Miller addressed those in attendance highlighting how they were family. Below is an unedited video of her speech. Photos from the event: Click here
"When Bear and I came up for air, we realized you were all hear," said Miller. "I know there is no cure for cancer… but I know one secret is how to fight it."
Miller then provided her recipe for how to fight it which included her husband "Bear", family, friends.
"I have a ton of friends, but it's hard to call people friends when you are co-workers and they are your family, your brothers and sisters and that is who they are. You all know exactly who you are and I thank you," said Miller.  "The most important part of this recipe is you are going to need APD on your side. It's pretty incredible. I know in this room there are many other PD's… everybody is here, I am overwhelmed. People have done everything for us, donating sick time, made meals and brought to our house. You have fed us and helped us the whole time. "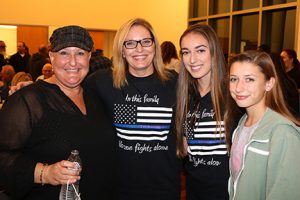 Miller highlighted officers created a meal train that was started, as well as a GoFundMe campaign assisted her family in their time of need with funds while she receives treatment. She also noted officers shaving their heads in support while thanking them for all their efforts.
Although she admitted they did not know how her treatment and fight was going to end, she noted they are having really good results so far with the treatment.
After the speech, poker began. But what stood out was the atmosphere and how everyone in the room was upbeat, positive, willing to support officer Miller in anyway possible.
It's something I cannot really put words, you really had to be there, but the love in the room for officer Miller stood above all else–it was a magical night with officers, dispatchers, community figures, and citizens who were all humanized and showed that regardless of the preconceived opinions of a job title or badge, caring for someone in their time of need matters more than anything.
This is nothing new to Antioch Police, there are hundreds of examples of the men and woman of the police department going the extra mile to care for someone when they didn't have to. But Saturday night was different, it demonstrated that regardless of negative rhetoric, Antioch Police were not going to let that define them and instead were going to double up and give back.
Antioch Police demonstrate what it really means to take care of one of their own by going more than the extra mile, all while doing their job to protect the community. I wish I could have had a camera on many of the people in the room to share the joy of just being able to help in their own way, stories shared about officer Miller, to just people being good people.
It was an honor to be in the room and witness the magical evening unfold as funds were raised, smiles were had, hugs were provided and the department overall showcased family is much more than just blood.
I wish everyone could have witnessed Saturday night.
Camaraderie like that is rarely achieved, could never be bought, only earned over years of hard work, dedication and trust. My wish is that in whatever career you may have or pursue, you one day can experience what the Antioch Police Department has in your life.
If I am ever in a time of need, I could only hope that I'd have an army of wonderful people like the Antioch Police Department to have my back.
Mike Burkholder
Publisher