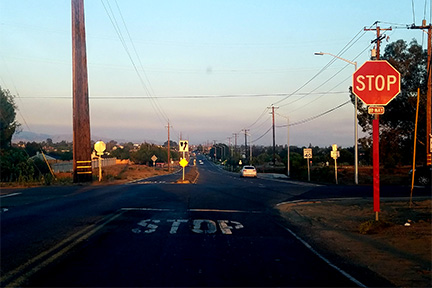 A road widening project on a major city thoroughfare is about to undergo construction in the City of Oakley.
A section of Laurel Road east of O'Hara Avenue near Laurel Ballfields Park will soon be widened from the current two lanes (one lane in each direction) to four lanes (two lanes in each direction) from Cloverbrook Avenue to Main Street, thus providing traffic relief and easing congestion on one of Oakley's busiest roadways.
"Laurel Road is major arterial street in Oakley and has a direct connection to Highway 4," said Oakley Public Works Director Kevin Rohani. "Once completed, the new Laurel Road will facilitate the traffic flows in Oakley greatly for motorists, bicyclists, and pedestrians."
The widening of the approximately 0.6 mile section of Laurel Road will take place in three phases. Phase one will add a traffic light at the intersection with Rose Avenue, replacing a four-way stop sign, which is notorious for congestion during morning and afternoon commute times. A second phase has road construction from the vicinity of Cloverbrook Avenue heading east for .3 mile to Mellowood Drive. The final phase is road widening from Mellowood Drive 1/4 mile east to the signalized intersection with Main Street.
"This has been a very high priority with the Council," said Oakley City Assistant Manager Nancy Marquez-Suarez. "Now that right-of-way has been obtained and PG&E and WAPA (federal power agency) are in agreement to move the poles, we are able to march ahead."
Carrying over 10,000 vehicles on a daily basis, Laurel Road serves as the main connection for motorists between Highway 4 and Oakley. Over the past decade, several sections of the 2.8 mile stretch of Laurel Road between Main Street and Highway 4 have been widened from two to four lanes to accommodate the increasing traffic flows. Eventually, it is anticipated that several commercial locations along Laurel Road will be built out and developed over time.
"The design for the project started some time ago, but the recent delay has been dealing with the relocation of PG&E and WAPA power poles," added Marquez-Suarez. "The movement of these power poles should commence within the next 45 days."
East of Rose Avenue, drivers on this section of Laurel Road will notice an aging bumpy street surface that is in disrepair and in dire need of resurfacing. Pothole repairs and some pavement patchwork have taken place as stop-gap measures, but these are only temporary fixes until a permanent solution commences upon replacement and widening of this section of roadway.
"Those repairs are just to get by until the whole roadway is widened and repaved," said Marquez-Suarez. "Under some sections, east of Mellowood Drive, the County used Sierra-crete as a subsurface. The treatment of this road section will be different in order to deal with this failing subsurface."
While the widening of Laurel Road and addition of a traffic signal at Rose Avenue is expected to provide traffic relief along that stretch of corridor, the overall project to make Laurel Road a full-fledged four-lane roadway from Highway 4 to Main Street is still not fully complete. A short, 1/4 mile section of eastbound Laurel Road east of O'Hara Avenue will remain one lane due to a stretch of right of way south of Laurel Road that has yet to be obtained by the City. As a result, eastbound traffic will continue to bottleneck from two lanes to one lane until this section can be completed.
"There is one long piece of right-of-way that we do not have yet and that is from O'Hara Avenue east to the next subdivision," said Marquez-Suarez. "We continue to hope the property owner will soon agree to cooperate so that portion can be completed as well."
Construction on the widening of Laurel Road from Cloverbrook Avenue to Main Street will begin later this year and is expected to continue until Fall 2019.
---
Sean Tongson, writer, is a resident of East Contra Costa County, a proud husband and father, and enjoys outdoor activities such as hiking, road tripping, and traveling.
An avid bay area sports fan, Sean's favorite teams include the 49ers, Giants, Sharks, and Warriors.