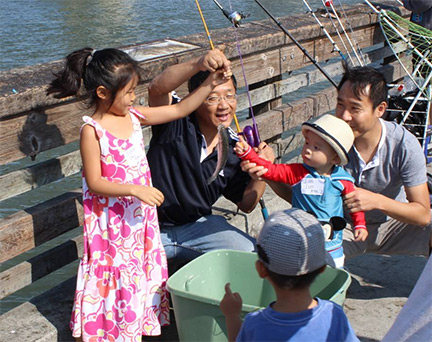 The 14th Annual Kids Fishing Derby drew a big crowd to the Antioch/Oakley pier on August 12, 2017 with over 145 children participating in the event.
Awards were given by age category for smallest, largest and most fish caught. Congratulations to the following winners:
Ages 2 – 5

Smallest Fish-Ian Luo
Largest Fish-Jasmine Hannon
Most Fish Caught-Addison Payne

Ages 6 – 10

Smallest Fish-Riley Vo
Largest Fish-Carly Sachs
Most Fish Caught-Audrey Marquez

Ages 11 – 15

Smallest Fish-Thomas Longo
Largest Fish-Olivia Bonson
Most Fish Caught-Alex Stimas
Oakley City Councilwoman Claire Alaura called the derby fantastic.
"I was very impressed with the organization and work put in by the city staff and event sponsors, particularly the East County Student Anglers Club. They were really helpful and patient with the kids. It was a great event and I loved seeing the kids' faces as they received their prizes at the end," said Alaura. "We will be back next year and hopefully better fisherman by then."
Councilman Kevin Romick added the event was dominated by ladies.
"Oakley's 14th Annual Kids Fishing Derby was well attended this year with 140 kids registering, double last years participation. It was a gorgeous day to be out on the water fishing. This years prizes for smallest, largest and most caught, broken into 3 age brackets, were dominated by the young ladies. Thanks to those businesses and organizations that help make it possible," said Romick.

For more photographs, visit the City of Oakley's Flickr http://bit.ly/OakFishDerb.