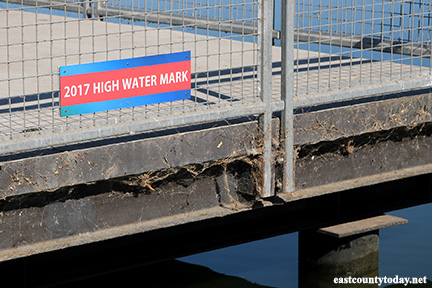 On Wednesday, several agencies came together for the unveiling of a High Water Mark at the Big Break Regional Shoreline in the City of Oakley in an effort to raise awareness of flood dangers.
The event was held in conjunction with the Delta Protection Commission, California Department of Water Resources, US Army Corps of Engineers, East Bay Regional Park District and Supervisor Diane Burgis.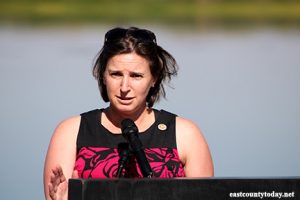 Rachael Orellana, US Army Corps of Engineers, highlighted the recent floods in the southeast and how 11 people had died. She explained how many communities were raising awareness of flooding through water marks each year. She noted that in most cases, flooding happens and its alive in peoples mind, but in six-months people forget how high the water was.
"We found that in Europe, people had a lot of high watermarks and flooding was alive in their minds because they were on historic buildings, "said Orellana. "It was just very interesting to see how prevalent the watermark was in France and the Netherlands.  I was there with some of the heads of the US Army Corps of Engineers who were saying we need more high watermarks here in the United States. So that's what you all here are making happen is the honoring this high watermark installed today."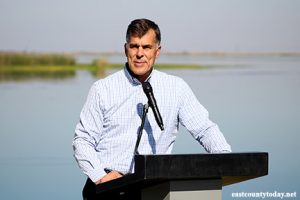 Erik Vink, Executive Director, Delta Protection Commission, expalined how flooding could happen at anytime without notice.
"It's not just a high water winter storm related event," said Vink. "The last major failure in the delta occurred on the day much like today in the summer… Some areas of the Delta are below sea level, so flooding is the fact of life and we need to be prepared for it."
He continued.
"We've had flooding and high water events in the delta as recently as a month in 2017, so the fact of life, we know it can happen at any time and this sign that's being unveiled today and efforts around informing and alerting the public about the potential for flooding and to make people aware and help them to better prepare and be safe."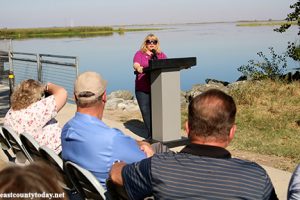 Supervisor Diane Burgis stating flood dangers are an important topic for residents around the Delta because they have a billion dollars worth of infrastructure that is aging and the question was how do they replace it and it could cost two billion dollars to replace.
"Just doing the basic types of infrastructure that's occurring right now in Contra Costa County, there has been very forward thinking and trying to create more natural types of infrastructure," said Burgis. "I'd like to raise the awareness about flood control."
Burgis explained how the high water mark sign will help raise awareness and have an impact because people who visit Big Break Regional Shoreline will see it and realize the impact it could have.