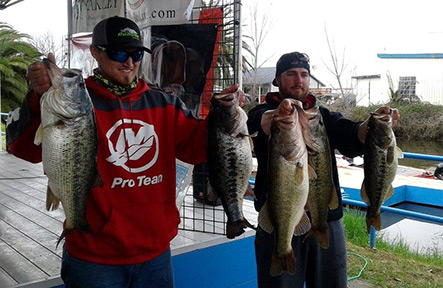 On March 18, Dan's Delta Outdoors kicked off its 2017 Black Bass Fishing Series out of Big Break Marina in Oakley.
The big winners of the day were the team of Nick Cloutier and Joey Skym who netted a combined 32.58 pounds with a big fish of 8.11 pounds who took home $2,000.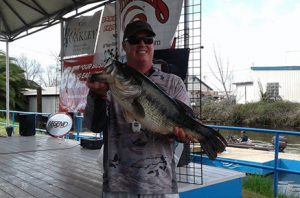 Greg Troughton and Kenny Cassettari earned the Big Fish weighing in at 11.32 pounds received $600 in prize money.
The tournament, which the first season was held last year, netted its highest participation to date with 30-boats and is expected to grow as the season progresses.
"Last year was our inaugural year and are excited for the continued growth with the help from our sponsors to make this the largest pro-team tournament so far on the river," said Dan Mathisen. "I want to thank all of our participants who came out and battled all day long."
Results & Payouts
Nick Cloutier Joey Skym 32.58 8.11 $1750+$250=$2,000

Hunter Schlander Vincent Bernal 27.46 9.50 $925+$125= $1,050

Andrew Lippert Dustin Tacker 27.05 7.88 $600+$75=$675

Beau Joudrey Ryan Cortos 27.03 6.45 $425

Grey Troughton Kenny Cassettari 26.37 11.32 $275

Dave newton Marc Young 24.27 7.65 $225

Kenny Schmitt Chuck McCantney 23.88 7.90 $100 R2Sea Gift Cerficate

Harvey Pulliam Jamond Andrew 21.50 5.92

Garret Bradshaw Pat L 20.94 9.40

Travis Walker Dave Solls 20.22 7.69

Jim Gochring Ramon medina 19.95 7.64

Jeff Lamy Paul Herdman 19.79 5.24

Tom Fereria Mike Guzman 18.94 5.80

Gary Mullins Myles Nutter 18.34 8.12

Robert Couiltier Chris Hamilton 18.18 3.88

Ben Willis Larry Ugnolo 17.94 6.21

Jon Levenson Mike Watson 16.7 5.23

Travis Huckaby Charlie King 16.05 4.43

Venanzio Faualora Andrew Rubick 15.97 6.26

Steve eheler Dave Donbledee 15.69 4.45

Mike Kuhlman Billy Hume 15.33 3.94

Dan Daniel Dee Thomas (The Legend) 15.16 4.38

Phillip Dutra Mike Andrews 14.99 4.71

Tim Venkus John Martin 14.63 4.91


Bill Spencer Jr Craig Carabello 13.85 0.00

Juan Padilla jr Norman Crittle 11.85 6.65

Chris Wadsworth Cory Cancilla 10.45

Andrew Niethold Nicholas Mann 10.01 3.49

Terry DeVincenzi Brandon DeVincezi


Michael Henry Jr.
Our Sponsors City Of Oakley, WaftUSA, Les Schwab Tires, Big Break Marina, Okuma USA, Savage USA, Fins Braid, Dirty "D" Kings, Black Bear Diner Oakley, Inland Marine, Value Plumbing, River2Sea.
Upcoming Tournament Dates include:
April 15, 2017
May 20, 2017
July 15, 2017
August 19, 2017
September 30, 2017
October 28 & 29, 2017 (Tournament of Champions)
For more information, visit: www.dansdeltaoutdoors.com. You may also visit the shop at 1625 Main St, Ste 1008, Oakley Ca. or call (925) 234-4694