Here is a look at events going on this weekend in East Contra Costa County.
8:00 am: Brentwood Farmers Market
The 2017 season will run every Saturday through November 18 located at First Street between Oak and Chestnut.
---
12:30 pm: Ribbon Cutting for Brentwood on Ice
The City of Brentwood will begin to spread holiday cheer with its first ice rink set to open in the downtown area thanks to the vision of Got a Party owner Tom Gregory on November 18.
Brentwood On Ice , will be open from November 18 through January 7, 2018 and is located at 739 Second Street. The 4,000 square foot rink will also have a snack bar with food and beverages onsite and party rooms are available.  The rink will also feature daily promotions. For more information on Brentwood on Ice, call (925) 516-7664 (Got A Party) or check us out on Facebook
---
2:00 pm: K and Co Family Jewelers and The Bald Barber present Winter Wonderland

Come out this Saturday starting at 2pm for some good ol' fashion holiday family fun in downtown Brentwood. We will have live music and multiple family friendly activities along with local vendors in our lot.
Don't miss the grand opening of Brentwood On Ice just down the street from us! Stay for the Holiday Parade set to begin around 5:30pm.
Located at 741 Second St, Brentwood CA
---
Streets of Brentwood Big Chill

Beginning November 18 and continuing through the end of December, The Streets of Brentwood will host Winter Blast, a fun-filled, family friendly lineup of holiday activities.
This year's main attraction is the Big Chill, a 10,000 square-foot indoor/outdoor ice skating rink. Along with the area for skating there will be Polar Plunge Ice Slides: one 200 feet long for the adventurous and one 75 feet long for younger children. The larger slide will be 12 feet wide with the option of riding down four people at a time in a raft so your entire family is together, or individually in a tube with the option to race your friends.
The Big Chill will also provide a 3,200 square-foot Ice Lodge with upscale furniture, fire tables and heat lamps for those who want to take a break from the activities. There will be light and sound shows, live music on Saturdays, and rentable indoor party rooms with a 60-person capacity for everything from birthday parties to corporate meetings.
For more information on individual events, www.shopstreetsofbrentwood.com will have specific days, times, and details available starting on November 1, 2017.
---
2:00 pm:12th Annual Local Artist Collection Exhibit Opens at the Lynn House Gallery

The 12th Local Artist Collection opens on Saturday, November 18th at the Lynn House Gallery, with an artist reception from 2 – 4 PM.
The exhibit will provide the community with an opportunity to view and purchase local art during the holiday season. The exhibit will feature 35+ local artists and is a diverse, non-themed mixed media exhibit of artworks featuring paintings, multi-media, pottery, photographs and more.
The Lynn House Gallery is located at 809 West 1st Street in downtown Antioch in a quaint Victorian. The Local Artist Collection exhibit continues through December 2nd on Wednesdays and Saturdays from 1-4 PM. The artist reception and exhibit are free to the public.
There is an artist prize pool of $525.00 and is distributed as follows:
$200 for Best of Show
$150 for 1st Place
$100 for 2nd Place
$75 for 3rd Place.
The artists who exhibit their work at the Lynn House Gallery are very supportive of each other and have developed personal and professional friendships. As a result of their collaborative process, the artists decide the winners. Each artist will receive a voting card at the beginning of the exhibit and voting is tabulated at the end of the show. Artists cannot vote for themselves and must vote by December 2nd.
Participating artists are: Lori Azzolino, Chris Anway, Gloria Cannon, Allison V. Campbell, Prudence Chapelle, Anna Chunn, Trudy Couch, Clyde Cox, Sherry Cummings, Dianne Curtain, Becky Decierto, Laurie Dimaggio, Michele Eakin, Betty Espindola, Paul Dugan, Jerome Gibson, Yoshiko Gobbell, Easy Gonzales, Linda Fead, Jennifer Johnson, Karen Nelson Kelly, Kay Kirby, Beverly Knight, Ryan Lutes, Ruth McMillin, Mike Oria, Michael Pohl, Beverly Prather Martinez, Ann Mcgill, Annie Offord, Julia Offord, Michael Rood, Robin Rupert, Paul Schorr, Joel Summerhill, Beverly C. Turner and Casey Rasmussen White.
For more information visit www.Art4Antioch.org, call (925) 779-7018 or email [email protected]
---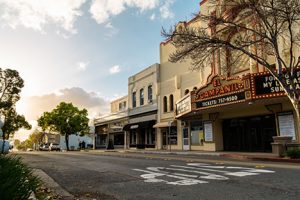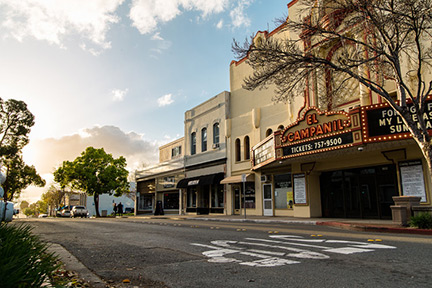 2:00 pm: El Campanil Hosts Contra Costa Orchestra – Mozart Masterpieces
Formed in the late 1970s, the Contra Costa Chamber Orchestra has established a presence throughout the county. The orchestra is comprised of forty-five musicians ranging in age from 15 to 94 who are music teachers, accountants, students, electricians, mechanics, homemakers, lawyers, retirees, dentists, engineers and computer specialists. Primarily Contra Costa residents, their only remuneration is the stimulation and satisfaction of rehearsing and performing together.
In addition to the five-concert season at the Lesher Center, the orchestra also nurtures its dedication to the community by providing affordable performances to the residents of East Contra Costa County at El Campanil Theatre.
For tickets, click here.
---
2:00 pm: Downtown Brentwood Winter Walkabout & 5:00 pm Parade
Visit downtown Brentwood as they host a Winter Wine Stroll & Tasting Tour ($30 tickets  (400 maximum) 21 and over – ID required), a Kid's Winter Carnival, Letters to Santa along with a variety of Arts & Crafts Vendors.
At 5:00 pm, The tradition continues with the 35th Annual Holiday Parade in Downtown Brentwood.  Bring your family and friends to this FREE holiday event in Downtown Brentwood!
 Sponsored by Brentwood Chamber of Commerce 925-634-3344.
---
7:00 pm & 9:45 pm: California Theatre Hosts Pablo Francisco
Pablo Francisco will rock the house with screams of laughter at the California Theatre in Pittsburg, CA.  Pablo is one of the most popular touring comedians worldwide. He has earned a reputation for his unique talent to weave together his one of a kind arsenal of off the wall characters and spot-on impressions. Francisco draws his audience into his vivid imagination and takes them on a wild ride as they experience his spontaneous outbursts, clever insights and some of the funniest rapid fire comedy, ever unleashed.
Tickets: $20 – $30 / Call: 925-427-1611 / Visit: http://tommyts.com/pleasanton/
---
November 19
2:00 pm: El Campanil Children's Theatre The Happy Prince
Written by Oscar Wilde for his two sons in 1888 and adapted for El Campanil's stage by ECCT Artistic Director Sharon Redman. It is the original story brought to life by El Campanil Children's Theater and well known vocal artists Mike Spellman and Randall Nott.
​
​The golden statue of the Happy Prince stands high above the city looking down on the misery and poverty beneath him. Desperate to bring hope and happiness to the poor people, he asks a swallow to distribute his gold and jewels to them. The generosity of the Happy Prince and the courage of the swallow help to overcome the greed of the powerful mayor and we are shown that the most precious things in life are often the least obvious.
Performed by the children of El Campanil Children's Theatre.
For tickets, click here