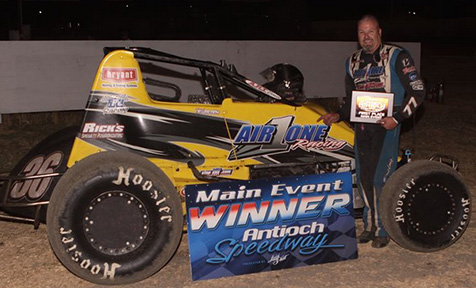 Antioch, CA — Bob Newberry continued his quest for a second All Star Series Wingless Spec Sprint championship at Antioch Speedway.
Saturday night, the current point leader picked up his fourth Main Event victory of the season. Newberry's closest threat in the Main Event is also his closest rival in the points, Shannon Newton. Newton won his six lap heat race and collected his third second place feature finish of the year. Roy Fisher settled for third, followed by James East and heat race winner Brandon Burd.
Rookie Ryan DeForest won the 20 lap topless B Modified Main Event. It was the first career win for DeForest, and it paid a $500 special first prize. DeForest led from the start. Point leader Trevor Clymens spun on lap four in his battle with Chuck Golden for second. Clymens gained second on a lap 11 restart and provided some pressure during the second half of the race. However, DeForest prevailed ahead of Clymens, Golden and Matt Taylor.
Reigning champion, Kimo Oreta scored the victory in the 20 lap Limited Late Model Main Event. It was the third win of the season for Oreta as he reminded everybody why they call him the Flyin Hawaiian. Oreta's most recent four starts are two wins and two seconds as he is closing in on the championship point lead. Oreta set a rapid pace and won by over a straightaway in front of John Evans. It was the best finish yet for Evans, who held off teammate Ryan Cherezian for the position. Mike Walko had his first non Top 3 finish of the season in fourth as heat race winner and point leader Mark Garner finished fifth.
Reigning champion Cameron Swank won the 20 lap Hobby Stock Main Event. It was the fourth win of the season for Swank, and he won the special $500 first prize. He gained the lead from Sid Smith Jr with an inside pass on the backstretch on lap three. For the remaining 17 laps, Swank had to deal with the pressure of point leader Chris Sorensen and Michael Cooper. Sorensen made a Turn 2 pass on Cooper on lap 15, but he couldn't quite get around Swank on the inside. Swank was a happy winner, followed by Sorensen, Cooper, John Wacht and Megan Ponciano.
Mario Marques scored his first career 20 lap Dwarf Car Main Event win. Marques had his hands full with point leader Mike Corsaro and 2010 champion Jerry Doty in pursuit, but he was up to the task as he scored a well-earned victory. Corsaro settled for second, followed by Doty, Chris Becker and David Michael Rosa.
Due to a concert at the fairgrounds, racing will be off this week, but it returns on July 21st with DIRTcar late Models, Limited Late Models, A Modifieds, Hobby Stocks and Bay Area Hardtops. For further information, go to www.antiochspeedway.com.
Unofficial Race Results
All Star Series
Wingless Spec Sprints
Heat winners (6 Laps)-Shannon Newton, Branden Burd. Main Event (20 Laps)-Bob Newberry, Shannon Newton, Roy Fisher, James East, Brandon Burd.
B Modifieds
Heat Winner (6 laps)-Trevor Clymens. Main Event (20 Laps)-Ryan DeForest, Trevor Clymens, Chuck Golden, Matt Taylor.
Limited Late Models
Heat winner (6 Laps)-Mark Garner. Main Event (20 laps)-Kimo Oreta, John Evans, Ryan Cherezian, Mike Walko, Mark Garner.
Hobby Stocks
Heat winners (6 Laps)-Chris Sorensen, Billy Garner. Main Event (20 Laps)-Cameron Swank, Chris Sorensen, Michael Cooper, John Wacht, Megan Ponciano.
Dwarf Cars
Heat Winners (6 Laps)-Mario Marques, David Michael Rosa. Main Event (20 Laps)-Mario Marques, Mike Corsaro, Jerry Doty, Chris Becker, David Michael Rosa.