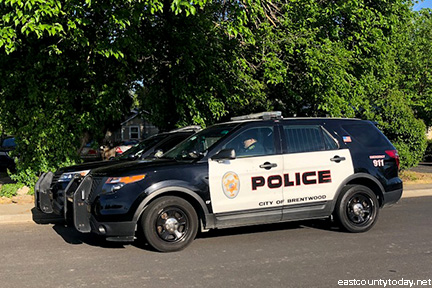 Here is a look at a sampling of the Brentwood Police Call logs between May 2-7 according to their call logs–the sampling is focused on the higher priority calls.
Assault
5/4 – Harrison Lane: . RP DAUGHTER WAS JUMPED AT LOC YESTERDAY
5/6 – Brentwood Blvd: . OCCD 20 AGO. BOYF WAS JUMPED OUT OF NOWHERE AND TWO SUBJS STARTED BEATING UP ON HIM
Auto Burglary
5/4 – Balfour Rd: BMA BLK BASEBALL HAT WHI/BLU SHIRT WHI PATHFINDER UNK LIC PLT TRYING TO BREAK INTO MULTIPLE VEHS
5/5 – Windsor Way & Village Dr: BLACK F150 REAR DRIVER WINDOW SMASH PARKED NEAR STARBUCKS AND SLEEP NUMBER RP DIDN'T SEE WHO BROKE IT, NOT HIS VEH
5/6 – Dainty Ave & Griffith Lane: TOW TRUCK WITH A WINDOW SMASHED – DRIVER SIDE WINDOW —RP JUST DROVE BY
Burglary – Commercial
5/6 – Lone Tree Way: SUBJ BREAKING IN.
5/7 – Balfour Rd: OCCD SATURDAY. SUSP USED A CROWBAR TO ACCESS LIQUOR ROOM.. SUSP ON VIDEO
Burglary – Residential
5/3 – Mandevilla: OCCD SOMETIME OVER NIGHT – RP LEFT GARAGE OPEN – 2 BEACH CRUISERS AND TENNIS RACKET BAG TAKEN – NBRS HAVE CAMERAS
5/7 – Island Palm Way: RP W PULTE HOMES, SIDE GARAGE DOOR KICKED IN. HOME OWNERS IN PROCESS OF MOVING IN
5/7 – Island Palm Way: RP W PULTE HOMES, SIDE GARAGE DOOR KICKED IN. THIS HOUSE IS NOT OCCUPIED YET
5/7 – Fieldstone Ct.: RP IS ON SCENE AND IS MOVING INTO THIS RENTAL PROPERTY – SOMEONE BROKE INTO THE SHED AND WAS COOKING SOMETHING – OWNER OF THE PROPERTY IS NOT THERE
Civil Complaint
5/5 – Balfour Rd: RP WAS GIVEN $100 COUNTERFEIT MONEY AFTER SELLING A WATCH TO SOMEONE IN THE P LOT VIA LETGO/ RP WILL BE WTG IN HIS WHI HOND NOW BY CHEVRON OFF OAK ST – RP HAS SUSP INFO – OCC 25 AGO
DUI
5/2 -Lone Tree Way: RP CALLING BACK AGAIN SAYING SUBJ JUST LEFT AND DRIVING DRUNK
Forgery/Fraud
5/2 – Brentwood Blvd: SUBJ TRYING TO ARRANGE TO BUY RPS $800 VEH.. SUBJ HAS STARTED SENDING RP CHECKS FROM MILITARY BANKS.. RP THINKS IT IS FRAUD.
Grand Theft
5/3 – Lone Tree Way: OCCD 04/30/18 – $2500 WORTH IN LOSS OF MERCH
5/4 – Balfour Rd: JUST OCC***BMA BLK HOODIE TEARING OUT DISPLAY PHONES.
Harassment
5/4 – Chestnut & Oak: RP MADE HARASSMENT RPT ON TUESDAY/ UNK SUBJ MADE FLYERS ABOUT RP W/HER PICTURE ON IT
Indecent Exposure
5/4 – Sand Creek Rd: FEMALE WAS SQUATTING, EXPOSING BEHIND, AND PEEING ON GROUND IN FRONT OF LOC – WFA L30'S TAN SKIN AND BRO HAIR BLK TOP AND LGT BLU JEANS – LAST SEEN INSIDE STORE
Petty Theft
5/2 – Fieldstone Ct.: UNK PERSON CUT LOCK BOX W KEY INSIDE. RP IS REALTOR,
5/2 – Las Colinas Dr.: BIKE TAKEN OFF FRONT PORCH – RP HAS VIDEO OF IT HAPPENING
5/2 – Sand Creek Rd: 10 AGO MALE RAN IN GOT DISPLAY AND TOOK OFF.. OTHER MGR WAS ABLE TO GET A GOOD DESC OF SUBJ
Robbery
St. Regis Ave & Astor Ct: 10 AGO- OCC'D A FEW BLOCKS CLOSER TO RALEYS, SUBJ IN BLACK SEDAN, POSS BUICK OR LINCOLN, NO PLATES, – TWDS RALEYS, SUBJ HAD A GUN IN HAND AND COCKED IT (NO WEAPON/STRONGARM)
Vandalism
5/4 – Central Blvd.: GOLF CLUB INTO VEH // SUSP IS WMA 60-70 W/WHI T SHIRT AND BLK SHIRT – WALKING TWDS APPLE HILL
5/5 – Brentwood Blvd: SMASHED WINDOW TO THE BUSINESS / RP BELIEVES SOMEONE MAY HAVE TAKEN A ROCK TO THE WINDOW – NEG ENTRY MADE
5/7 – Middlefield Ct.: TWO YOUNG MALES TRESSPASSED ON PROPERTY TOOK A FIRE EXTINGUISHER AND SPRAYED EMPLOYEES VEHS – THIS OCC ON FRI – THERE IS VIDEO
5/7 – Woodfield Lane: OCCD SUNDAY NIGHT, DRIVER SIDE WAS SMASHED. RP WILL FILE ONLINE REPORT
Vehicle Theft
5/5 – Rapallo Ct: RP IS STANDING BY IN SUBARU OUTBACK IN PD PLOT.
5/6 – Sellers Ave & Delta: Officer initiated activity at Sellers Ave/Delta Rd, Contra Costa County. . Disposition: ADULT ARREST.