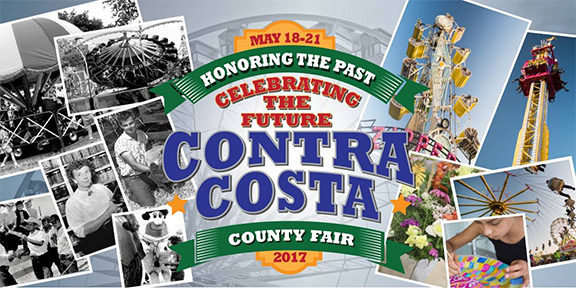 ANTIOCH – Contra Costa County Fair opening day is Thursday May 18–Sunday, May 21st at the Contra Costa County Fairgrounds in Antioch.
The Contra Costa County Fair is the perfect place to enjoy live entertainment, exciting free shows, delicious food, carnival rides, animals, and hundreds of exhibits – all in a community-friendly environment and at affordable prices!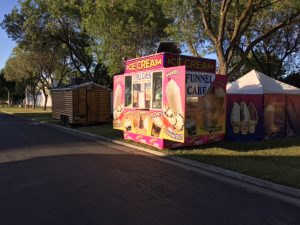 Thursday, May 18 – Dollar Day
$1 Admission & Carnival Rides until 5pm
$1 Donation to the Food Bank = 2 Healthy Meals
Friday, May 19 – Seniors Day
$1 Admission for Senior's 62+
Buy 1 Carnival Wristband…get 1 FREE until 6pm
School Tours – Youth attending School Tours will receive a coupon for FREE Admission with the purchase of 1 adult ticket.

Saturday, May 20 – Military & Law Enforcement Day
Military/Law Enforcement and their families with active ID will receive FREE Admission.
Sunday, May 21 – Fiesta Day
Hispanic Themed Stage and Grounds Entertainment
For PG&E Pavilion Stage entertainment, the Fair's 2017 concert series features:
60's Summer Love and Nathan Owen's Motown & Soul on Thursday May 18th,
Jackson Michael and Bobby Zoppi & the Courduroys performing on Friday May 19th,
Jett Bentar~ A Salute to Joan Jett & Pat Benatar, and Spazmatics on Saturday May 20th
And Live Hispanic Musical Celebration Sunday May 21st with entertainment all day long.
All concerts are FREE with admission to the Fair.
While visiting the Fair, enjoy other highlights such as the Xtreme Sports Zone, Jennifer's All Creatures Petting Zoo, Clown & Balloon Artist, Jugglers, Harmonics Steel Drum Band, Powerhouse-Percussive Dance, Ag Venture Land, BC Characters, Cowboys Ken's Train, Art Pavilion, Agriculture Pavilion, Auto Racing, RC Car Races, Roller Derby much more!
The Contra Costa County Fairgrounds is located at 1201 West 10th Street, Antioch, CA. For more  information, visit www.contracostafair.com including promos and discounts.