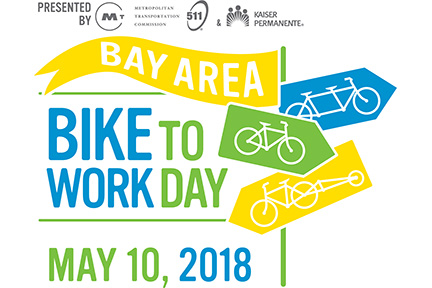 On Thursday, May 10, there will be over 400 Energizer Stations throughout the San Francisco Bay Area where cyclists can stop for refreshments and promotional items.
With funding from the Contra Costa Transportation Authority and Bay Area Air Quality Management District, 511 Contra Costa has supported cyclists and energizer station hosts throughout Contra Costa County since 2001.
County Board of Supervisors Chair Karen Mitchoff and Supervisor Candace Andersen will be riding their bikes on Thursday, and have challenged their colleagues on the Board to commute by bike, as well.
Contra Costa County Energizer Station List
Alamo
| | | |
| --- | --- | --- |
| Iron Horse Trail at the Alamo Trailhead | 7:00-9:30AM | LendUS |
Antioch
| | | |
| --- | --- | --- |
| Deer Valley Rd & Wellness Way (Kaiser Permanente Antioch Medical Center) | 6:30-9:30AM | Kaiser Permanente Antioch Medical Center |
| Delta De Anza Trail at Lone Tree Way (Sutter Delta Medical Center) | 6:00-8:30AM & 5:00-7:00PM | City of Antioch & Sutter Delta Medical Center |
| Delta de Anza Trail between Buchanan & Somersville Rd | 6:30-9:00AM | Tri Delta Transit |
| Mokelumne Trail in front of Prewett Park | 6:00-8:30AM | City of Antioch |
Brentwood
| | | |
| --- | --- | --- |
| Marsh Creek Trail at Central Blvd | 3:00-6:00PM | East Bay Regional Park District |
| NE corner of City Park at 2nd & Oak St | 7:00-9:00AM & 3:00-6:00PM | Delta Pedalers Bicycle Club |
| Rose Brook Terrace & Central Blvd | 7:45-9:00AM | Ron Nunn Elementary School |
Concord
Concord BART7:00-9:00AM & 4:00-6:00PMTRC Solutions & Bank of America
| | | |
| --- | --- | --- |
| Meadow Homes Park, Detroit Ave & Sunshine Dr | 3:30-5:30PM | Monument Impact |
| Monument Corridor Trail across from Mohr Ln at Monument Blvd | 4:00-7:00PM | Michele O. |
| Todos Santos Plaza | 4:00-8:00PM | Bike Concord |
| North Concord/Martinez Station | 7:00-9:00AM | MCE |
Danville
| | | |
| --- | --- | --- |
| Iron Horse Trail behind Lunardi's/Danville Train Depot | 7:00-9-00AM | Town of Danville/Street Smarts Program |
Dublin
| | | |
| --- | --- | --- |
| West Dublin/Pleasanton BART | 7:00-9:00AM | City of Dublin |
El Cerrito
| | | |
| --- | --- | --- |
| El Cerrito BART South on Fremont Blvd | 7:00-9:00AM | City of El Cerrito |
| El Cerrito del Norte BART Station | 7:00-9:00AM | Residents of El Cerrito |
El Sobrante
| | | |
| --- | --- | --- |
| 3826 San Pablo Dam Rd | 7:00-9:00AM & 3:00-5:00PM | The Pedaler Bike Shop |
Lafayette
| | | |
| --- | --- | --- |
| Lafayette BART | 3:30-6:30PM | Sustainable Contra Costa |
| Lafayette-Moraga Trail & Reliez Station Rd | 6:30-9:00AM & 4:00-6:00PM | Mike's Bikes |
Martinez
| | | |
| --- | --- | --- |
| 4797 Imhoff Pl | 6:30-8:30AM | Central San |
| Amtrak Station, Martinez | 6:30-9:30AM | Dick Anderson |
| John Muir Historic Site | 7:00-9:00AM | John Muir House |
| Veterans Memorial Building, 930 Ward St | 7:00-11:00AM | Martinez American Legion Post 29 |
Moraga
| | | |
| --- | --- | --- |
| Moraga & St Marys Rd | 6:30-9:30AM | Town of Moraga |
Orinda
| | | |
| --- | --- | --- |
| Orinda BART | 6:30-9:30AM | Bike Orinda & City of Orinda |
Pittsburg
| | | |
| --- | --- | --- |
| Delta de Anza Trail& Railroad Ave | 6:30-8:30AM | City of Pittsburg |
| Los Medanos College | 7:30AM-4:30PM | Lucas S. |
| Pittsburg/Bay Point BART | 7:00-9:00AM & 4:30-6:30PM | City of Pittsburg |
Pleasant Hill
| | | |
| --- | --- | --- |
| Contra Costa Canal Trail & Golf Club Rd | 3:00-5:00PM | Diablo Valley College |
| Contra Costa Canal Trail & Gregory Ln | 7:00-9:00AM & 4:00-6:00PM | Pleasant Hill Recreaction & Park District |
Richmond
| | | |
| --- | --- | --- |
| 914 Marina Way South | 6:30-9:00AM | Kaiser Regional Laboratory Richmond |
| SF Bay Trail at S. 46th St. Connector Trail | 7:00-9:00AM | UC Berkeley – Richmond Field Station |
| 16th St & Richmond Greenway | 7:00-9:00AM | City of Richmond |
| 901 Nevin Ave | 6:30-9:00AM | Kaiser Permanente Richmond Medical Center |
| Marina Bay Park at Marina Bay & Regatta Blvd | 7:00-9:00AM | City of Richmond & SunPower |
| Richmond BART | 7:00-9:00AM | City of Richmond |
| San Pablo Ave & Richmond Greenway | 7:00-9:00AM | City of Richmond |
San Pablo
| | | |
| --- | --- | --- |
| 2600 Mission Bell Dr at Campus Quad | 7:00-9:00AM | Contra Costa College |
| San Pablo City Hall, Church Ln & San Pablo Ave | 7:00-9:00AM | City of San Pablo |
San Ramon
| | | |
| --- | --- | --- |
| Iron Horse Trail& Bollinger Canyon Rd | 6:00-10:00AM | Sunset Development & City of San Ramon |
Walnut Creek
| | | |
| --- | --- | --- |
| Contra Costa Canal & Briones Mt Diablo Trail intersection at Geary Rd | 7:00-9:00AM & 4:00-6:00PM | Nils K. |
| Contra Costa Canal Trail & N Wiget Ln | 7:30-9:00AM | Renaissance ClubSport |
| Contra Costa Canal Trail at Heather Farm Park | 3:30-6:30PM | Sports Basement |
| Iron Horse Trail & Contra Costa Canal Trail | 6:30-9:30AM & 4:00-7:00PM | 511 Contra Costa & Contra Costa Transportation Authority & East Bay Regional Park District |
| Olympic Blvd & Newell Ave | 6:00-9:00AM & 4:00-7:00PM | Bike Walnut Creek |
| Pleasant Hill/Contra Costa Centre BART | 6:30-9:00AM | REI |
| S Main St & Newell Ave | 7:00-10:00AM | Kaiser Permanente Walnut Creek Medical Center |
| Walnut Creek BART | 6:00-8:00AM & 4:00-6:00PM | Bike Walnut Creek |
| Walnut Creek City Hall | 7:00-9:30AM | City of Walnut Creek |
| Ygnacio & Contra Costa Canal Trail | 7:00-9:00AM & 5:00-7:00PM | Encina Bicycle Center |