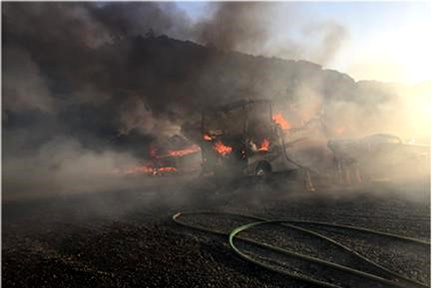 At 6:34 pm Wednesday, Contra Costa County Fire Protection District was dispatched to the 2400 block of Franklin Canyon Rd in the City of Martinez.
By 6:54 pm, the call was upgraded to a 2-alarm response which resulted in a total of four motor homes and one boat in a storage yard on fire which spread to a vegetation fire.
Firefighters were also battling exploding propane tanks and causing lots of smoke.
By 7:32 pm, the vegetation fire was under control.
Update:
According to Contra Costa Fire, they responded to a report of one motorhome and a boat on fire in a large storage yard in the City of Martinez.  E13 arrived  on scene and reported one motorhome fully involved and a 1/4 acre of grass and brush on fire.
Access issues and limited water supply made this a difficult fire. A total of four alarms were called to the scene to mitigate the incident.
Fire crews quickly placed hose lines to begin working to extinguish the fire and protect several large motorhomes, boats, vehicles, and trailers that were threatened.
According to Battalion Chief Huntze, all fire crews worked for 4 ½ hours to extinguish the fire.  The fire spread from the motorhome to several fifth wheel trailers, boats, vehicles, tules, brush, and trees.  Firefighters from Rodeo Hercules Fire, Crockett/Carquinez Fire, Cal Fire, and Motco Fire all assisted to contain and extinguish the fire.  No firefighters were injured.  The cause of the fire was due to mechanical work being performed on the engine of a boat.