Here is a look at local events occurring in East Contra Costa County on Saturday, March 4.
---
First Light: Hook Line & Sinker Tournament of Champions
On the weekend of March 4 & 5, Hook Line & Sinker will be hosting its Tournament of Champions Fishing Tournament out of Russo's Marina on Bethel Island.
For more info: http://www.hookproshop.com/
---
9:00: Brentwood Farmers Market Returns
The Brentwood Farmers Market is set to return this Saturday and the community is invited to join in with a ribbon cutting ceremony at 9:00 am.
The 2017 season begins March 4 and will run every Saturday through November 18  located at First Street between Oak and Chestnut.
---
9:00 am: Antioch Police Neighborhood Cleanup

The Antioch Police Department will be hosting its 79th installment of the Neighborhood Cleanup Program which will be held Saturday, March 4, 2017.
The cleanup will begin at 9:00 am and will end about 11:00 am.  The area they will be cleaning is the neighborhoods along 2nd– 6th Streets between G Street and L Streets, and Prospects Way. Volunteers will meet at the public parking lot at the corner of 3rd/ I Street (see map).
---
9:00 am: Los Vaqueros Free Fishing Clinic
On Saturday, March 4 at the Los Vaqueros Marina Learn everything you've wanted to know about lake fishing. From bait and knots to trolling and cleaning, our experienced staff will provide tips to help you reel in the big one. Clinics are tailored to participants' skill levels. Open to all ages located at Los Vaqueros Marina, 9990 Los Vaqueros Rd, Livermore.
---
9:00 am: East County Little League Opening Day Parade

The parade begins at 9:00 am with teams walking down Main Street in Oakley and ending up at Oakley Elementary at Rudy & Norcross for opening day ceremonies and first pitch of the season.
---
9:00 am: 2017 Contra Costa County Teacher/Certificated Staff Recruitment Fair
The Contra Costa County Office of Education (CCCOE) will present its annual Contra Costa County Teacher/Certificated Staff Recruitment Fair, on Saturday, March 4, from 9:00 to 11:30 a.m., at Alhambra High School's gymnasium, located at 150 East St., in Martinez. Attendees will discover a number of teaching positions in a variety of fields, including all levels of K-12 education, specialty, and substitute teaching positions.
---
11:00 am: Delta Discoveries at Big Break Regional Shoreline
Discover the wonders of the Delta through hands on arts and crafts activities! Each week we will explore different wetland wonders. No registration required; Drop-in program.
Located at Big Break Visitor Center at the Delta at 81 Big Break Road, Oakley, CA.
---
1:00 pm: Kids Safety Fair at Somersville Towne Center
The Somersville Towne Center Mall will be hosting a Kids Safety Fair on March 4 from 1:00 pm to 3:00 pm. This event will feature Costume Character Biscuit the Dog, D1 & Only Demo Team, Newberry's BLOCK, DARE, The Boy Scouts, as well as the Antioch Crime Prevention Commission. The event is located at 2556 Somersville Road, Antioch, CA.
---
2:00 pm: Liberty High School's LHS Playmakers Present Mary Poppins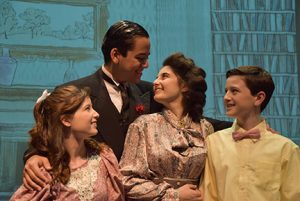 Liberty High School's LHS Playmakers are thrilled to present Disney and Cameron Mackintosh's Mary Poppins, a musical based on the books by P.L. Travers and one of the most popular Disney movies of all time– the play will run through March 11.
After 2500 Broadway performances and a national tour, the Tony award-winning Best Musical has become a beloved stage classic. Here in Brentwood, it will also be remembered as the final Liberty High School musical production produced by Helen Dixon, who will retire after a 25-year career with Liberty.
Adults are $15 each, and youth, students and seniors are $12 each – and on March 9th, all seats are just $9, with proceeds from this performance benefiting Playmakers Scholarships.
A Jolly Holiday Dessert Party / Cast Meet-and-Greet will be held on March 4th from 12pm to 1:30pm. Tickets for the Jolly Holiday Dessert Party are $8 each, and the quantity is limited, and only available via advance purchase.
For tickets & more information, visit: http://libertyunion.schoolwires.net/Domain/713
---
5:00 pm: Antioch historical Society Crab Feed
Antioch Historical Museum crab feed is set for March 4 at the Nick Rodriguez Center, 213 F St., benefits Antioch High music. For tickets, contact: 925-757-4169.
---
5:30 pm: The Network of Care 11th Annual Crab Feed
The Network of Care announced that its 11th Annual Crab Feed event will be held on Saturday, March 4, 2017 at the Antioch Fairgrounds (Sunset Building). The event will raise funds for families of hospitalized children.
The event will feature raffle prizes and a silent auction to go along with dinner.
Tickets are $60 per person and must be purchased ahead of time as no tickets will be sold at the door. You may call or email Janet Frazier to reserve your tickets (925) 584-4086 or [email protected] Doors open at 5:30 pm with dinner served at 7:00 pm.
Please make checks payable to: The Network of Care and mail to PO BOX 5163, Concord CA 94524 For more information on visit www.thenetworkofcare.org
---
6:00 pm: Antioch Police Explorer Crab Feed (SOLD OUT)
The Antioch Police announced that on March 4, 2017 they will be hosting a crab feed to help raise funds for their Explorer Program.
Located at the Antioch Community Center (4703 Lone Tree Way), the event begins at 6:00 pm which includes a no host bar, 50/50 raffle, door prizes and a silent auction.
Tickets are $50.00 and all proceeds will go towards the Antioch Explorer Program which helps these young men and women attend special events and training. For tickets contact Sgt. Rick Martin (925) 779 6864.
---
7:00 pm: Delta Blues Festival 6th Annual Benefit Concert
March 4, 2017, intends to be the best night of blues this town has ever seen.  We've turned up the heat this year and are bringing you some BIG talent. The DBF has arranged for international blues performers along with bay area local blues stars that will have you stomping' your feet, clapping your hands – maybe even after you leave the show!
For more info: https://www.elcampaniltheatre.com/dbf.html
---
For future events, email [email protected]