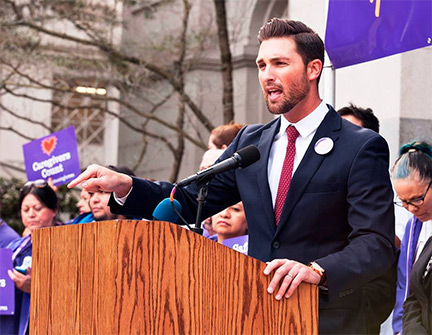 Sacramento, CA – Majority Leader Ian Calderon (D-Whittier) introduced Assembly Bill 1884 this week, a measure that calls upon dine-in restaurants to have a straws-upon-request policy.
According to the Bill:
Existing law requires, except as otherwise provided, a person who violates any provision of the code to be guilty of a misdemeanor with each offense punishable by a fine of not less than $25 or more than $1,000, or by imprisonment in the county jail for a term not exceeding 6 months, or by both.
This bill would prohibit a food facility, as specified, where food may be consumed on the premises from providing single-use plastic straws to consumers unless requested by the consumer. By creating a new crime and imposing additional enforcement duties on local health agencies, this bill would impose a state-mandated local program.
"We need to create awareness around the issue of one-time use plastic straws and its detrimental effects on our landfills, waterways, and oceans," stated Majority Leader Calderon. "AB 1884 is not ban on plastic straws. It is a small step towards curbing our reliance on these convenience products, which will hopefully contribute to a change in consumer attitudes and usage."
Calderon further clarified on twitter:
I'd like to clarify that #AB1884 (Straws Upon Request) is (a) NOT a ban; (b) should it become law, it will NOT make it a crime for servers to provide plastic straws. My intention is simply to raise awareness about the detrimental effects of plastic straws on our environment.
When questioned on the $1,000 fine, he replied to the questions.
That's according to the code section the bill is currently in. But it will not say in. Amendments are part of the legislative process.
No, not really. The penalties are attached to the code section the bill is currently in. That will change. Amendments are part of the legislative process.
For actual Tweets, click the image on the right!
According to Calderon's press release, Plastic is a material that lasts forever, yet 33 percent of all plastics are used just once and thrown away. Only 9% of all plastics are recycled, but due to their small size and lack of a resin code, no straws are ever recycled. After their one-time use, non-biodegradable plastic straws often end up in our oceans and waterways where they break down into smaller, micro-size pieces that are discarded into our environment. They are oftentimes mistaken as food by marine life.
An estimated 500 million straws are used in the United States every day. This number is enough to fill over 127 school buses each day and is calculated to be about 1.6 straws per person in the U.S. In a summary of all trash collected as part of California's Coastal Cleanup Day between 1989 and 2014, straws and stirrers rank as the 6th most common item collected. AB 1884 is a step toward lowering these alarming figures and is a simple way for consumers to change their plastic use behavior.