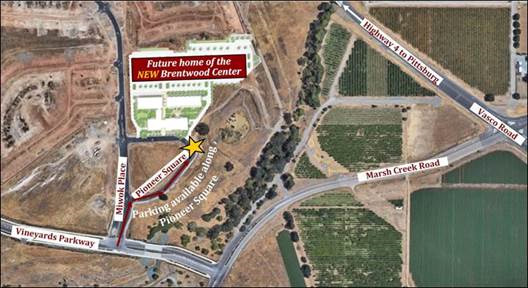 BRENTWOOD: Los Medanos College (LMC) will be holding a groundbreaking ceremony for its new Brentwood Center on Wednesday, April 18, at 1:00 p.m. at the site of the future facility.
The new site is located at Pioneer Square and Miwok Place in Brentwood (near the intersection of Vineyards Parkway and Marsh Creek Road, just off of Highway 4).  The public is welcome to attend and the event is free; RSVPs are not required, and complimentary parking will be available.
This groundbreaking ceremony celebrates upcoming construction of a permanent Brentwood Center, which will expand and enhance learning opportunities for LMC students and Contra Costa County residents in the easternmost part of the College's service area.  The new one-story Center, designed by Ratcliff Architects, will be approximately 55,000 square feet.
The project will be constructed on a 17.5 parcel purchased by Contra Costa Community College District (CCCCD) in 2011.  It will feature instructional classrooms, science labs, student support services, library resources, tutorial labs, bookstore and food service areas, "linger and learn" space, faculty/staff offices, and more than 700 parking stalls.
The current Brentwood Center, located in a leased facility at 101A Sand Creek Road in Brentwood, first opened in 2001.  The existing space consists of 22,000 square feet and serves approximately 2,800 students – accounting for about one-third of LMC's enrollment.
The permanent $65 million facility is made possible through funding from CCCCD Bond Measures A (2006) and E (2014), thanks to support from voters in Contra Costa County.  Construction is expected to be completed in 18-24 months, with the new Brentwood Center.
Los Medanos College (LMC), one of three colleges in the Contra Costa Community College District, has served the East Contra Costa County community since 1974. LMC offers award-winning transfer and career-technical programs, high-quality support services, and diverse academic opportunities in an engaging and inclusive learning environment. With exceptional educators, innovative curriculum, growing degree and certificate offerings, strong regional partnerships, and state-of-the-art facilities, the College prepares students to succeed in their educational pursuits, in the workforce, and beyond. LMC's Pittsburg Campus is located on 120 acres near the Antioch border, with an additional education center in Brentwood.