At the age of 4, Michael Pohl of Antioch was given his first camera as a gift when he caught the photography bug. Since that time has been spending 15-years working to perfect his craft.
At the age of 19, this past March, he launched his own photography business where he has worked to capture moments, create portraits with beautiful backdrops, while creating lifelong memories. He will photograph all ages, events and can create videos.
Pohl explained that when he was a student at Antioch High School, he was on the year book staff and that is when he went from a hobby photographer to full-time photographer. He knew in his junior year that he wanted to have a camera in his hand the rest of his life.
"I got big into photography for the sake of the class, but going to events, football games and journalism. I originally wanted to go into photo journalism for a while. I freelanced for newspapers and then started taking portraits of people on the side," explained Pohl. "I started to really like taking portraits and seeing my stuff on peoples walls. I liked seeing images I could create that people could enjoy for years to come whereas in sports people see it on the article and forgot about it."
He remembers shooting portrait photographs of clubs with posed shots where something clicked for him that made him happy.
"It came out of nowhere at school when I was shooting portraits. I really liked getting those smiles. So I shifted into portrait photography. It was my junior year when I decided this was something I was going to do," said Pohl.
For Pohl, it's about wanting to create something that will be remembered forever, not a specific moment.
"I like creating heirloom pieces that could be passed down for generations in families because that is something that will always be treasured. It's like having a family ring, jewelry or furniture;  all my products will last up to 200 years so they will be around for a while."
He opened his business after working for another photography company straight out of high school. He says he was working 80-90 hour work weeks. Over a period of time, he realized he should just open his own company because he knew he could put in the hours and effort, but it should be for him, not for someone else.
"I liked working in the studio, I liked the interaction with people. I also liked doing the images and decided making it into a career was not the hardest thing to do. It was going to be something that I could create something on my own without having to deal with corporate people trying to set timelines and make money," said Pohl. "I want to make memories, not charge people for pictures that may die out in 10-20 years."
While at 19 he has the freedom to do what he wishes, he says his age does play a factor to some people because they don't think he has the experience—he quickly points out he has been working with a camera for 15-years.
"Age sometimes plays a factor. When I first started going to Antioch Chamber events, some people welcomed me with arms wide open. I photographed Chamber CEO now mayor Sean Wright so it gave me some credibility with other chamber members," says Pohl. "But a lot of people didn't know who I was and they kinda had me pegged as a rich kid who didn't want to go to college so his dad was going to pay for him to do whatever when that is not the case. All the equipment I have I paid for myself. The car I paid for by myself. I was pegged for the kid who was there who didn't know anything about business, but everything about photography."
He doesn't mind being written off even if it impacted his business early on, he enjoys putting in the effort to prove people wrong. He says in the long run it will always work out.
"I had been going to chamber mixers since March, but at my ribbon cutting I had all my canvases out and images on the TV. I had people come up to me saying they didn't realize I was actually good at photography," explained Pohl. "They had never bothered to look at my website or look at my photographs, they would say they want me to do a job for them but they had tossed it. Now they have hired me and done things. My age was a big barrier at the start, they assumed because I was 19 they didn't think I was actually good at photography even though I've been learning the craft for 15-years."
Pohl says he has real-life experience while being self-taught.
"Sometimes in high school, if I really wanted to learn something, I would not go to school and say I was sick just to watch videos to learn how to do something with a camera," explained Pohl. "I would read things such as tutorials. Anyone who knew me in high school knew I lived for photography. I was the kid with the camera and it was my life."
Pohl says he is self-taught and that has worked out in his favor because he can go at his own pace saying some of his friends in college are learning things he figured out how to do in 2-3 days and it's taken them weeks in a classroom.
Pohl highlighted that a lot of photography is self-taught through trial and error and you don't necessarily need to go to college because there is the internet, videos and you can always buy a college textbooks.
"People are learning techniques in a few months when I can learn it in a few weeks on my own," says Pohl. "What is the point of spending all this money and learning for years wasting all that time when I could match what the academy of art is teaching in a month?"
He says by being self-taught, it's allowed him to be more artistic in his work as opposed to learning the technique that a teacher may like and project onto students. It allows him to be a little more different than classroom taught photographers because he was not boxed into certain guidelines and rules—for him, he says it was the right choice but for some college may be the right choice.
"As long as the image looks good in the final product, it doesn't matter how I get there," says Pohl. "Now if I am in a school, it doesn't matter if the final product looks good, they care about how I got there using their process. For me, if the product doesn't look good, I don't get paid so I need to do it my way to make sure the end product looks as best as it can be."
Pohl says the finished product for him is a happy client.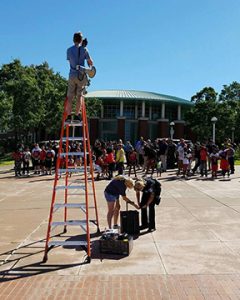 "I am a very technical shooter, especially with lighting and for a while I was throwing out anything such as a hair across the face or mild things that clients may like because it was not technically perfect, but I realized that photography is not about technicality of a shoot, it's about the emotion it brings," explained Pohl. "Having that emotion in a photograph is better than anything. The emotion is what people love."
Pohl says he really loves shooting photographs of high school seniors because they are very characteristic at that age. They have the world in front of them. I jive with them well. They are photogenic, very happy,  I like capturing the character of a high school senior because they have been playing sports their whole life. They haven't hit the real world yet. The innocence shines through."
When asked about the crowded field of photography with ever improving technology of digital cameras, why are professional photographs needed.
Pohl responded it's much more than point and click.
"There are several things that people don't think about, such as liability insurance if something happens. What happens if the photographs don't turn out good from a wedding or party you have lost that forever moment," explained Pohl. "A professional is going to take a better photograph with an iPhone than an amateur is with a $20,000 camera. It's just the way you use equipment. A 5-star chef is going to do better with dollar store tools than I could do in his fancy kitchen. It's a matter of how to use lighting, modifying light, angles, posing people to make them look slimmer, the  editing is better. It comes down to skill. A camera is a camera as long as you know how to use it then it will work. It's about the experience, not the tools."
Why Antioch?
Pohl says that he loves downtown Antioch and it's the best place to open a business. He notes its potential of being so close to San Francisco for cityscapes, however, locally there is Contra Loma, Black Diamond, Round Valley and Big Break. He says there is a lot of regional beauty including the delta close by.
"There is a lot around here that you can use as backgrounds that only takes a short amount of time to travel too.," explained Pohl. "You have so many backdrops that it's a photographers dream because you have everything nearby from cityscapes to rivers to mountains, beaches and, parks.
He admits that Antioch is one of his favorite places to photograph—especially Contra Loma Regional Park
Credibility at Age 19
He understands people are expecting someone older, which he says is hard sometimes, but his quality of work shines through and he will keep hustling.
"I had someone say they didn't believe that was my work because I was only 19. It's a stigma that I cant fight right now. Again I have been doing it for 15-years and have grown up doing. Some people are taken back but when I explain how the session will work they get more comfortable," says Pohl.
Biggest Challenge

"Getting started at 19 in this field because people devalue photographers and added in my age its a challenge," says Pohl. "There is a lot of noise out there. I have a lot clients who come to me who know I have great products and my skills are good. A lot of people today devalue photography; it's not something that they value as much anymore. "
He explained that with digital, people store images on their phones or computers rather than print out a majority of their images noting you can take 300 photographs on a phone or camera whereas years ago people were limited to 24 or 36 photographs on a roll of film that they would print out.
"People who want nice quality are going to pay, but some people just want the moment and never print their photograph or bothered to take it off their computer and put it on the wall" says Pohl.
He also highlighted learning business side of photograph is a challenge.
"I expected I'd be on a camera all day. Instead, there is marketing, sales, paperwork. I am actually photographing a few hours a week and spending a majority of the time doing the business side—editing, lab is up to spec. samples, meeting with framers, networking events, donation work with non-profits, all of it takes a lot of time," says Pohl. "I don't have a secretary to do all my paperwork, accountant to do paperwork, editor to do editing. Doing 3-sessions a week is a 90-100 hour week for me. That was something I didn't expect because you see a lot of photographs out there, but a lot of them are under the table and don't have to do the business side of it."
Industry Trends
He says size matters and that people are no longer printing 8×10 or 11×14 like they used to. instead, they are doing 20×30 or large canvass prints.
"People are taking photographs and turning them into artwork. Larger canvass photographs make it easier to have that emotional contact because it's a focus point of a room," explained Pohl.  "A lot of people are also printing on metal—which is a trend that I believe will be around for a while. You can take Windex to it and wipe it down. They laser engrave images onto the metal which is shiny and ads a lot of contrast. It stands out and it's different. A lot of clients recently are preferring metal prints."
Industry Connections

He says although there is a lot of competition, he tries to help everyone anyway he can.
"I've always said it's community over competition," says Pohl. "I am not the right photographer for everyone. I have a specific style and that is okay that I am not for everyone. There are different photographers for different people. There are different tastes and types and there is a place for everyone. Yes we are in competition, but we help each other out. I talk with a lot of photographers and can recommend them based on what people are looking for in a shoot. The goal whether they are my client or someone else's is to make someone happy in the end."
He explained that if he can help another photographer make their clients happy, then his job is done because that is what he wants to do. He wants to make sure everyone has photographs they are going to be happy with.
On Naysayers
He says some people discredit him because of his age and didn't go to college, but says each person has to create their own path in life. He tries to ignore the noise and instead focus on what he can control and how he can build the best business he can without tearing down other businesses.
"A lot of people questioned why I didn't go to college, it's not that I wasn't a bad student, everyone expected me to go to college, I didn't necessity like the college feel. I felt it was constricting and narrow minded. Some people need to go there and that is fine. I wouldn't want my doctor not to go to college, but for me I think it would have been a creative hinder," explained Pohl. "From a business standpoint, sometimes I do wish I went, but I do take them online and have mentors for that. I am a hands on learner. Running a business is not a bad way to learn, it sometimes can be more challenging though."
On Support
He says equally important as naysayers who drive him to be better, he could not do it without support of family, friends and the business community.
"I had a lot of support," says Pohl. "Sean Wright was a huge help. He was very straight forward in answering lots of questions I had. Other local business owners were super supportive and gave great advice and still do. My parents and family was supportive. It was easy being able to quit having a steady paycheck to do this with a great support system."
On His Dream Client:
He would like to photograph someone in Italy.
"I would want it to be a high school senior in Italy. I've always liked Italy for no specific reason, I have always liked the photographs there and it's a really pretty place," says Pohl.
Oddest Photo Shoot
"I did a photoshoot for a rap group that was starting out.  Everything that went wrong could have gone wrong but in the end we got great photographs," explained Pohl.
Business Goal
He would like to have his own studio space.
"I want a studio in downtown Antioch. Having the Riverview is very nice and having a gallery of my work. I love downtown Antioch and it's a great place for a studio," says Pohl.
For more on Michael Pohl , visit him on the web at www.michaelpohlphotography.com or call (925) 783-0181. You may also follow him on Facebook or Instagram