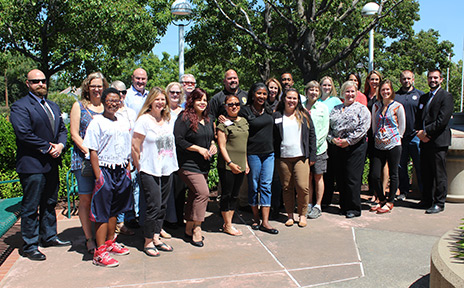 On Thursday, the Contra Costa County Human Trafficking Coalition, in collaboration with the District Attorney's Office, worked with local law enforcement agencies to raise awareness of human trafficking in East Contra Costa County.
The FBI has identified California as one of the nation's top destination states for trafficked persons. Participating agencies included the Antioch, Brentwood and Pittsburg Police Departments.
On Thursday, Coalition volunteers broke into small teams and departed and personally visit specified businesses, providing them with posters that include hotline numbers to seek help, in addition to information on how to recognize human trafficking.
Antioch Police Chief Tammany Brooks said the goal is to save lives because what human trafficking amounts to is modern day slavery and thanked the participating agencies for their participation.
"What you are doing here today is so vitally needed, victims of human trafficking are exploited by a number of means, by force, by fear, by fraud, coercion, they are any race, sex, age, nationally," said Police Chief Tammany Brooks. "Human trafficking is a hidden crime but is often time hidden in plain sight.  It is crucial that we raise awareness in our community because the first step in combating human trafficking is identifying victims so they can be rescued, and perpetrators so they can be apprehended and prosecuted."
According to the Contra Costa County District Attorney's Office, Contra Costa County is a natural corridor for human trafficking activities with its linkage to major metropolitan areas like Oakland and San Francisco via public transportation (BART) and its accessibility to Los Angeles and Sacramento via major highways such as 680, 80 and 5 (via Hwy 4).  Though human trafficking is illegal, victims often do not know where to turn for help and community members may not know where to report suspicious situations.
Antioch City Councilwoman Monica Wilson stated the Day of Action was to have local businesses post information about Human Trafficking. Wilson saw Human Trafficking was becoming more prevalent but no one was talking about it, as she dug into it, she came across the law passed in 2012.
"Over the last year and year I learned more about human trafficking and a lot of people have the preconceived notion that its someone from oversees when in actuality its young women or young men being taken too or from our community and being taken whether it be for sex or labor and I wanted to bring more awareness to this," said Wilson. "People said it wasn't happening here and by all means it is happening hear and our community in East County should know it is happening."
Wilson pointed out that just this week, a restaurant was doing human trafficking with labor violations.
"We need to bring this information to people so they know how to identify it and then how to report it," says Wilson. "We can begin to be an advocate for victims whether they are children, youth or adults to make sure our communities are safe and stopping the exploitation fo people."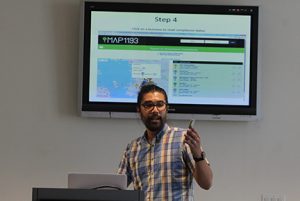 As part of the County's awareness-raising efforts, the Coalition announced a "Day of Action" to enforce Senate Bill 1193 (SB1193).  This law, which was passed in 2013, requires specified businesses including airports, train stations, truck stops, certain bars, urgent care centers, farm labor contractors, and certain massage parlors to post notices listing information about human trafficking and a hotline number for the National Human Trafficking Resource Center.
Thursday's "Day of Action" follows similar events last year, bringing businesses into compliance with the law in Central and West County.
For additional information regarding SB 1193, please visit the Attorney General's website at www.oag.ca.gov/human-trafficking/sb1193.
Contra Costa County's Human Trafficking Coalition is a partnership working to raise awareness, build capacity, and increase access to services for victims of human trafficking. As a collaboration of agencies, their goals include; conducting public awareness activities; providing training, technical assistance and a forum to share best practices; establishing policies and protocols; and creating a coordinated system of care. The Coalition is a  project of the Contra Costa County Board of Supervisors Zero Tolerance Initiative.
For more information on Zero Tolerance visit www.contracostazt.org.
---
Human Trafficking – Resources