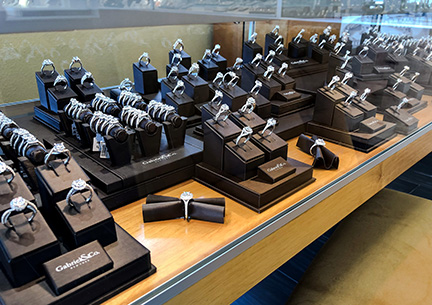 K & Co Family Jewelers celebrates four successful years in the City of Brentwood in a gracious manner.
Four years ago, Rich and Katrina Neciuk had a dream to take this third generation business out of the hustle and bustle of San Francisco and bring it closer to home here in East Contra Costa County. On July 18th 2014 this dream was realized when they opened their doors to serve the people of Brentwood and its surrounding cities.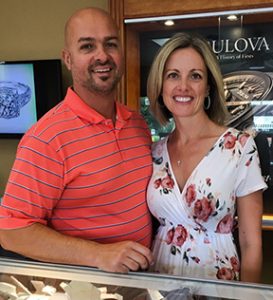 "We saw a niche that was not being filled," said Rich Neciuk. "Many of our friends and neighbors here in town told us of how they would drive to San Francisco and other cities to make their large jewelry purchases. I felt we could change that."
K & Co Family Jewelers has quickly grown to be the largest retail jeweler in East Contra Costa County. With a primary focus on luxury items such as engagement rings, diamond fashion jewelry, fine timepieces, and custom design K & Co has emerged as the prominent source for all your fine jewelry needs.
Although the assumption is a small bedroom community can't have as much business as a city like San Francisco, its actually the opposite explained Rich Neciuk who said the store has been a success and a hit with local customers.
Neciuk says its actually the opposite story, Brentwood and the surrounding cities have experienced immense growth and the established families that have lived here for years want to keep their business local pair that with an affluent influx of new residents and you have a great formula for growing success.
K & Co does not simply attract these guests by offering products and services, they offer an experience that is coupled with current products that are made with quality and care. This formula has allowed K & Co to more than triple their expected business growth and build bonds and friendships with their clients.
In addition, K & Co uses their relationships with major designers and manufactures to form partnerships that help to drive excitement for fashion jewelry trends. K & Co features brands such as: Gabriel & Co New York, A.JAFFE, Coast Diamond, Pure Grown Diamonds, and Allison Kaufmann, designers of engagement rings and diamond fashion jewelry as well as strong partnerships with fine timepiece manufacturers Raymond Weil, Bulova, Citizen, Wittanauer, and new this fall luxury Swiss manufacture Frederique Constant. Giving their guests the products they want as well as introducing them to the latest in jewelry and watch trends is what creates the experience rather than being box with products on the shelves.
The Neciuk's truly believe shopping their store should be an experience and in doing so they spend countless hours planning special events in store to elevate the excitement in their products and educate their guests in an interactive manner.
Starting this August K & Co will feature a series of events for the fall.  Follow K & Co Family Jewelers on social media and see below for dates on these special events.
August 1st – August 31st – Meet the Designer Event: turning dream jewelry into a reality
Sept 11th – 15th – Giving Back to First Responders: provides first responders in our community with a free Qalo silicone wedding band
September 13th – Gabriel & Co NY Fall Fashion Preview (exclusive hours 5:00pm to 9:00pm): Spotlights the latest trends coming for the fall and showcases Gabriel & Co's exclusive collection.
October 18th – Whiskey & Watches (exclusive hours 5:00pm to 9:00pm): designed to spotlight all the intricacies of horology and timepieces paired with fine whiskies.
Whether you are looking to get engaged or if your looking for a gift for that special someone K & Co has a large selection of fine jewelry and watches that will make your love ones happy. For those of you that yearn for unique one of a kind items, K & Co features Mark London of Mark London Design. This international award-winning jewelry designer marries technology and art together in our store every day. Whether your looking to have your family heirloom restored or have us create a one of a kind design, you will be amazed when you sit down with Mark to create a digital rendering of your new piece and astonished when he turns that rendering into a 3D model with our cutting-edge laser 3D printer. K & Co has embraced the current technology to ensure we create heirlooms to last a lifetime.
Last and most definitely not least Rich and Katrina wanted me to include a most gracious thank you to all of you that have made K & Co Family Jewelers a success. They credit the great people of Brentwood, Oakley, Antioch, Discovery Bay, and East Contra Costa County with helping to spread the word about their business and support a local small business in our town.
"These past years have been an amazing journey. We have met thousands of great people here in town and they all tell us how much they love supporting local business. Not only do they say this, but they turn around and show their support through patronizing our business and spreading the word of mouth about their experience with us. You couldn't ask for a better town to build your family business," Rich Neciuk owner of K & Co Family Jewelers.
For more information, visit K & Co Family Jewelers at 741 2nd Street in Brentwood or online at www.kandcofamilyjewelers.com. You may also follow them on Facebook.