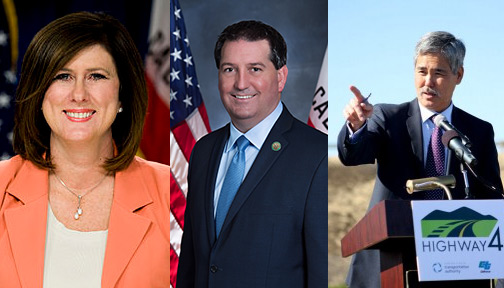 (SACRAMENTO) – Following Thursdays vote by the Legislature to approve $3.5 million in funding for the Concord GoMentum Station, Assemblymember Tim Grayson, former-Assemblymember Susan Bonilla, and Randy Iwasaki, Executive Director of the Contra Costa Transportation Authority, issued the following statements.
Grayson stated, "The work that GoMentum is doing will produce technological breakthroughs that will enable us to provide safer, more efficient transportation in our cities while also protecting our environment. California should continue to lead the world in transportation innovation, and I am proud that this measure was adopted yesterday."
Bonilla stated, "I am proud that Concord and Contra Costa County are at the leading edge of autonomous technology. With this anchor investment, GoMentum Station will become the hub for research and development along with supporting job creation and economic development for the East Bay. It is encouraging to see California's leadership recognize this potential and make an investment in the future that is already upon us."
Iwasaki stated, "This allocation will help leverage private sector dollars and create partnerships to promote autonomous vehicle technologies resulting in smart jobs in Contra Costa and California"
The GoMentum station in Concord, which received a one-time $3.5 million appropriation in the budget, is the nation's largest secure testing site for autonomous vehicle technology. A public-private partnership between Contra Costa County, the City of Concord, and Stantec, the station allows the public and private sector to explore innovative technology that will help to redefine transportation over the coming decades.
Tim Grayson represents the 14th Assembly District that includes the communities of Benicia, Concord, Clayton, Martinez, Pleasant Hill, Vallejo, Pittsburg and Walnut Creek. For more information please visit the Assemblymember's website, www.assembly.ca.gov/a14.