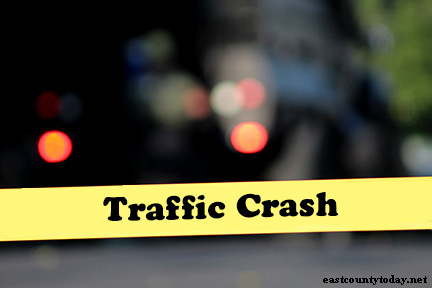 At 6:57 am Wednesday, Contra Costa firefighters responded to a report of a rollover vehicle crash in the westbound direction of Highway 4 just west of Loveridge that was blocking the No. 1 and No. 2 lanes.
The original dispatch reported that children were still trapped in the vehicle. A medical helicopter was requested and later cancelled.
By 7:05 am, Engine 81 was on scene and reported no extrication was needed and all three children were out of the vehicle and sustained only minor injures.
By 7:22 am, a total of four patients were being transported by AMR units to local hospitals stated Contra Costa Fire.
Expect delays.
Detail Information
7:05 AM
18
[43] [Rotation Request Comment] FERNANDES M TOW NO ANSWER ROLLING NEXT [Shared]
7:03 AM
17
[42] [Notification] [CHP]-LINE 40-41 — ROLLING 1185 [Shared]
7:03 AM
16
[41] PITTS PD REQ 1185 FOR OT SUV [Shared]
7:03 AM
15
[40] PITTS PD ADV 1-2 LANES ARE BLOCKED AND ALL PARTIES OO VEH [Shared]
6:59 AM
14
[38] VEH IS BLU FORD EXPLORER//IN THE CD AND HOV [Shared]
6:58 AM
13
[33] RP ADVD VEHS ARE STARTING TO MOVE AND CLEAR THE RDWY [Shared]
6:58 AM
12
[31] ALL OCCUPTS OO OT VEH [Shared]
6:58 AM
11
[29] BLK NISS ALT ON RHS POSS INVOLVED [Shared]
6:58 AM
10
[28] 1039 COCO FIRE AND 1141 [Shared]
6:58 AM
9
[24] UNK IF ANY OTHER VEHS INVLD [Shared]
6:58 AM
8
[22] BLKG #1/2 [Shared]
6:57 AM
7
[16] [16] ALL LNS STOPPED[Shared]
6:57 AM
6
[14] [14] 2 CHILDREN OO VEH [Shared]
6:57 AM
5
[13] [13] BLKG #1 LN[Shared]
6:57 AM
4
[12] [12] PER ANOTHER CALLER CHILDREN IN BACK, 1 CHILD POSS OO VEH APPEARS TO BE OUT STANDING UP [Shared]
6:57 AM
3
[17] [17] [Appended, 06:58:05] [1] VEH OT'D [Shared]
6:56 AM
2
[5] [5] [1] OT VEH [Shared]
6:56 AM
1
[9] [9] [Appended, 06:57:25] [2] LS IN #1 LANE [Shared]