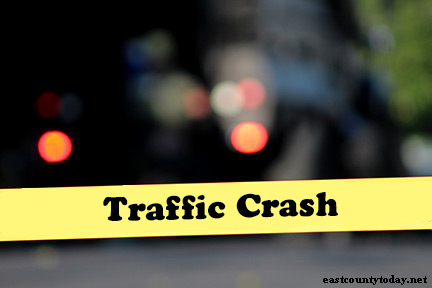 Vasco Road has been shut down in both directions by CHP after a head on vehicle crash at 2:26 pm Thursday with multiple patients involved.
CHP says that crash occured at Vasco Road near Camino Diablo where 5 patients were injured with two people being airlifted to local hospitals. A SIGALERT was issued at 2:46 pm with four vehicles involved, two which were deemed totaled.
UPDATE
As of 4:37 pm, CHP cancelled the SIGALERT and all lanes have been reopened.
Check back for updates.
Detail Information
4:37 PM
16
[41] ^***CANCEL SIGALERT*** ROADWAY OPEN
4:32 PM
15
[40] RDWY OPEN
2:56 PM
14
[33] [Notification] [CHP]-TEMPLER'S ON LL, ADV UNABLE TO ROLL 2ND WRECKER [Shared]
2:51 PM
13
[31] [Rotation Request Comment] 1039 TEMPLERS TOW W/ 2 WRECKERS 925-754-4477
2:47 PM
12
[28] 1039 M FERNANDES 925-458-4427 2 FBS ENRT
2:46 PM
11
[27] ^***ISSUE SIGALERT*** VASCO RD JSO CAMINO DIABLO CLOSED DUE TO TRAFFIC COLLISION UNK ETO REF LOG 1716
2:45 PM
10
[25] 2X KEEPING RDWY SHUT DOWN FOR HELO LANDING
2:43 PM
9
[23] 2X 1097 ENTIRE RDWY SHUT 1097
2:43 PM
8
[19] [Rotation Request Comment] 1039 CUPERTINO TOW 925-778-9292
2:41 PM
7
[18] [Notification] [CHP]-COCO FIRE IS 1097- 5 PATIENTS AND 2 ARE MAJOR INJ'S – THEY HAVE 2 AIR 1141 ENRT [Shared]
2:40 PM
6
[17] 4 VEHS – 2 VEHS ARE TOTALED
2:38 PM
5
[15] 1185R PLS
2:28 PM
4
[11] BOTH DIRECTIONS BLOCKED
2:28 PM
3
[10] 1039 COCO 1141
2:27 PM
2
[4] 3 VEHS TOTAL