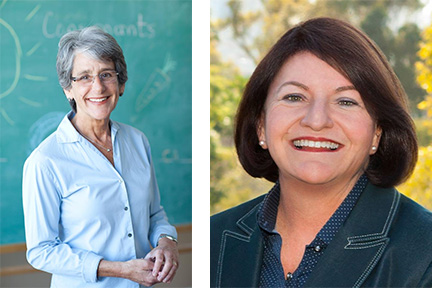 On Sunday, Governor Jerry Brown signed a bill that requires women to be on board of directors of firms in California.
Senate Bill 826 promotes equitable and diverse gender representation on corporate boards by requiring every publicly-held corporation in California to have a minimum of one woman on its board of directors by the end of 2019. By the end of July 2021, the bill would require a minimum of two women on boards with five members and at least three women on boards with six or more. California would be the first state in the nation with such a requirement.
In the Governors signing message, he stated:
I am signing Senate Bill 826 which requires a publicly held corporation, whose principal executive offices are located in California, to have a representative number of women on its Board of Directors.
There have been numerous objections to this bill and serious legal concerns have been raised. I don't minimize the potential flaws that indeed may prove fatal to its ultimate implementation. Nevertheless, recent events in Washington, D.C. – and beyond – make it crystal clear that many are not getting the message.
As far back as 1886, and before women were even allowed to vote, corporations have been considered persons within the meaning of the Fourteenth Amendment. Santa Clara County V. Southern Pacific Railroad Company, 118 US 394 (1886)
Given all the special privileges that corporations have enjoyed for so long, its high time corporate boards include people who constitute more than half the "persons' in America.
Sincerely,
Edmond G. Brown Jr.
The bill was authored by Senator Hannah Beth Jackson (D-Santa Barbara) and Senate Pro Tempore Toni Atkins (D-San Diego) where it passed the Senate in a 23-9 vote and the State Assembly in a 41-26 vote.
Statements made in a August 30 Press Release include:
"One-fourth of California's publicly traded companies still do not have a single woman on their board, despite numerous independent studies that show companies with women on their board are more profitable and productive," said Senator Jackson. "With women comprising over half the population and making over 70% of purchasing decisions, their insight is critical to discussions and decisions that affect corporate culture, actions, and profitability. The time has come for California to bring gender diversity to our corporate boards."
"Countless highly-qualified women are ready and waiting to serve on the boards of our publicly traded corporations. SB 826 will open the door to these talented women and position California as a national leader in gender equality," said Senate President Pro Tempore Toni Atkins.
In 2013, Senate Concurrent Resolution 62 (Jackson) urged that by 2017, each public company in California increase the number of women on their board to one, two or three, depending on the size of the board.  California was the first state in the U.S. to adopt this type of resolution, followed by at least five other states that have passed similar measures.  However, as of the December 31, 2016 cut-off date, fewer than 20% of the Russell 3000 companies headquartered in California had the minimum number of women directors called for in the resolution.
Research has shown that gender diversity on corporate boards is associated with increased profitability, performance, governance, innovation, and opportunity. Yet, one-fourth of California's publicly-held corporations have no women directors on their boards.  In this respect, California's corporations are falling behind their global competitors with only 15.5% of board seats held by women, lower than the Fortune 1000 list at 19.8%.
A number of European nations have mandated gender diversity on corporate boards. In 2003, Norway mandated that 40% of corporate board seats be held by women, which was followed by France and other European countries. In 2015, Germany mandated that 30% of corporate board seats be held by women. As the 5th largest economy in the world, California is well-positioned to take the lead on promoting gender equity in the workplace.
"Public corporations make business decisions every day that affect our economy and employees. Adding women board members to our public corporations will help advance family-friendly policies in the workplace and bring California one step closer to gender equity. We are grateful to Senators Hannah-Beth Jackson and Toni Atkins for leading this historic effort," said Anne Staines of Sacramento, Statewide President of the National Association of Women Business Owners, California and SB 826 sponsor.
How they voted:
Date
Result
Location
Ayes
Noes

NVR

Motion
08/30/18
(PASS)
Senate Floor
23
9
8
Unfinished Business SB826 Jackson et al. Concurrence

Ayes:

Allen, Atkins, Beall, Bradford, De León, Delgado, Dodd, Galgiani, Hernandez, Hill, Hueso, Jackson, Lara, Leyva, McGuire, Mitchell, Monning, Pan, Portantino, Roth, Skinner, Stern, Wiener

Noes:

Anderson, Fuller, Gaines, Moorlach, Morrell, Nielsen, Stone, Vidak, Wilk

No Votes Recorded:

Bates, Berryhill, Cannella, Chang, Glazer, Hertzberg, Nguyen, Wieckowski
08/29/18
(PASS)
Assembly Floor
41
26
13
SB 826 Jackson Senate Third Reading By GONZALEZ FLETCHER

Ayes:

Aguiar-Curry, Arambula, Berman, Bloom, Bonta, Burke, Caballero, Calderon, Carrillo, Cervantes, Chau, Chiu, Chu, Cooley, Eggman, Friedman, Gabriel, Cristina Garcia, Eduardo Garcia, Gloria, Gonzalez Fletcher, Holden, Jones-Sawyer, Kalra, Kamlager-Dove, Levine, Limón, McCarty, Mullin, Muratsuchi, Nazarian, Reyes, Rivas, Rubio, Santiago, Mark Stone, Thurmond, Ting, Weber, Wood, Rendon

Noes:

Travis Allen, Baker, Bigelow, Brough, Chávez, Choi, Cunningham, Dahle, Flora, Fong, Frazier, Gallagher, Gray, Harper, Irwin, Kiley, Lackey, Mathis, Mayes, Melendez, Obernolte, Patterson, Quirk-Silva, Steinorth, Voepel, Waldron

No Votes Recorded:

Acosta, Chen, Cooper, Daly, Gipson, Grayson, Low, Maienschein, Medina, O'Donnell, Quirk, Rodriguez, Salas