Antioch, CA — Dustin Golobic made his move after a late race caution flag and won the 25 lap All Star Series Winged 360 Sprint Car Main Event Saturday night at Antioch Speedway.
Golobic and reigning Petaluma Speedway champion Herman Klein were getting a tune up for next week's big Sprint Car Challenge Series race.  Heat winners Art McCarthy and Brent Dothage started on the third row, and Klein settled into the lead on the start.  Golobic moved past Burt Foland Jr. for second on lap three, but by then Klein had a good lead.  A spin in Turn 2 forced a caution flag with three laps to go.  Golobic put the pressure on Klein on the restart and made his winning pass on the last lap.  Golobic went on to collect his first Antioch win ahead of Klein, Foland, Dothage and McCarthy.
Trevor Clymens scored a thrilling victory in the 20 lap B Modified Main Event.  After a pileup on the front stretch that eliminated Guy Ahlwardt, Clymens raced into the lead on the restart.  He held a nearly a half lap lead when Randy Brown and Kevin Brown tangled in Turns 1 and 2 for a caution flag.  Clymens maintained the lead on the restart, and both K.C. Keller and 2015 champion Fred Ryland got underneath Chuck Golden for second and third on lap 12.  Clymens had intense pressure from Keller and Ryland for the final five laps.  One mistake could have cost him, but Clymens drove a flawless race and held on for his third win of the season.  Keller and Ryland ran right behind him in second and third as Golden and Paul Mulder rounded out the Top 5.  Todd Gomez and F. Ryland won eight lap heat races.
Kimo Oreta had a perfect night in the Sun Drop Racing Team Limited Late Model as he won his eight lap heat race and the 20 lap Main Event.  Mark Garner set the early pace and for much of the race looked like he would win his second straight Main Event.  A yellow flag flew late after Chad Hammer lost a driveline.  Garner led the restart.  On the last lap, Garner bobbled, and that opened the door for Oreta to race by for the victory.  Garner settled for second ahead of heat winner Jim Freethy, John Evans and Mike Gustafson.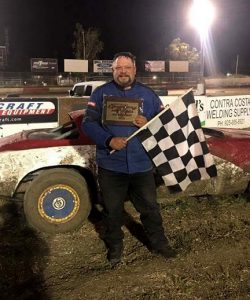 Chris Sorensen won his second 20 lap Hobby Stock Main Event of the season.  The 2010 champion started on the front row and beat Michael Cooper on the start.
Cameron Swank settled into third on lap three.  Sorensen beat Cooper on three different restarts, and then the race want badly for Sorensen's two closest challengers.  C. Swank pitted from third with a flat tire on lap 16.
On lap 17, Cooper slowed from second with a flat tire.  Sorensen led point leader Chris Long on the restart, and he held him off for the satisfying win.  Back of the pack starter Brent Curran finished third ahead of a season best fourth place finish for Jordan Swank and Chris Bennett in fifth.  Long and Robert Niven won eight lap heat races.
Recent high school graduate Adam Teves made a nice comeback to win his second 20 lap Dwarf Car Main Event.   Teves started on the outside front row, but he spun early.  Chuck Connover led early as Teves and Corsaro made their way to the front.  Teves made his move around Connover for the lead and collected the impressive victory.  Connover held off Corsaro for his third second place finish of the season.  Corsaro settled for third ahead of Jenna Fraizer and Charlie Correia.
Corsaro and incoming point leader Kevin Miraglio were eight lap heat race winners.
Next week will be the final Sprint Car Challenge Tour appearance of the year at Antioch Speedway.  The Tour opened at Antioch earlier this season with a track record 60 car turnout.  This will be a show Sprint Car fans will not want to miss.
For more information on this and other happenings at the speedway, go to www.antiochspeedway.com.
Unofficial Race Results
Winged 360 Sprint Cars
Heat Winners (8 Laps)-Brent Dothage, Art McCarthy.   Main Event (20 Laps)-Dustin Golobic, Herman Klein, Burt Foland Jr., Brent Dothage, Art McCarthy.
Limited Late Models
Heat Winners (8 Laps)-Jim Freethy, Kimo Oreta.   Main Event (20 Laps)-Kimo Oreta, Mark Garner, Jim Freethy, John Evans, Mike Gustafson.
B Modifieds
Heat Winners (8 Laps)-Todd Gomez, Fred Ryland.   Main Event (20 Laps)-Trevor Clymens, K.C. Keller, Fred Ryland, Chuck Golden, Paul Mulder
Hobby Stocks
Heat Winners (8 Laps)-Chris Long, Robert Niven.  Main Event (20 Laps)-Chris Sorensen, Chris Long, Brent Curran, Jordan Swank, Chris Bennett.
Dwarf Cars
Heat Winners (8 Laps)-Mike Corsaro, Kevin Miraglio.   Main Event (20 Laps)-Adam Teves, Chuck Connover, Mike Corsaro, Jenna Frazier, Charlie Correia.
Information and write up provided by Don Martin II