The Contra Costa County District Attorney's Office this afternoon filed formal charges against Noe Saucedo, the suspect who drove a stolen pick-up truck on Wednesday that crashed into another vehicle on Somersville Road in Antioch.
He is being charged with murder, felony evading, possession of a stolen vehicle, possession of methamphetamine, and possession of heroin. 23-year-old Saucedo of Pittsburg remains in custody at the Martinez Detention Facility. He is being held in lieu of $1,130,000 bail.
The investigation into the collision is ongoing by the Contra Costa County D.A.'s Office, California Highway Patrol, Antioch Police Department and the Office of the Sheriff per the officer-involved protocol. Investigators are trying to determine why suspect Saucedo stole the Ford F-250 pick-up truck in Pittsburg, why he accelerated away from a Deputy Sheriff who was following him, and why he ran through a red light at the intersection of Somersville Road and the eastbound Highway 4 off-ramp before colliding into another vehicle. In addition, tests are being conducted to determine if Saucedo was impaired in any way.
Yesterday, the 4-year-old girl who was killed in the vehicle collision was identified as Lenexy Cordoza. Her 2-year-old sister and mother remain at the hospital.
"Clearly, suspect Saucedo took a series of actions that led to this tragedy," said Contra Costa Sheriff David Livingston. "We are saddened by the loss of life and offer our deepest sympathies to the family."
Anyone with any information on this incident or who may have witnessed it is asked to contact the Office of the Sheriff at (925) 646-2441. For any tips, please email: [email protected] or call 866-846-3592 to leave an anonymous voice message.
---
Editors Note:

A GoFundMe has been established for the family. Click here.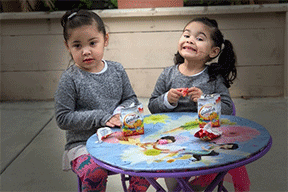 Never in a million years did I think I would be doing this .. on Wednesday January 17,2018 my sister in law Edith Ramirez and nieces Lenexy Cardoza and Camila Cardoza got into an horrible car accident.
Lenexy passed away and Camila is still fighting for her life and Edith is recovering but mentally is destroyed.
We ask for all your prayers for Camila at this point and for a donation of your choice for Lenexy funeral services.
Anything will help 
Thank You