With Fourth of July on Wednesday, many East County residents are likely looking forward to the many summertime activities that go along with celebrating our Nation's independence, including barbecues, parades, festivals, and of course, fireworks.
Yes, fireworks, and the ongoing reminder to citizens of all ages that aside from those  approved for annual city celebrations and festivities, fireworks are illegal to possess or use in Contra Costa County.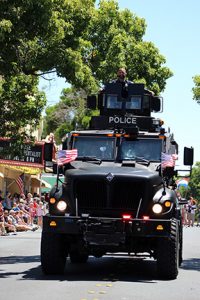 "Contra Costa County is a fireworks-free zone." said Antioch Chief of Police Tammany Brooks. "Additionally and more specifically, the City of Antioch has a municipal code prohibiting the possession or discharge of all fireworks, including safe and sane."
Often times, fireworks can be easily obtained by purchase in other areas of the Bay Area where fireworks are legal, or through the internet. While there is a significant segment of the population who do not see the harm in celebrating our Nation's independence by discharging fireworks, according to Chief Brooks, the dangers associated with fireworks are very real.
"People sometimes don't realize that even though they can purchase them legally elsewhere, it is still illegal to use or possess them in Contra Costa County," added Brooks "Along with the huge fire danger they pose due to dry vegetation and brush this time of year, they also pose a risk of serious injury or death."
Statistics paint a more graphic and detailed picture regarding the danger of fireworks. According to the Statistic Brain Research Institute (www.statisticbrain.com), fireworks are responsible for approximately 20,000 fires in the United States and over 9,300 serious injuries yearly. Out of those 9,300 injuries, 400 of those incidents resulted in loss of vision in one or both eyes. Additionally, 40% of fireworks-related injuries are caused by illegal fireworks, and 45% of fireworks-related injuries are inflicted on children under the age of 14. Four people also die every year as a result of fireworks accidents.
"We have had, in the past, large incidents on the Fourth of July that were caused by fireworks." said East Contra Costa Fire Battalion Chief Ross Macumber. "Add to the fact that we lack fire resources in East County and we have potential for multiple major problems."
Those caught discharging or in possession of fireworks can expect to receive a fine, which can vary anywhere from $500 for lower level violations, and up to $5,000 and possible imprisonment depending on the type and amount of fireworks possessed.
According to Brentwood Police Lieutenant Doug Silva, fireworks create a prevalent problem for the Brentwood Police Department every year.
"We are taking a zero tolerance approach this year and the officers are expected to issue citations when possible," said Silva. "Stiffer penalties may be imposed for possession of mass quantities of dangerous explosives under certain circumstances presenting an increased risk to public safety."
While injuries and fire hazards are well-known risks and consequences of using fireworks, the illegal use of fireworks may also affect pets who may be sensitive to fireworks, or to veterans who have served in the military.
"We have combat veterans who have post-traumatic stress (PTS)," said J.R. Wilson, President for the Delta Veterans Group. "Often times, those sounds and smells of fireworks mimic the sounds and smells of combat with artillery shells and bright lights. Often times, veterans will barricade themselves in their house and they will be on edge, ready to snap."
In addition, discharging of illegal fireworks has also proven to be problematic and stressful for many pet owners, who experience a wide variety of erratic behavior from their pets due to the sights and sounds of fireworks.
"Fourth of July is a nightmare," exclaimed Brentwood Resident Laura Seamann. "I have people in the neighborhood across from me that set off large fireworks every Fourth of July and New Year's Eve. I just really wish that 'adults' would have more respect for people and animals at all hours of the night."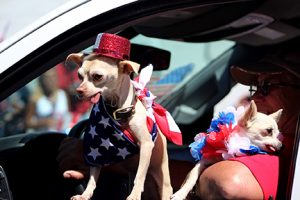 Steve Burdo, Public Information Officer for Contra Costa Animal Services, states that most animals have sensitive hearing, and the loud noises from parties and fireworks can cause them remarkable stress and discomfort.
"Many pets go missing because they become extremely scared of the fireworks and other loud noises, which results in them escaping and fleeing," said Burdo. "They don't understand what's happening and can often become scared and try to escape, which can result in the animal becoming lost, endangered, or injured."
Due to the fear and stress exacerbated from fireworks, pets can sometimes put themselves in very harmful situations, such as jumping through windows and running into traffic due to being in distress. Burdo has advised to keep pets indoors, leaving pets at home if possible, not to tether or chain pets outside, closing windows and curtains, and turning on televisions or a calming radio station to help drown out the noise. Burdo says that these steps can go a long way to helping pets feel safer and less stressed.
"If you know your animal is sensitive to loud noises, these are some helpful steps you can take to make them more comfortable and reduce the chances of them attempting to escape," said Burdo. "It will help them feel safe and might save your pet's life."
Instead of possessing or discharging fireworks illegally in neighborhoods or in the middle of streets and creating a risk for disturbance to neighbors, pets, potential fire hazards, injuries, or even death, residents are invited to attend any one of the local Fourth of July celebrations commencing this week.
A fireworks celebration will take place at the Contra Costa County Fairgrounds on Wednesday July 4, while Oakley will be having their annual Cityhood Celebration on Saturday July 7 at Freedom High School, where a fireworks show will take place at 9:30 PM.
"The city of Antioch does a great celebration with their own fireworks," added Wilson. "Go to the fairgrounds and watch a wonderful fireworks show, and teach our kids the safety of fireworks, rather than have a celebration in the middle of the street that will scare our veterans who have served us. The more the communities are aware of it, the safer our veterans will feel. They may be going through some things."
Chief Brooks advised that if those are interested in reporting possession or use of illegal fireworks, people are encouraged to contact their local police department, but warned that many cities in East County may be inundated with these and other types of calls, which may result in a delay in response. Brentwood residents are encouraged to call the Dispatch Center at (925) 809-7911 to report violations. Oakley residents may also report illegal fireworks at the following link. http://www.ci.oakley.ca.us/report-illegal-fireworks/
"Fireworks complaints are very common during this time of year," said Brooks. "We encourage everyone to obey the law, not only for their safety, but for the safety of everyone else as well."
Macumber has also advised for people to clear out rain gutters of any dead leaves or debris, and to remove dead grass or brush around homes to lessen the chance of a fire caused by fireworks.
"We have many critical fire-prone areas in East County, and shooting off fireworks is a recipe for disaster," said Macumber. "We ask the public to please refrain from fireworks use. Leave it to the professionals and go out and see the shows on the Fourth."
More information on the Fourth of July celebration at the Contra Costa County Fairgrounds can be found at http://eastcountytoday.net/ectevent/antioch-4th-of-july-entertainment-fireworks/.
Further information on fireworks can be found at https://nextdoor.com/agency-post/ca/contra-costa-county/contra-costa-fire-protection-district/fireworks-info-85767290/.
Information about how one can keep pets safe this Fourth of July can be found at  CCAS' monthly blog at: Contra Costa County, CA Official Website. In the event of a pet escape, pet owners may call Contra Costa County Animal Services' Lost and Found department at 925-608-8430.
Sean Tongson, writer, is a resident of East Contra Costa County, a proud husband and father, and enjoys outdoor activities such as hiking, road tripping, and traveling.
An avid bay area sports fan, Sean's favorite teams include the 49ers, Giants, Sharks, and Warriors.