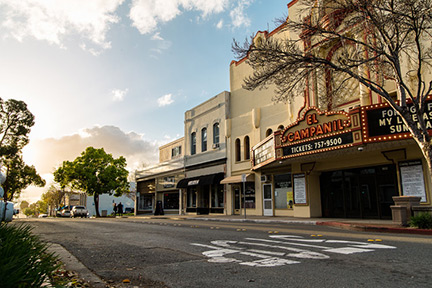 Here is a look at the upcoming events at the El Campanil Theatre in Antioch.
Dec. 30: In the Light Voice Studio Presents "Hamilton: An American Musical"
JUST ADDED  – Saturday December 30, 2017 3:00 pm Matinee
SOLD OUT – Saturday December 30, 2017  7:00 pm 

In The Light Voice Studio, featuring singers and actors from the Broadway world, Regional theater companies,The Voice, American Idol, You Tube fame, the Television and Recording industry; presents a musical tribute to "Hamilton: An American Musical", featuring songs from the Tony Award winning musical that is sweeping the nation!
​Tickets are ONLY available online through Brown Paper Tickets (Not our box office)
TICKETS WILL NOT BE SOLD AT THE DOOR
$13.00 plus $1.45 service charge
General Seating
Questions: (925) 628-3683
---
Jan 7: International Film Showcase – The Divine Order (Switzerland)
Political and religious leaders in Switzerland cited the Divine Order as the reason why women still did not have to right to vote as late as 1970. Director Petra Volpe explores this surprising history through the story of Nora, a seemingly unremarkable housewife from a quaint village who must learn to become an unflinching suffragette leader. After organizing the village's first meeting to support women getting the right to vote, her family is mocked, bullied, and shunned.
Despite the obstacles and backlash, Nora perseveres and convinces the village women to go on strike, abandoning their homes and families. A strong ensemble cast brings the story to its inspirational conclusion when Swiss women finally secure the right to vote in 1971. The Divine Order is a heartfelt and captivating film about regular people demanding their right to an equal voice.
Tickets: Adults: $9   Seniors: $8    Students: $8
For tickets, click here.
---
Jan 11: Storied Streets, Reframing the way we see homelessness
Contra Costa Health, Housing and Homeless Services Division, is hosting a FREE screening of the award winning documentary about homelessness, "Storied Streets" followed by a community discussion about homelessness in Contra Costa.
Donations will go to the Contra Costa Housing Security Fund, a community fund to help people experiencing homelessness get into housing. For more about the fund, go to http://cchealth.org/h3/hsf/.
Event is co-sponsored by Antioch City Councilmember Lori Ogorchock and Contra Costa Council on Homelessness. Free Admission, for more info, click here.
---
Jan 28: Franc D'Ambrosio's Broadway San Francisco's Phantom Returns
3:00 pm 
Adults: $29   Seniors (62 and Over): $27   Youth (Under 18):  $12
​No convenience fees – Save time later – buy online now.
​Reserved Seating
American singer/actor Franc D'Ambrosio brings "Songs of the Great White Way" to El Campanil Theatre in Antioch. Franc is best known for his role in the stage version of Andrew Lloyd Webber's The Phantom of the Opera. Called "The Iron Man of The Mask", Franc D'Ambrosio was awarded the distinction as the "World's Longest Running Phantom". Recognized for his vibrant voice and legato singing, D'Ambrosio also played the opera singing grandson in Godfather III and sang the Academy Award winning theme song, "Speak Softly Love" – both in the film and on the Original Motion Picture Soundtrack.
D'Ambrosio's resume also includes an Academy Award Nominated film, an Emmy Award Nominated television show, four time Tony nominated Broadway show, Two Grammy Considerations, and a National Theatre Award Nomination.
For more info and tickets, click here.
---
Feb. 3: Rhinestone – A Salute to the Songs & Career of GLEN CAMPBELL
Performed by ANDREW KAHRS
Saturday February 3, 2018
Time: 8:00 pm
​​
​Adults: $29   Seniors (62 and Over): $27   Youth (Under 18):  $12
​This show is part of our 2018 Subscription Series.
Buy 4 Shows and Save 20%
Learn How To Build Your Series Here
The distinctive voice of Rising Star ANDREW KAHRS is celebrating The Legacy of GLEN CAMPBELL in a Salute to the Songs of this contemporary Music Legend with Hits including 
Gentle On My Mind, Galveston, Wichita Lineman, By The Time I Get To Phoenix, Rhinestone Cowboy
…And many more favorite Classics
Born and raised in Atlanta, GA, Andrew has never strayed from the soulful bends and warm twang of the music that sparked his desire to pick up a guitar and start writing at age 15. A cross-country move to San Francisco in 2014 deepened the love and longing for his southern roots, and now; at age 27, a seasoned blend of blues, country, and bluegrass can be heard in Andrew's recorded music and live performances over 200 days of the year in the California Bay Area.
​
Contemporary Music Legend Glen Campbell has tallied 21 Top 40 hits, 6 Top 20 albums, 27 Top 10 singles, 9 No. 1 Country albums, 5 Grammy Awards, 3 Grammy Hall of Fame honors, and 3 Gospel Music Association Dove Awards.  He is a 15-time CMA Award nominee and 2-time winner. Campbell's final album Adios was released June 2017.
Feb: 10:  This Ones for You, The Songs of Barry Manilow
A Cabaret Tribute to a Pop Legend
2:00 pm
Adults: $29   Seniors (62 and Over): $27   Youth (Under 18):  $12
​Buy Online Now – ​No convenience fees – Save time later
​Reserved Seating
​This show is part of our 2018 Subscription Series.
Buy 4 Shows and Save 20%
Learn How To Build Your Series Here
BARRY MANILOW wrote over 400 songs including This One's For You; twelve #1's and 47 Top 50 singles.His unparalleled career is made up of virtually every facet of music, including performing, composition, arranging and producing.He has triumphed in every medium of entertainment and has received Grammy, Emmy and Tony Awards, and an Academy Award nomination.
A celebration of the songs and career of a Pop Legend, this special show is performed in cabaret style with a stellar cast of Music and Theatre veterans features the popular Star of JOEL: The Band, Kyle Martin, reuniting with his former co-star from The World of Webber, Tielle Baker, who starred in last season's CHICAGO: The Musical, and Theatre Bay Area Award-Winners Nikita Burshteyn (Jesus Christ Superstar) and Andrea J. Love (Urinetown: The Musical.)
With a repertoire including such enduring hits as I Write The Songs, Copacabana, Mandy, Somewhere In The Night, It's A Miracle, and Can't Smile Without You, the universal message of Manilow's music has always been to inspire, uplift and to make it through. For so many of us it has done just that, and this show honors the message and the messenger.
For Tickets, click here.
---
Feb 11:The Vagabond Players Present The Hallelujah Girls
by Jessie Jones, Nicholas Hope & Jamie Wooten
Hilarity abounds when the females of Eden Falls, Georgia, decide to shake up their lives. The action in this comedy takes place in SPA-DEE-DAH!, the abandoned church-turned-day-spa where this group of friends gathers every Friday afternoon. The women realize time is precious, and if they're going to change their lives and achieve their dreams, they have to get on it now!
Sugar Lee, their high-spirited, determined leader, has her hands full keeping the women motivated. The comic tension mounts when an ex-boyfriend shows up unexpectedly, a marriage proposal comes from an unlikely suitor, and Sugar Lee's archrival vows who willl stop at nothing to steal the spa away from her. By the time the women rally together to overcome these obstacles and launch their new, improved lives, you've got a side-splitting, joyful comedy that will make you laugh out loud and shout "Hallelujah!"
Adults: $17   Seniors: $15  Youth: $12
For tickets, click here.
---
Feb 17: Contra Costa Orchestra presents Ludwig and Leonard
Time:  2:00 p.m.

Program
with soloists Sarah Sloan, soprano and Jeffrey Albright, tenor Overture to Cariolanus, Op. 62 Ludwig van Beethoven Symphony No. 1 in C, Op. 21 Ludwig van Beethoven
Adagio molto – Allegro con brio
Andante cantabile con moto
Menuetto: Allegro molto e vivace
Adagio – Allegro molto e vivace
INTERMISSION
​
Celebrating the 100th Anniversary of Leonard Bernstein's Birth
Overture to On the Town Leonard Bernstein
Concert Suite No. 1, from West Side Story Leonard Bernstein
Maria – One Hand, One Heart – Somewhere – Balcony Scene (Only You/Tonight)
with Sarah Sloan, soprano and Jeffrey Albright, tenor
"Dream with Me", from Peter Pan Leonard Bernstein
with Sarah Sloan, soprano
Overture to Candide Leonard Bernstein
For tickets, click here.
---
For more events, visit www.elcampaniltheatre.com