Lindsay Wildlife – Conservation Icons: Invasive Species!
Nov 10, 2018 @ 6:00 pm

-

7:00 pm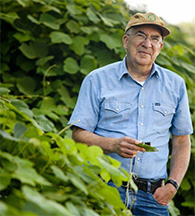 Join Lindsay Wildlife 6 p.m., Saturday November 10 for Conservation Icons: Dr. Dan Simberloff, when he discusses invasive species and what everyone needs to know.
A professor with the University of Tennessee Knoxville, Simberloff is a foremost expert on invasive species. Of the 7,000 estimated non-native species present in North America, approximately 1,000 are invasive. Invasive species are in the minority, but their small numbers don't keep them from causing billions of dollars in economic and ecological harm each year.
Come learn what is being done and what you can do to deal with this HOME invasion! Tickets start at $15.