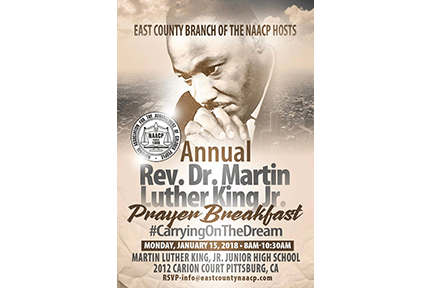 The East County branch of the NAACP will host its annual Rev. Dr. Martin Luther King Jr. prayer breakfast in Pittsburg at Martin Luther King Jr. High School.  The event will be held from 8:00 am to 10:30 am at 2012 Carion Court.
8:30 am: East Bay Regional Park District Day of Service
Join park district staff in restoration work and invasive plant removal in order to support and care for wildlife and their natural habitats. Volunteers will also be participating in the restoration of the Martin Luther King Jr. Memorial Grove and Damon Marsh.
We welcome children to participate, but ask that those under 16 are accompanied by one chaperone for every 20 kids.
Day of Program:
— 8:30am – Check In / Registration Opens
— 9:00am – Program Begins
— Noon – Program Ends
Wear comfortable, weather-appropriate clothes and closed-toed shores. To cut down on the use of plastic, please bring a refillable water bottle and bucket to pick up litter. For more information, email [email protected]
https://www.facebook.com/events/344574276019092/
1:00 pm to 3:30 pm: Martin Luther King Jr. Community Celebration
This event will be held at the Deer Valley High School Theater (4700 Lone Tree Way) in Antioch. The event will feature and Art & Essay Scholarship Contest Winners, along with music, and community performances.
Jan. 27: East County March for Equality & Unification
The East County NAACP will hold a march in East Contra Costa County while advocating for equality and justice for all. The event will be from 10:00 am to 1:00 pm where they will march from Somersville Town Center (Antioch) to Los Medanos College (Pittsburg).
For more information on the march, email [email protected]