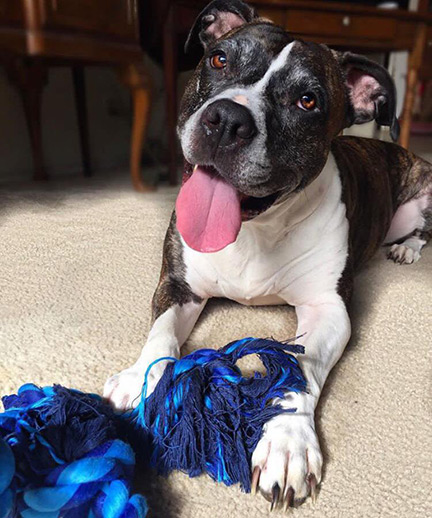 A dog died after being left in the care of Derty Dog Canine Fitness and Retreat in Brentwood where it allegedly hopped a fence and took off from the facility.
According to the dog's owner, Jessica Campbell, her Pitbull and Rhodesian Ridgeback Mixwas named Henny was lost Saturday and was later found Monday deceased off Brentwood Blvd after being struck by a vehicle.
Campbell stated they have not used this facility before or any others, but assumed they would be more than capable of taking care of their dog.  Less than 5-hours later after drop-off, they received a call saying Henny had escaped.
Campbell says the business could have done more to assist in locating Henny and blasted the business for not taking any responsibility.
"They helped us search for about 25-minutes and left," says Campbell. "We stayed and searched until it was dark out. We had not heard from them since they left and the owner Colt was not answering when we called."
She says on Sunday, the owners of the kennel gave them nothing but attitude and took no fault nor showed sympathy or compassion for losing Henny—they received a refund after having to call the police.
"This morning (Monday), our beloved Henny was found on the side of Brentwood Blvd after being hit by a car," said Campbell. "We are deeply broken and cannot believe this has happened."
Campbell explained that as of Monday night, they still have yet to be contacted by Derty Dog Fitness.
According to Colt Ross, owner of Derty Dog Fitness, he says their 2-acre facility has 16-kennels and 9 play yards while each is outfitting for dogs with different temperaments from jumpers to diggers while explaining how safety and security is the number one priority.
On Monday, he explained how the Henny got out while expressing his sorrow and how he feels terrible for what happened.
"They told us the dog doesn't jump fences and so we had the dog in a yard with an employee and it jumped the fence and took off. I think the dog was scared," said Ross while adding the fence was 6-ft high.
He explained once Henny got out, he got a call from his manager immediately and they looked around for 25-minutes from the time the dog escaped.
"I called the owners immediately to let them know what happened," said Ross. "I called Cat Cottle of FIDO ALERT and at the animal shelter and others in the dog networks to get the word out. I proceeded to look for the dog for the next hour or so in canal system between Lone Tree & Grant & Adams."
He explained while looking for Henny, his owner reiterated the dog it never jumped fences but did get out once before and hid in bushes. At that point, Ross told the owner if he got near the dog it might get scared and run so he told the owner it would be better if he looked for the dog because maybe it would come to him.
"The next day, I looked for the dog for around 2-hours canvassing on Sunday while I was in touch with Fido Alert and checking Craigslist and social media groups," explained Ross who says he was in contact with the dogs owner while searching.
"I am not trying to paint a picture of these people, these people are hurting and I don't want to hurt them, they are shambles and rightfully so. They are blasting me on social media, I get it, I would have done the same thing. I am a dog person. I get it. I feel terrible for them," said Ross. "If my business takes a hit from this, I get it, I was trying to get their dog home safe. I woke up Monday, their dog was dead."
He says once he found out the dog died, he tried to Facetime the dog's owner but they didn't answer and that was the last time he tried to contact them.
"I know they are hurting and I am not trying to add insult to injury," said Ross.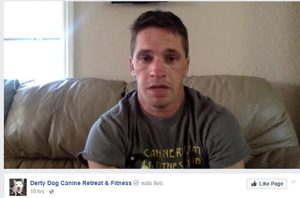 Monday evening, Ross went "live" on Facebook to discuss the incident and answer questions because of the wrath of Social Media saying he wanted to give people a chance to hear his side and give people a visual.
"To Jake wherever you are, I am so sorry for what happened. I got my first dog 9-years ago and he was hooked and led him on a path that he didn't expect in his life. When I got my second dog Derty, that is when I decided to open his business with the intention of giving every dog a safe and happy place to come to enjoy their time."
He explained how the owners had a dog named Henny and needed a place for long-term boarding and 4-hours after being in their care after jumping multiple fences. He also said they were not informed that the dog could jump fences.
He said ultimately the dog was found 500-yards from their business while acknowledging the community has a lot of concerns and questions regarding the incident.
"I encouraged people to post to social media. I knew what it was going to do to my business, but my only priority was finding this dog," said Ross. "I can fix my business, I can fix my reputation, but I can't bring this dog back."
Ross also said Henny was the second dog to get out after the first dog to get out of the facility occurred when they first started—the dog was missing for 3-weeks before being found.
During the Facebook Live session, he said he would be willing to pay for the dogs cremation costs to help compensate the owners.
Derty Dog Kennels has been open since April 2015 and sits on a 2-acre property and has had 1,500 dogs attend over its lifespan.
When asked if he had any inspections or told to fix anything, he says the City of Brentwood was at his facility two-weeks ago because wanted to add a barn onto the property. He said they didn't inform him of any violations or needing to fix anything while his fences were in order.
Campbell took to social media to share the story of how Henny escaped from Derty Dog Canine Fitness and Retreat in Brentwood–it received more than a 1,000 shares:
UPDATE: Our beloved Henny was found on the side of Brentwood blvd this morning. She was hit by a car and passed away. We are deeply broken and cannot believe this has happened. Thank you so much for your care, love and support. We can only hope that you continue to spread word of this business so this doesn't happen to anyone else. Hearts are destroyed, our baby is gone. R.I.P. Baby girl. You brought us so much laughter and joy for the past 8 years. We will love you forever and we swear on our lives you will not die in vain. We promise. We hope you're playing with all the ropes in doggy heaven. We miss you.??
Rant!!!!
Derty dog canine fitness and retreat in Brentwood.
We took our dog there yesterday at Noon. This is a business that claims to give your dog a safe haven and long term boarding options. The idea of it sounds great.
By 4:30 yesterday, less than 5 hours later, they called us to let us know our dog had hopped a fence and was on the loose. We said we were on our way immediately, and they acted very weird about us coming out there to look for our dog (we live in Livermore) which I find sketchy. We got there, they helped us search for about 25 mins and left. We stayed and searched until it was dark out. We had not heard from them since they left and the owner Colt was not answering when we called.
Today they have given us nothing but attitude and are taking absolutely no fault, nor are they showing any sympathy or compassion for losing our dog. Their employee Katie is basically putting blame on us!! How dare they. We put our dog's safety into their hands. After searching more today we let Colt know we were coming to get our money back. He let us know they were closed today. As we were pulling up all the employees were there and door was open. After a visit from the police we got our money back but that means nothing other than the fact that we're not supporting their business, we want our dog back!! They are doing little to nothing to help us find her as well. Their feeble attempts at 'helping' us are laughable. We are in shock and disbelief. We are on our own in this.
Don't let this happen to anyone else and their fur babies!!!