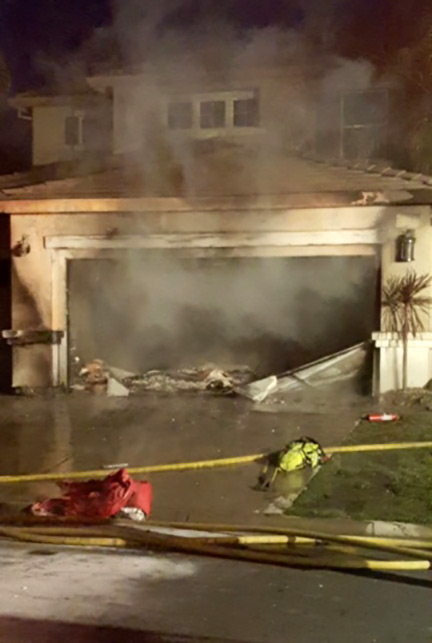 At 5:35 pm Thursday, East Contra Costa Fire Protection District firefighters responded to a report of a residential structure fire in the 3100 block of Castle Rock Loop.
The District received multiple calls including CHP reporting that there was possibly a vehicle crash into the structure that started the fire.
At 5:43 pm, Engine 59 arrived on scene to a fully involved garage fire while reporting all occupants were out of the home. They were forced to go on a defensive fire attack.
By 5:53 pm, Chief Hugh Henderson reported the main body of the fire was knocked down and firefighters were able to perform an offensive attack.
As of 6:00 pm, Chief Henderson reported the fire was under control according to radio traffic.
By 6:04 pm, Chief Henderson released Contra Costa Fire Engine 82 (Antioch) from the incident.
By 6:15 pm, Engine 88 (Antioch) was also released.
At 6:50 pm, Battalion Chief Brian Helmick reported one patient with possible smoke inhalation.
Update:
According to the East Contra Costa Fire Protection District, the fire was likely started from a battery charging station.