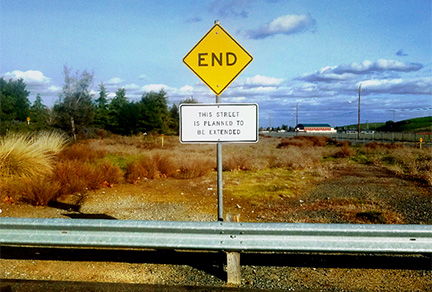 Local commuters and motorists anxious for completion on the long-proposed Deer Valley Road expansion project have no choice other than to just continue to be patient and wait.
No timetable has been set for the long-delayed completion of Sand Creek Road from Deer Valley Road near Kaiser Permanente in Antioch to just west of the interchange with State Route 4 in Brentwood. Officials state that the near three-mile extension could still be years away from becoming a reality, due to repeated delays in development.
"The timing of the road is contingent on when development occurs," said Antioch City Manager Ron Bernal. "The developers are the ones who will decide when they want to develop and take the risk of getting started on that project. Until development occurs, the road will not occur."
The project, which has been on the drawing board since the late 1990's, will be built by developers in charge of three different residential developments; Bridle Gate (336 homes), Aviano (533 homes) and Vineyards at Sand Creek (641 homes). While the Sand Creek Road extension does require coordination between the cities of Brentwood and Antioch, the two cities are not directly in charge of its construction.
"The timing of construction of the Sand Creek Road extension will depend on the developer's schedule of building homes," said Brentwood Assistant Director of Public Works Jagtar Dhaliwal. "Providing timing of construction is difficult since there are many factors involved and will vary depending on the construction schedules for each project."
While the exact cost of the entire project isn't known at this time, it is expected to reach into the tens of millions, with the Brentwood portion of the extension being tagged at $8 million. However, the completion of Sand Creek Road is actually only a part of a much larger development and transportation project.
In addition to closing the gap between Highway 4 and Deer Valley Road, north-south thoroughfares Dallas Ranch Road and Hillcrest Avenue are proposed for extention south of their current termini in Antioch to an extended Sand Creek Road west of Deer Valley Road in a proposed, yet controversial development called "The Ranch", which will add 1,667 new homes to the region.
"Those extensions are also contingent on future development plans," added Bernal. "But, these are still years away from happening."
When completed, the four-lane Sand Creek Road will provide another vital east-west link between Antioch and Brentwood, and will likely provide welcomed traffic relief by removing some vehicles off of nearby arterials Lone Tree Way, Deer Valley Road, and Balfour Road, while providing easier and vital access to Kaiser Permanente's Deer Valley campus.
Oakley City Councilwoman and Kaiser Employee Sue Higgins has advocated for the roadway to be expanded–including urging residents to sign a petition that was circulating.
"Kaiser's campus in Antioch is one of the largest local employers, and one of the only Kaisers in the Diablo service area where patients can go to get your hip or knee replaced," said Higgins. "They are stroke certified, and a great place to have your baby. Not only do you have employees driving from all over to work there, but patients; most of them elderly, come for this service, not to mention all that this hospital has to offer."
In addition to the location and proximity of the Kaiser campus and nearby Dozier-Libbey Medical High School, residents have stressed the importance of the completion of Sand Creek Road due to being forced to use dangerous alternatives such as the winding, narrow, and scarcely lit Deer Valley Road and Balfour Road.
According to the Antioch Police Department, since 2008, a total of 141 vehicle accidents have occurred on the narrow and winding 2.4 mile stretch of Deer Valley Road between Prewett Ranch Drive and Balfour Road. Of the 141 accidents, 22 have resulted in injuries, while two have resulted in fatalities.
Note — the data does not include the portion of Deer valley Road that is in Brentwood or county/chp jurisdiction.
In January, a 38-year-old man was killed in a three-vehicle crash, while another single vehicle accident claimed the life of a 51-year-old woman on Balfour Road just a month earlier in December.
Both victims were Kaiser Permanente employees, and both accidents occurred less than a mile away from each other.  The incident promoted many residents to take to social media urging local elected leaders to find ways to make the roadway safe, including Higgins.
"Get us off the winding backside of Deer Valley and Lone Tree or Hillcrest give us a direct route, as the closest exits aren't close at all," explained Higgins. "Two coworkers dead affects all of us. It's time to stop leaving us hanging and do the right thing, make the (road) go through, with or without the development. The fees have already been paid in blood."
While there is still no official timetable for project start or completion, the city of Brentwood submitted a project development application last June, and is currently working with the developer to process the application, which also includes a subdivision map and environmental impact report.
"Completion of this portion of Sand Creek Road is an important focus for Brentwood," added Dhaliwal. "It will improve regional transportation connectivity as well as promoting future economic development in the area."
More information and updates on the Brentwood leg of the Sand Creek Road extension as well as other development plans can be found at http://brentwoodca.gov/gov/cd/planning/current.asp. and at https://www.brentwoodca.gov/civicax/filebank/blobdload.aspx?BlobID=37911.
For more on The Ranch Project in Antioch, http://www.ci.antioch.ca.us/CityGov/CommDev/PlanningDivision/docs/the-ranch-draft-eir.pdf
Additional information on the Antioch portion Sand Creek Road extension can be obtained by calling the City of Antioch, Community Development Department at 925-779-7035.