Antioch, CA — Jeff Decker won the 20 lap DIRTcar Late Model Main Event Saturday night at Antioch Speedway. The three-time reigning champion quickly moved into second and was trailing Dennis Souza by about a straightaway on lap two.
Undaunted, Decker steadily reeled in Souza and made his winning pass in traffic in Turns 1 and 2 on the 9th lap. Once in front, Decker pulled away to the impressive victory. Souza enjoyed his best finish to date in second, followed by heat winner Rod Oliver, Paul Guglielmoni and David Newquist.
Nick Spainhoward scored a thrilling victory in the 20 lap All Star Series B Modified Main Event.The 2014 IMCA State Sport Modified champion out of Bakersfield moved by Todd Gomez for second during the first half of the race while reigning champion KC Keller paced the field.
Keller had earlier picked up wins in his eight lap heat race and the 12 lap Sharp Shooter race and appeared to be headed for the clean sweep.
As they hit the final turn, Spainhoward made a move to the inside and emerged with the lead. Spainhoward took the checkered flag in victory, followed by Keller, Guy Ahlwardt, Trevor Clymens and Brent Curran.
Championship contender Chris Sorensen won his second 20 lap Hobby Stock Main Event of the season. Sorensen settled into the the early lead with two time winner Michael Cooper in close pursuit. The lead duo quickly pulled away from the pack and held a half lap advantage over the rest of the competitors by the waving of the checkered flag. Sorensen withstood the pressure of Cooper for a hard-fought victory. Joey Ridgeway made a late move on Little Smitty Jr to finish third as Haley Gomez scored her best finish yet in fifth.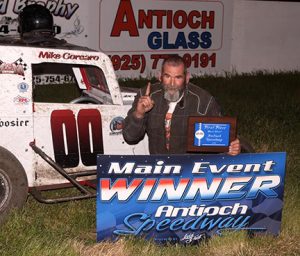 Mike Corsaro charged to the victory in the 20 lap Dwarf Car Main Event. The reigning champion won the first 8 lap heat race and then promptly drew a 12 for the inversion.
Stuck back in the sixth row at the start, Corsaro methodically worked his way to the front and scored an impressive victory ahead of Josh Miller, David Michael Rosa, heat winner Miranda Chappa and Chuck Conover.
Ken Retzloff scored the victory in the Bay Area Hardtop Main Event. Retzloff led early on, leaving the battle between Terry DeCarlo, Dave Mackay and Doug Braudrick for second. Heat race winner Mackey ended up claiming second, followed by DeCarlo and Braudrick.
Racing resumes at Antioch Speedway with another exciting five division All Star Series event, featuring Wingless Spec Sprints, A Modifieds, Limited Late Models, Hobby Stocks and Dwarf Cars. There will also be a special Drone Air Race. For further information, go to www.antiochspeedway.com.
All Star Series Antioch Speedway
Unofficial Race Results
DIRTcar Late Model
Heat Winners (8 Laps)-Jeff Decker, Rod Oliver. Main Event (20 Laps)-Decker, Dennis Souza, Oliver, Paul Guglielmoni, David Newquist, Kimo Oreta, Mike Hynes, Rob Norris, Joey Olschowka.
B Modified
Heat Winners (8 laps)-KC Keller, Anthony Giuliani, Todd Gomez. Sharp Shooter (12 Laps)-Keller, Nick Spainhoward, Giuliani. Main Event (20 Laps)-Spainhoward, Keller, Guy Ahlwardt, Trevor Clymens, Brent Curran, Al Johnson, Fred Ryland, Aaron Crowell, Ryan DeForest, Chuck Golden.
Hobby Stock
Heat Winners (8 Laps)-John Wacht, Chris Sorensen. Main Event (20 Laps)-Sorensen, Michael Cooper, Joey Ridgway, Little Smitty Jr, Haley Gomez, Tanis Rangel, Billy Garner, Eric Pitschner, Wacht, Cameron Swank.
Dwarf Car
Heat Winners (8 Laps)-Mike Corsaro, Miranda Chappa, Chris Mello. Main Event (20 Laps)-Corsaro, Josh Miller, David Michael Rosa, Chappa, Chuck Conover, Charlie Correia, Jerry Doty, Mello, Mario Marquez, Tommy Stevenson.