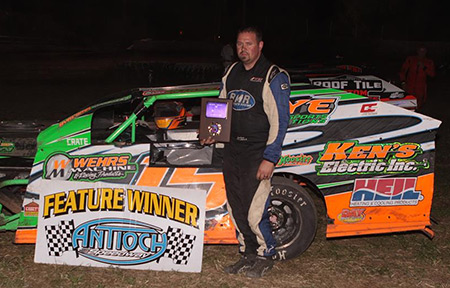 Antioch, CA — Some exiting finishes and the return of the Late Models highlighted the racing program at Antioch Speedway Saturday night.
Main Event wins in the five division All Star Series program went to Jeff Decker (DIRTcar Late Models), Bryan Grier (Wingless Spec Sprints), Kellen Chadwick (A Modifieds), Todd Gomez (B Modifieds) and Brent Curran (Hobby Stocks).
2015 champion Jeff Decker won the 20 lap DIRTcar Late Model Main Event.  Early on, it looked like reigning champion Richard Papenhausen was the man to beat.  Papenhausen won his eight lap heat race and was clocking times in the 13 second bracket on the fast three-eighth mile clay oval.  Papenhausen led the way early over Decker, but things changed on a lap eight restart.
Decker raced by for the lead.  Papenhausen got a flat and hit the Turn 2 wall for a lap 10 caution flag. From that point on, Decker held off the persistent efforts of heat race winner Shawn DeForest for a hard earned victory.  Chester Kniss had his best Late Model finish in third, followed by rookie Kimo Oreta and Mike Hynes.
Bryan Grier won the 20 lap Wingless Spec Sprint Main Event.  Grier is the 2014 Watsonville Spec Sprint champion, and he is competing in both the winged and non winged divisions this season.  Brandon Burd spun early in the race and collected heat race winner Tyler Henriquez and James East for a yellow flag.  It seems like every time Alan Miranda approaches a victory, bad luck strikes.  Miranda was leading Grier when he suffered a mechanical failure with four laps remaining and headed to the pits.  Grier took the lead from there and drove on to victory ahead of NFL Alumnus Jeremy Newberry, Roy Fisher, Rick Panfili and Brian Grosenheider.  Grier also won his eight lap heat race.
Kellen Chadwick scored the win in the 20 lap A Modified Main Event.  Chadwick got the opportunity to drive the new Brian Pearce car and made the most of it with his eight lap heat race and feature wins.  Chadwick is a past Antioch Speedway champion and won the prestigious Wild West Speedweek series championship last year.  Chadwick withstood a lap 18 restart challenge from title hopeful Bobby Motts Jr. and brought it home to victory.  Reigning champion Carl Berendsen II finished third ahead of his brother, Eric Berendsen.  Gary Hetrick was fifth.
Past Street Stock champion Todd Gomez scored the victory in the 20 lap B Modified feature.  The race had heavy attrition early on when Anthony Giuliani hit the Turn 1 wall, collecting Doff Cooksey, Tim Hammett and Mark Garner.  Gomez drove a good race and stayed out of trouble for the well earned victory.  Megan Ponciano was second ahead of K.C. Keller, Randy Brown and Mike Mates.  Giuliani and Brown were eight lap heat race winners.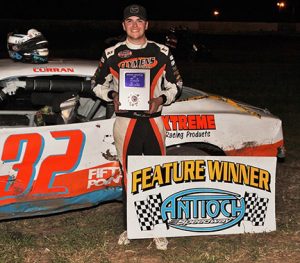 Rookie Brent Curran won the 20 lap Hobby Stock Main Event.  The 2014 Four Banger champion won his eight lap heat race and was running strong in the Main Event, but he had a little luck on his side this time.  Curran battled fiercely with Cameron Swank for the lead with Chris Long close behind.  Swank nudged ahead and might have won the race as he took the white flag in first.  However, Swank got sideways in Turns 1 and 2 and fell back several positions.  Curran raced by for the lead and win.
Long finished second ahead of Michael Cooper, Swank and Joey Ridgeway.  Lori Brown and Gene Haney won the other heat races.
All Star Series racing resumes next week with Winged 360 Sprint Cars back in action.  A Modifieds race for $750 to win, and Wingless Spec Sprints, Limited Late Models, B Modifieds and Hobby Stocks are also on the card.  For further information, go to www.antiochspeedway.com
Unofficial Race Results
DIRTcar Late Models
Heat Winners-Richard Papenhausen, Shawn DeForest.  Main Event-Jeff Decker, DeForest, Chester Kniss, Kimo Oreta, Mike Hynes.
Hobby Stocks
Heat Winners-Brent Curran, Lori Brown, Gene Haney.  Main Event-Curran, Chris Long, Michael Cooper, Cameron Swank, Joey Ridgeway.
Wingless Spec Sprints
Heat Winners-Bryan Grier, Tyler Henriquez.  Main Event-Grier, Jeremy Newberry, Roy Fisher, Rick Panfili, Brian Grosenheider.
A Modifieds
Heat Winners-Kellen Chadwick, Carl Berendsen II.  Main Event-Chadwick, Bobby Motts Jr., C. Berendsen, Eric Berendsen, Gary Hetrick.
B Modifieds
Heat Winners-Anthony Giuliani, Randy Brown.  Main Event-Todd Gomez, Megan Ponciano, K.C. Keller, R. Brown, Mike Mates.