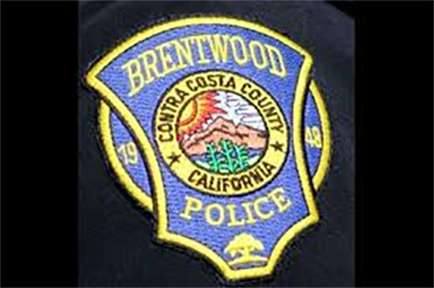 Here is a look at a sampling of the Brentwood Police Call logs between December 22-27 according to their call logs–the sampling is focused on the higher priority calls.
Assault
12/22 – Second St. , Brentwood. RP WAS PUNCHED IN THE JAW BY UNK MALE IN HIS 50'S
12/23 – Gristmill Dr, Brentwood.FAMILY DISPUTE
Auto Burglary
12/25 – Sand Creek Rd. , Brentwood. RP VEH BROKEN INTO ASSOC VEH: WHI 2011 CHEVY EQUINOX. ITEMS WERE TAKEN
12/27 – Lone Tree Way. , Brentwood. UNK HOW RESPS GOT INSIDE, VEH WAS LOCKED. GIFTS AND PAPERWORK TAKEN. RPS/VIC VEH WHI 2001 ACURA TL
12/27 – Griffith Ln. , Brentwood. WINDOW SMASH W/IN THE LAST HR. RP SAYING SHE CAN SEE ONE ALSO BROKEN INTO ACROSS FRM HER W/ A WINDOW SMASH. RP STANDING BY IN THE PLOT
Burglary – Commercial
12/26 – Trilogy Pkwy, Brentwood. MAIN OFFICE //BACK WINDOW BROKEN AND LAP TOPS TAKEN
12/26 – Lone Tree Way. , Brentwood. ATTEMPT COMMERCIAL BURGLARY – RP IS WITH LOSS PREVENTION AND CAN MEET HER AT FRONT DESK
Burglary – Residential
12/26 – Tenaya Dr, Brentwood. RP LEFT AT 0915 THIS MORNING – JUST RETURNED HOME — SOMEONE BROKE INTO HOUSE – GARAGE DOOR WAS NOT WORKING AND FOUND FRONT DOOR UNLOCKED – GUN TAKEN.
12/27 – Town Centre Ter. , Brentwood. MAKE CONTACT W/ PROPERTY MANAGER. RP LIVES IN OREGON BUT IS ON SCENE NOW AND MISSING ITEMS. THINKS THEY WERE TAKEN IN A STRING OF BURGLARIES THAT OCCD IN FEB. RP REQ PD FOR RPT
Fight
12/23 – Sand Creek Rd. , Brentwood. FEMALE INSIDE THE STORE FIGHTING W/ SEC.UNK WEPS Service Class: WPH2
12/25 – Tulip Ct, Brentwood. DOMESTIC DISPUTE
Petty Theft
12/22 – Second St. , Brentwood. RP REPORTING HIS BIKE WAS STOLEN ON 12/20/2017 BTWN 1400-1300 HRS IN FRONT OF ABV LOC– STORE HAS VIDEO
12/22 – Lone Tree Way. , Brentwood. HFA, 5 6FT, BLACK HAIR, UNK CLOTHING, IN LOSS PREVENTION OFFICE UPSTAIRS, WASN'T BEING COOPERATIVE, BUT IS NOW. MALE INVOLVED AS WELL, TOOK OFF IN BLACK DODGE RAM
12/23 – Sand Creek Rd. , Brentwood. 3AGO/BFA AND HFA 18YO ASSOC TO OLD WHI BMW W/CONVERTIBLE TOP THAT COMES DOWN
12/23 – Grovewood Loop. , Brentwood. OCCUR ON THE 20TH/PACKAGE TAKEN FROM PORCH..RP HAS VIDEO SURV
12/24 – Sycamore Ln, Brentwood. MAIL THEFT FROM GROUP MAILBOX
12/26 – Royal Ann Ct, Brentwood. PERSONAL MAILBOX BROKEN INTO – RP IS HOME – HIS MEDICATION WAS TAKEN
12/27 – Ohara Ave. , Brentwood. PLATE STOLEN FROM SHUTTLE VEH AND REPLACED W ANOTHER ONE. PLATE STOLEN:
12/27 – Veneto Ln, Brentwood. RP HAD A PACKAGE DELIVERED TO THE CLUB HOUSE AND WAS NOTIFIED TO PICK IT UP THERE —RP WENT TO PICK IT UP AND SOMEONE ELSE PICKED IT UP AND USED RP'S NAME – CLUB HOUSE HAS VIDEO SURV
12/27 – Sand Creek Rd. , Brentwood. MALE THAT ASSAULTED AN ASSOCIATE ON FRIDAY NIGHT IS BACK, BMA, 30S, DREADS, WHI SHIRT
Road Rage Complaint
12/23 – Lone Tree Way. , Brentwood. FEMALE IN A GRY 2DR / THREW A ROCK INTO RP'S VEH AND PUNCHED HER IN THE FACE/ DIRECTION OF TRAVEL WAS TWDS BABIES R US.
Shooting at Res/Veh
12/25 – Whitehall Ln, Brentwood. SOMEONE SHOT SOMETHING (POSS A BB GUN) THRU A WINDOW IN THEIR BATHROOM THAT FACES THE APARTMENTS BEHIND THEM
Vandalism
12/22 – Oleander St, Brentwood. ATTEMPT BREAK IN TO RP'S POD IN THE DRIVEWAY- UNK TIME FRAME BUT RP HAS HAD IT FOR A WEEK AND NOTICED THIS MORN THAT THE TOP CORNER OF THE FRAME IS DAMAGED, METAL CASING THAT HOLDS BOLTS IS PULLED OUT AND BENT, BOLTS ARE WRAPPED IN CARDBOARD AND TAPE. POD WAS EMPTY
12/23 – Whitehall Ln, Brentwood. OCCD AROUND 11AM, GRAFFITI TO THE PLAYGROUND AND THE STRUCTURE AND PUT NUMBERS ON EVERYTHING. 1 WMJ, POSS GRN SHIRT W/ STRIPES AND DRK PANTS, LONG HAIR TO THE SHOULDER, BLN. WAS ON FOOT
Vehicle Theft
12/26 – Doeskin Ter, Brentwood. SILV 98 HOND CIV – WAS PARKED OUT FRONT – LAST SEEN ON THE 23RD.