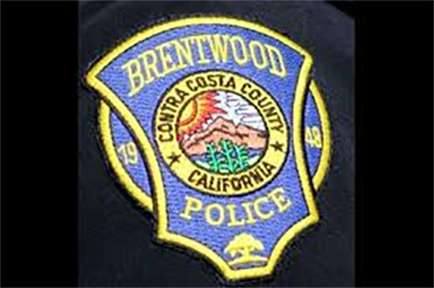 Here is a look at a sampling of the Brentwood Police Call logs between December 14-21 according to their call logs–the sampling is focused on the higher priority calls.
Assault
12/14 – American Ave. — STUDENT FIGHT
12/15 – Lone Tree Way. — RP SAYING SUBJ HIT HIM IN THE BACK. SUBJ NO LONGER THERE..OCCD 30 AGO
12/18 – Shady Willow Ln — . RP UNCOOPERATIVE – DISPUTE WITH TEACHER
Auto Burglary
12/14 – Ashbourne Pl — RP'S WALLET TAKEN FROM LOCKED TRUCK, WINDOW WAS CRACKED BUT NOT ENOUGH TO GET INSIDE, NO SIGNS OF FORCED ENTRY – SUSP TRIED TO CHARGE SOMETHING TO RP'S DEBIT CARD FOR METRO PCS IN WA.
12/15 – Baja Ct, — WINDOW SMASH. EQUIPMENT TAKEN, APPROX $10K
12/17 – Muirwood Loop — OCCD OVERNIGHT. REAR WINDOW SMASHED. TAKE WAS GARAGE DOOR OPENERS.
12/17 – Lone Tree Way — BROKEN BACK WINDOW —-TOY PRIUS SILV – PARKED TOWDS THE BACK OF THE LOT
12/17 – Lone Tree Way. , LIGHT GRY HOND CIV BROKEN INTO WHILE RP WAS AT WORK, WILL BE INSIDE FOR CONTACT. NO SUSP INFO.
12/17 – St Regis Ave/Capilano Dr, — 5 AGO RP SAW A GROUP OF SUBJS BREAK INTO A PARKED VEH AND LEFT, RESP VEH IS GRY OR SIL OLDER HOND CIV 4D OR SIMILAR MAKE/MODEL UNK PLT
12/18 – Presidio Ct, — WORK TRUCK BROKEN INTO. UNK WHEN IT OCCURRED. TOOLS WERE TAKEN. PER RP GATE IS OPEN. IS LOOKING FOR ON SITE SECURITY
Burglary – Commercial
12/19 – Walnut Blvd. — VACANT HOUSE NEXT TO THE CHURCH – ON THE PROPERTY – SOMEONE WAS INSIDE OF IT AGAIN- THEY HOOKED UP A STRING OF XMAS LIGHTS .
Burglary – Residential
12/15 – Altessa Dr, — OCC OVERNIGHT//RP CAME HOME AT 1430HRS TODAY AND FOUND RESD BROKEN INTO// RP HAS DONE WALK THRU OF RESD ALREADY//LOSS: COMPUTER, COINS FROM JAR ARE MISSING AND 2 PILLOW CASES ARE TAKEN// UNK POE BUT RP NOTICED BEDRM WINDOW WAS NOT COMPLETELY SECURE.
12/20 – Brentwood Blvd. — REAR 2 SHEDS WERE CUT WITH A SAW AND GAINED ACCESS INTO BLDG/ LOSS: STILL UNK/ RP HAS NOT GONE THROUGH THE 2 OUTDOOR SHEDS // MET WITH RP AT THE OFFICE IN BLDG.
Forgery/Fraud
12/15 – Brentwood Blvd.– RP SAYS THAT SOMEONE GOT HER CC # FROM USING A GAS PUMP AT ABV LOC — OCCD TODAY AT 0810 HRS — RESP SPENT $884 ONLINE PURCHASE
12/21 – Sand Creek Rd. — 21 RP LIVES IN HAWAII/ CC WAS USED AT LISTED 20 A FEW DAYS AGO/ RP CONTACTED THE STORE AND WAS ADVD OF WHAT WAS PURCHASED AND CONFIRMED
Grand Theft
12/14 – Lone Tree Way — GRAB/RUN JUST OCCURRED – SUSP: BMA EARLY 30S W/CAMO LONG JKT, BLK HAT
Petty Theft
12/14 – Lone Tree Way. , Brentwood. RP WAS SHOPPING WHILE SHE LEFT HER PURSE IN THE CART AND FOUND THAT HER WALLET HAD BEEN TAKEN..NO KNOWN SUSP..OCCUR BETWN 1700-1730..RP IS HOME NOW FOR RPT
12/15 – Oak St. — 2 SUBJS – DESC/WFA 20'S BLN HAIR 411 TALL LSW/PINK SWTSHRT AND A WMA 20'S DRK HAIR 508 LSW/JNS GRY SEDAN 4DR STOLE $1000 WORTH OF MERCHANDISE
12/20 – Edera Pl, — RP RPTNG THEFT OF LICENSE PLTS FROM MAILBOX – RP WAS UNAWARE THAT PLATES HAD BEEN STOLEN UNTIL HE WAS NOTIFIED BY LIVERMORE PD THAT THEY RECOVERED HIS LICENSE PLATES/ LICENSE PLTS WERE ORDERED IN SEPTEMBER
12/21 – Sand Creek Rd. — PETTY THEFT ATTEMPT/OCCUR 30 AGO..BMA 30S CAME IN AND HAD BAG FULL OF PERFUME..RP TOLD THE MALE IT IS PROTOCOL TO TAKE THOSE TYPES OF ITEMS UP TO THE FRONT AND THE MALE REFUSED..RP PUT HER HAND ON THE BAG AND THE MALE GRABBED HER ARM..NO LOSS. .
Suspicious Circumstance
12/15 – Balfour Rd. , — OCCD IN THE AFTERNOON, SUBJ GRABBED AN EMPLOYEES PHONE AND ALSO GROPED HER. THERE IS VIDEO SURVIELLANCE. ALL HMAS, UNK IF 2-3. EMPLOYEE NO LONGER THERE.
Vehicle Theft
12/14 – Albertine Ln. — LAST SEEN LAST NIGHT IN THE DRIVEWAY – 2012 WHI AUDI A7
12/15 – Alexander Way — OCCD 40 AGO – RP'S DAUGUTHER WAS BEING DROPPED OFF BY A FRIEND AND FRIEND'S VEH WAS STOLEN – VEH DESC/2013 GRY KIA OPTIMA
12/18 – Elkins Way — COMPANY VEH WHI 2006 FORD F250 EQUIPPED WITH TRACKING, SHOWS IN ANGELS CAMP. HAS "WEST COAST SOLAR" IN THE SIDE.
12/19 – Caper Dr, — BLK CHEV SILVERADO TAKEN UNK TIME FRAME, RP LOOKING FOR PLT/VIN FOR OFCR NOW
12/19 – Anderson Ln — . RP'S BLUE 2015 DODGE RAM WAS PARKED OUT ON THE STREET
12/21 – Officer initiated activity on Second St, Brentwood.